A big smile across her face, Payton Padgett stood along Tippecanoe Street and held up a large sign that had the names of Franklin Elementary teachers and staff as well as a special message: "We Love You, Falcons Forever."
As she did so, a large caravan of those teachers and staff drove by, part of a driving tour of the neighborhood late Tuesday morning, an effort to maintain contact with children who have been out of school since March 13 because of the COVID-19 pandemic.
Along the route, other students waved, carried signs or videotaped the parade.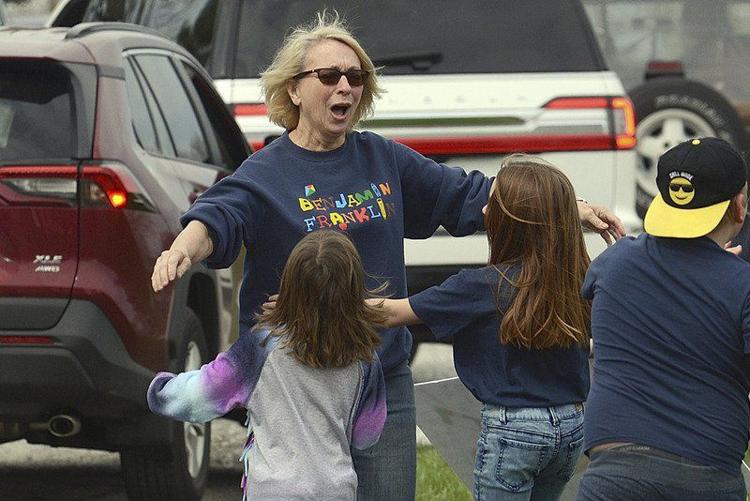 Schools will remain closed through at least May 1.
"We are super excited to see our kids and let them know that we are still here for them," said Jennifer Norris, a Franklin first-grade teacher and principal designee.
Payton and brother Blake, as well as friends, Isabel and Olivia Cottom, eagerly waved at the teachers. Shouts of, "We miss you" and "We love you" came from both those driving and those on the sidelines.
Teacher Keith Pittman teased Olivia, asking her, "Have you driven your mother crazy yet?"
When Olivia told him she hadn't yet, he responded, "Well, you need to work on that."
The children miss their teachers, and yes, the students miss going to school -- especially being with their friends. And lunch. And recess.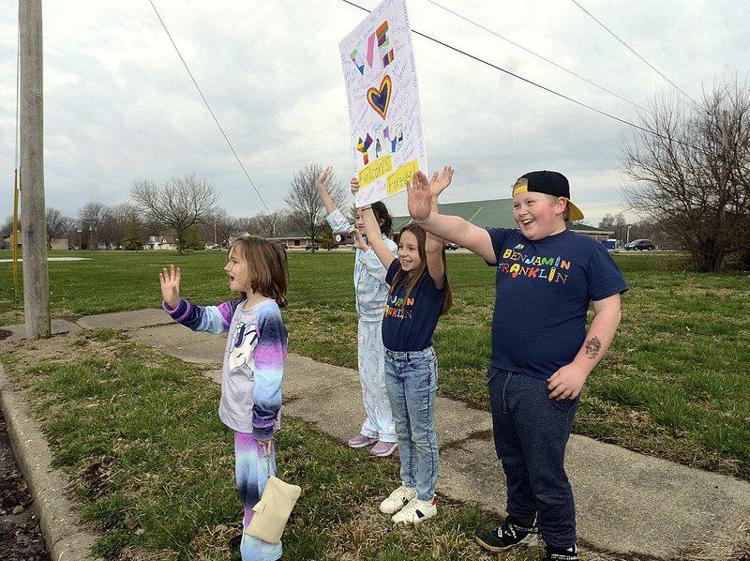 "They are a little restless," said Amy Cotten, mother of Payton and Blake. The kids are looking forward to the school district's remote learning program that will begin April 6, when they'll have even more contact with teachers, if only through email.
"We miss our kids," said Norris, principal designee. "It's nice to see their faces ... it lifted our spirits today to go around and see them."
With school out until May 1, "That seems like a real long time to not have that personal contact we like to have with our kids. We want to make sure the parents, students and community saw we're still here. Even though we are not an arm's length away, we are only an email or text message away from whatever they need," Norris said.
Teachers are staying in touch with students, whether through email, apps or other online tools.
"These kids and education are my world," said principal Tina Horrall. The closure "has been very hard personally and professionally. ... Thank God we got to see them."
Sue Loughlin can be reached at 812-231-4235 or at sue.loughlin@tribstar.com Follow Sue on Twitter @TribStarSue.