Its transition into a federally qualified health center has enabled the Wabash Valley Health Clinic to transform health care on Terre Haute's north side.
The center is now in the design phase of a new $3.4 million project, in which it will add onto and renovate its existing facilities.
The project began through the purchase of three homes behind the clinic at 1436 Locust. One home was demolished four years ago, with the next two removed in 2018.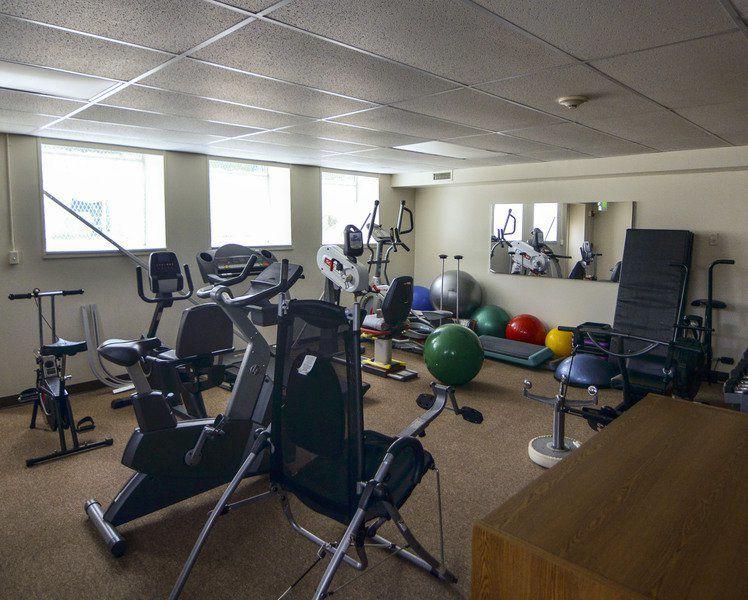 "All three were torn down through the city, so that was tremendous help," said Charles Welker, chief executive officer of the health clinic. "That was a critical step toward our future."
H. Dean Branson, real estate administrator for the Terre Haute Department of Redevelopment, said the homes were "incorporated into our existing demolition program. We knew what they would be doing up there and this was a means that we could participate in improving that facility."
Additional 3,200 square feet
Engineer Michael Waldbieser is now working on final design plans for a new 3,200-square-foot addition to the west side of the Wabash Valley Health Center, adding 10 new medical exam rooms. The center currently has 10. The addition will also add a denture lab and expanded waiting room capacity. Additionally, a parking lot will be expanded on the north side.
The existing building will also be renovated, with administrative offices moving to the lower level. The work will be done by Hanning Construction Inc. Groundbreaking is slated for October or November, with construction taking 14 to 15 months.
That means the new facility is slated to open in 2021.
"We are going to reshape this campus, which will dramatically change," Welker said. "This message is were are here for you. It is an investment in patients and in the neighborhood."
The new entrance will be in the rear of the building, as an alleyway is to be re-routed behind the center. The center renovation is also seen as a way to attract and retain staff and physicians.
Initially started through the Sisters of Providence in 1997, the center could not be sustained long-term as a free clinic.
The center's ability to better reach those financially strapped leaped forward in late 2013, through the Affordable Care Act, enacted in 2010.
"The Affordable Care Act helped with an explosion of health centers," Welker said. "This allows us to carry on service for the underserved in a different model. It is a not free clinic, but it is affordable. We are federally mandated that no one is turned away for inability to pay. We have a sliding fee discount for those 200 percent or below the federal poverty level.
"Then, based on the number of people who live in a home and household income, that dictates the level of discount they receive for their care," Welker said. "It literally then comes down all the way down to a nominal fee, which is 100 percent or below federal poverty. For us, that nominal fee is $10."
"We will do a payment plan. We have people who pay $2 a month on a payment plan. We are not going to create a barrier to services," Welker said.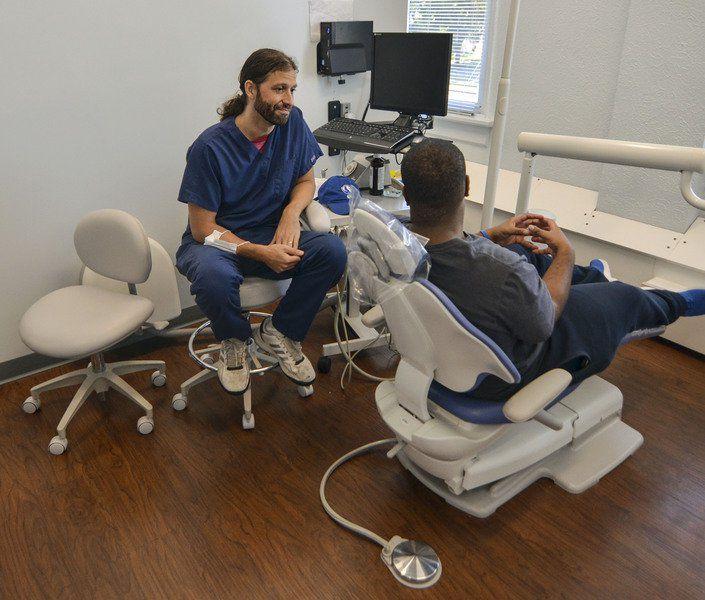 'Staggering growth'
There are nearly 1,400 health center organizations with more than 11,000 locations in urban, suburban and rural communities across the nation, serving more than 28 million people with health care.
Last year Congress passed a bipartisan spending package for two years of funding for Community Health Centers, which included $3.8 billion last year and $4 billion this year.
In 2014/2015, the first fiscal year as a federally qualified health center, more than 7,800 visits were made to the Wabash Valley Health Center. In fiscal year 2019 (which ends June 30), the center projects more than 15,000 visits, Welker said, as it is averaging 1,300 visits monthly.
"That is what we call billable encounters," Welker said. "It has been staggering growth."
Another component of a health center measured through the federal Health Resources and Services Administration is called a unique visit.
"You come in and see me for a doctor's appointment, but come back three more times during the year. You are only unique one time. They want to know how many unique lives we are taking care of," Welker said. "And that is measured in a calendar year."
Using that measurement, the Wabash Valley Health Center had 3,500 unique visits in 2016; then 4,300 in 2017; and 4,900 in 2018.
"We expect to exceed that 5,000 unique visits this year," Welker said. "So if you think about it, we are taking care of 5,000 unique lives in this community. We think we play an important role. This is the role of these federally qualified health centers, to be a safety net clinic in under served areas. If we are not here, where will these folks go?
"Some will go without care, but that is not good because at some point, their health becomes severe enough they they will have to show up in the hospital emergency room," Welker said. "They don't have a family doctor and can't afford to go to an urgent care clinic. They go to an emergency room, which will care for them as they are required," he said.
Welker said the new expansion will be paid from a bank loan, with federal grant funds, patient and Medicare/Medicaid payments and contributions used to pay the loan.
The center has reduced its dependency on federal grant funds. When it opened, federal grant funds accounted for at least 80 percent of revenue. Now, for the fiscal year July 1, 2017 to June, 30, 2018, federal grant funds account for 31 percent of revenue, with 61 percent coming from patient services and 8 percent from other grants and contributions.
Boosting the neighborhood
Additionally, the location of the health center is important.
"There is too much unmet need in this location. It ties into the rise of neighborhood revitalization efforts," Welker said, with support from companies such as Vectren.
"We have been included in early discussions about the planned Wabash Valley Health Clinic addition and our support of the project will include both financial and relational elements," Tom Moore, manager of community affairs at Vectren, a division of CenterPoint Energy Co., said in a statement.
"Previously, Vectren provided funding for the dental clinic expansion," at the health center, "which increased the capacity of the clinic to provide critical dental services by 50 percent.
"It's important to note that we also provided relational/leadership support to the project via a quality of life plan effort in the Ryves neighborhood, in which Wabash Valley Health Clinic is located, via our Community Catalyst program," Moore said.
The clinic was first established in 1997 as St. Ann Medical Clinic. A dental clinic was opened in 2005. The clinic was incorporated as the Wabash Valley Health Center in 2011. In late 2013, it became a federally qualified health center, accepting Medicare, Medicaid and most types of insurance. The center started its new chapter in late February 2014.
The center employs 35 people and offers medical, dental and behavioral health services, through a partnership with Hamilton Center.
Over the past 5 years, the center has made $465,000 in improvements. Those investments include adding five medical exam rooms in 2014; a 2016 renovation of the existing dental clinic; and in 2017, a relocation and renovation of behavioral health services and expansion of the dental clinic. The center now has six dental clinic rooms.
Reporter Howard Greninger can be reached 812-231-4204 or howard.greninger@tribstar.com. Follow on Twitter@TribStarHoward.