Jeff Gormong was one of a few dozen people who attended a community meeting at Lost Creek Elementary on Tuesday to learn more about a proposed Vigo County School Corp. operational referendum, budget cuts and the future of district facilities.
A farmer, he also described himself as "a concerned citizen and a taxpayer who is going to have to pay this bill, so I want to know why we're doing this. I'm here to get information," he said, just prior to the start of the 90-minute session conducted by the Vote Yes for Vigo County Schools political action committee.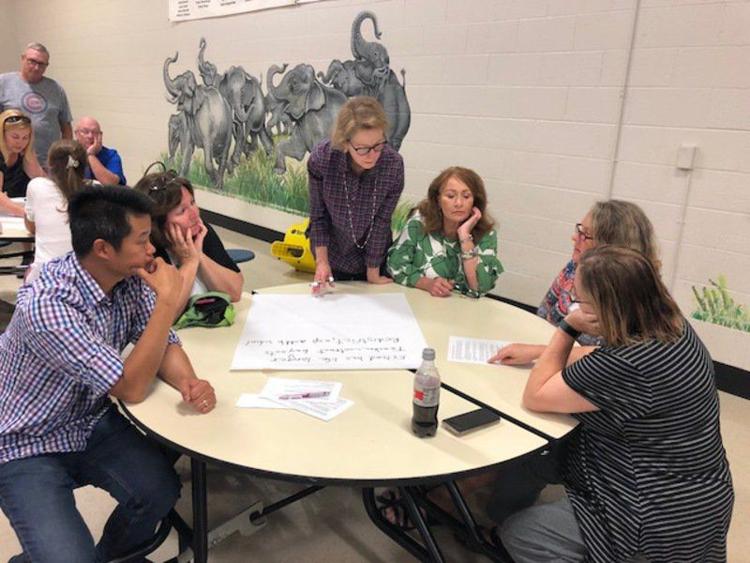 The session at Lost Creek was the first of several such meetings that will take place at elementary schools through Oct. 17. Another will take place at 6:30 p.m. tonight at Dixie Bee Elementary, and Terre Town will host one Thursday.
Gormong said he's neither opposed to, nor in support of, the referendum at this point. "I need more information," he said. He attended "so I can make an informed decision … I want to make sure we are doing everything that we can do to save in areas where we need to save."
He owns a lot of land and the referendum would have a significant impact, he said.
During the meeting, VCSC Superintendent Rob Haworth made his presentation on why the referendum is needed.
The school district's cash balance is declining significantly, and Haworth has proposed a combination of $4 million in budget cuts and the operational referendum, which would increase property taxes for operating expenses by $7 million per year for eight years.
The referendum comes in response to increased costs for safety, health and wellness, the impact of property tax caps on transportation and the loss of revenue due to declining student population. It is also needed to make teacher pay more competitive, especially for beginning teachers.
A property tax increase hits farmers especially hard, Haworth agreed, but the district is limited in options for raising revenue. Growing enrollment increases state revenues.
In the second part of the meeting, those attending sat in small groups and brainstormed on possible budget cuts. Among suggestions: redistricting, four-day school week, lease facilities to private day care, extracurricular cuts, retirement buyouts, school closing, reduce staff, extend the use of school buses before replacing them, sell unused property, lease school facilities.
Other ideas would be naming rights for facilities, corporate sponsorships and building partnerships.
Haworth said enrollment is expected to continue to decline over the next several years, which will likely mean difficult discussions related to redistricting and possible school closure.
At the conclusion, Don Milner praised Haworth for his efforts as superintendent and told him, "You have a mess to take care of." But he opposes the operational referendum because it places an unfair burden on farmers, he said.
Milner also asked how much it costs to keep the Aquatic Center open and suggested it's "a luxury we can't afford."
Another person asked if the district needs the Aquatic Center. Haworth responded that "it's probably the one skill we teach that actually saves somebody's life." Through the Swim By 7 program, VCSC kindergarten children are taught to swim.
Haworth also told those attending that a poll of about 250 people was conducted earlier this summer by the Winston/Terrell Group to determine support for the referendum. The results showed 45 percent were in favor, 24 percent opposed and the rest undecided.
Also attending the community meeting was Howard Cutright, a school bus driver and president of the VCSC bus drivers association; he sat at a table with other drivers, who are concerned about the $4 million in budget cuts and if it might affect bus transportation — and drivers. "We wanted to learn more," he said.
Other meeting times and sites are as follows: Sept. 17, Sugar Creek Consolidated; Sept. 18, Riley Elementary; Sept. 19, DeVaney; Sept. 24, Farrington Grove; Sept. 25, Rio Grande; Sept. 26, Hoosier Prairie; Oct. 1, Ouabache; Oct. 2, Fuqua; Oct. 3, Sugar Grove; Oct. 8, Deming; Oct. 9, Davis Park; Oct. 10, Fayette; Oct. 15, West Vigo Elementary; Oct. 16, Franklin Elementary; Oct. 17, Meadows.
Sue Loughlin can be reached at 812-231-4235 or at sue.loughlin@tribstar.com Follow Sue on Twitter @TribStarSue.