Early Tuesday afternoon, 80-year-old Larry Walters sat in the Vigo County Annex council chambers awaiting his turn for a COVID-19 vaccination shot.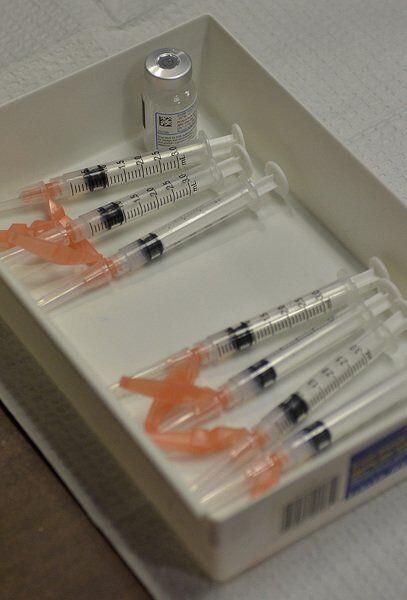 Tuesday was the first day that the Vigo County Health Department conducted a COVID-19 vaccination clinic for those 80 and older. "I think it's important to anybody. I don't want to get sick," Walters said. 
He wasn't worried about any possible side effects, and it brought him some relief knowing he'll soon start to have some protection against a disease that has not been kind to the elderly.
Walters said he has been very cautious since the pandemic began, staying at home quite a bit and limiting where he goes and what he does. 
When it was his turn, registered nurse Jane Keyes administered the shot in his left arm; he didn't wince.  "Awesome," Keyes said, and told him he would receive a vaccination card that would tell him when he should return for a second dose of the Moderna vaccine. He will return in 28 days.
The shot didn't hurt or bother him a bit. "I feel good," he said, as he waited in the clinic for 15 minutes until he was told it was okay to leave.
Walters' advice for others over 80: "Tell them to get it."
The health department COVID-19 vaccination clinic is booked for now, said Roni Elder, health department spokeswoman. "Union Hospital is doing this population also, so they [those 80 and over] can still schedule for appointments" by registering at ourshot.in.gov or by calling 211 and selecting the Union Hospital location.
The health department will add appointments as it gets more vaccine, she said. It also will keep the public advised as it receives state guidance on different age groups and/or other criteria.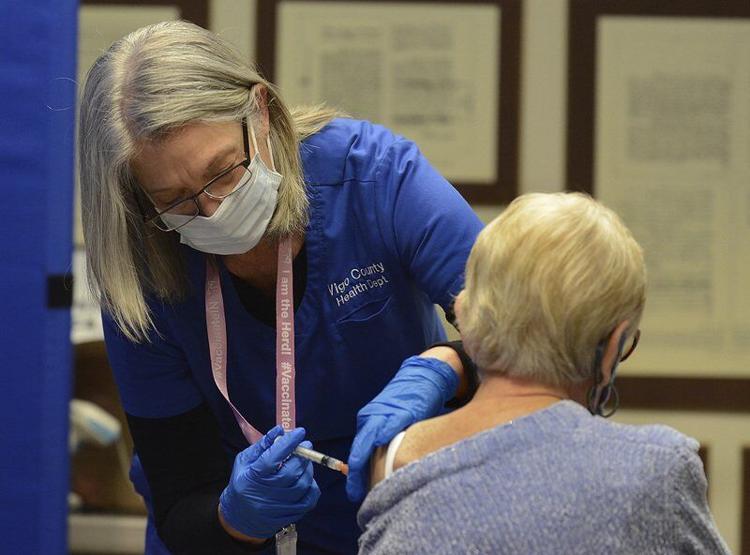 The health department is administering about 60 shots each day, with clinics slated Tuesday through Friday this week and Tuesday through Friday next week, Elder said. It has received 500 vaccines so far, and it expects to get more later.
"It's going really well," she said. The clinic had two vaccination "stations" in the council chamber.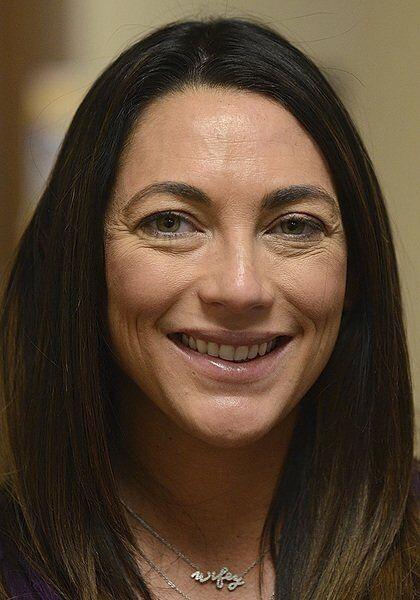 While the county clinic is booked, "with Union helping, I think we'll get everyone in this age group [80 and over] taken care of," Elder said.
Vaccinating those 80 and over "is so important. When you talk to the people who are here today, some of them have been in complete quarantine for the last year almost, and they haven't been able to see family and friends," Elder said. "For them being able to get vaccinated and get some kind of social life or see their grandchildren is so important for quality of life and for us to get out of this pandemic."
Health care workers and first responders also were able to get vaccinated at the site, but "the bulk of what we're getting is those 80-plus," she said.
Individuals age 80 and older account for less than 4 percent of the state's population but represent more than 19 percent of the hospitalizations and more than half of the COVID-19 deaths in the state, according to Indiana State Department of Health.
Also receiving a vaccine Tuesday was Mardel Miller, who is retired from Indiana State University's Bayh College of Education. While she is 76, she qualified for the clinic because she has offered to volunteer with the Vigo County Emergency Management Agency when more vaccination clinics become available in the community. 
"Why would anyone not do it [get vaccinated]?" Miller said. "This thing is not something to mess around with. I've had friends who have had it who said it's really awful and I had a friend who had it and didn't know she had it and passed away."
Also getting a vaccine Tuesday was Naomi Lee, 88. Her son and daughter strongly encouraged her to get vaccinated, but "I wanted to. It's for my benefit as well as the people I'm around."  
She said she felt lucky to be able to get the vaccination. "I would advise any senior that is able to get the shot — for their sake, and their family and friends. I think it's a wonderful thing we're able to get it."
The state's COVID-19 Vaccination Dashboard reported 3,750 people in Vigo County had received their first dose of a coronavirus vaccine as of Tuesday. It showed 632 were fully vaccinated.
Union Hospital, meanwhile, also is vaccinating those 80 and over as well as healthcare workers, said Amanda Scott, hospital spokeswoman. The clinic is at the Landsbaum Center. "Everyone has to register online"  or call 211. 
"Walk-ins will not be accepted," Scott said.
As of Tuesday, Union had administered more than 4,000 vaccinations to people from a five-county area, including Vigo, she said. The clinic first opened Dec. 18 to provide vaccinations to those health care workers who work one-on-one with patients.
"Vaccinations have been given every 10 minutes 12 hours a day," Scott said. The 4,000 figure includes health care workers and those 80 and over.
Union still has a COVID hotline — 812-238-4871 — available to answer any questions people have about COVID. It is available Monday through Friday from 8 to 4:30 p.m. 
Sue Loughlin can be reached at 812-231-4235 or at sue.loughlin@tribstar.com Follow Sue on Twitter @TribStarSue.