As the winning score was announced, Lucy Ellis buried her face in her hands, relieved as she eased slightly back in her chair near center stage.
Her team — DeVaney Elementary — had just won the 2019 Battle of the Books on Friday at Meadows Elementary School.
"It was very nerve-racking. There was so much tension in the air," Ellis said shortly after it was announced DeVaney had defeated Rio Grande Elementary in the general education championship with a score of 136-120.
Each teams got 8 points for a correct answer. There were 18 schools competing in the general education bracket for fourth- and fifth-graders.
"Last year, I didn't even try out for the Battle of the Books, but to make it and win the championship on my first year was just amazing," Ellis said.
Dixie Bee Elementary won the Gifted/Talented championship over Lost Creek. That bracket has four schools — Ouabache, Lost Creek, Dixie Bee and Sugar Grove.
Students read 20 Young Hoosier Book Award-winning books, and more than 100 students participated.
Among book titles were "Applesauce Weather" by Helen Frost; "The Infinity Year of Avalon James" by Dana Middleton; and the "The Wild Robot" by Peter Brown.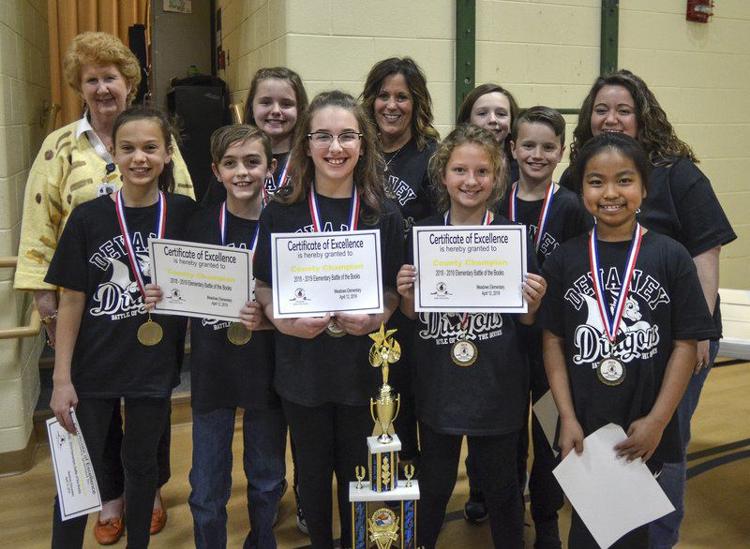 Last year, Mea Targett answered the winning question to propel Fayette Elementary School to a championship win.
This year, she faced the question, "What book did a wife, eating an apple, cause the main character to set up a class?"
The answer is "Step Right Up: How Doc and Jim Key Taught the World About Kindness" by Donna Bowman.
"Doc, the main character, raised this horse and the horse watched him do everything and ends up figuring out how to do a lot of cool stuff. I read it five times," said the 11-year-old Targett.
In that book William "Doc" Key, freed as a slave after the U.S. Civil War, nursed a sick horse. Key saw a level of curiosity and eagerness in the horse and began teaching the horse — Beautiful Jim Key — first to recognize letters, then to read, write, add, subtract, and more.
Doc then took his talented horse on the road, spreading a message of patience and kindness toward all animals.
Targett hoped to return to the championship round this year, remembering her team's victory as being "awesome."
While Fayette was able to make it to the final four, Rio Grande Elementary prevailed, 120-108.
Targett was clearly upset, joining her other teammates wiping tears from their cheeks.
"It was a good year," said Fayette Elementary coach Denny White.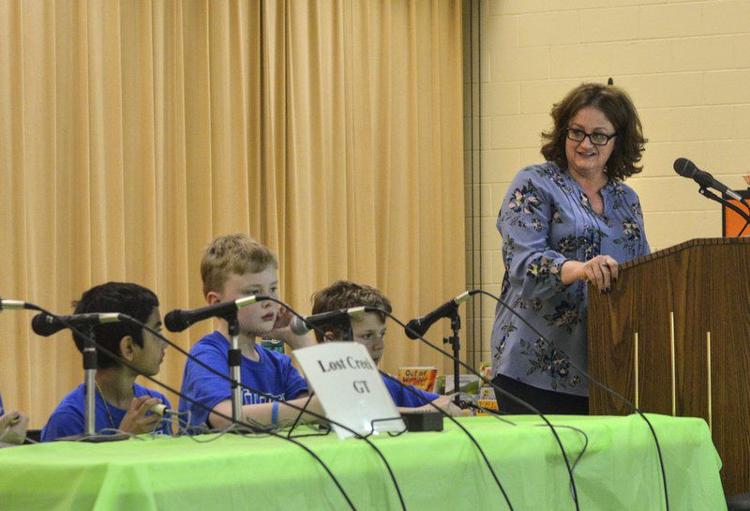 "Students have to read the 20 books from the list," White said. "I let them know they have to know every single little detail of the book because questions can be any random thing from the book.
"We make note cards to study and we will split up the books and have some of the kids re-read a book. They may read a book two or three times before the Battle of the Books," White said.
Kathy Deal, district intervention coach for the Vigo County School Corp., served as the elementary school battle of the books coordinator.
"Students have spent many months preparing for the battle, and this is a wonderful opportunity for them to grow in their reading comprehension skills," Deal said.
Trophies are awarded each year after the battle, with medals for first, second and third place.
A middle school Battle of the Books competition is slated for April 18 in Oakley Auditorium at Ivy Tech Community College. The first four rounds of that competition start at 9:15 a.m., with the final round to start about 10:45 a.m.
Reporter Howard Greninger can be reached 812-231-4204 or howard.greninger@tribstar.com. Follow on Twitter@TribStarHoward.