Getting updated vaccinations may not have been Sophie Coker's idea of fun, but the 12-year-old and her mom decided to take advantage of an early release from school to attend a shot clinic at the Vigo County Health Department.
"I hate shots," Coker said Tuesday afternoon as she awaited her T-dap [tetanus, diphtheria and pertussis] and meningococcal shots. She is a sixth-grader at Woodrow Wilson Middle School; both immunizations are required in Indiana for sixth graders.

She and her mom attended a Back on Track clinic, which provided an opportunity for kids who are behind on routine vaccinations to get up-to-date. The COVID vaccine also was available for those 12 and older as well as flu shots.
The event, sponsored by MDwise, the Vigo County Health Department and the Indiana Department of Health, was a success, officials say. Organizers saw 68 patients and gave 172 shots.
Coker's mom, Carmen, said the clinic was a good idea and it was convenient. "I think it's hard for everybody to get into the doctor's office," she said. "We had issues trying to get in and getting in at the right time after school. I hate taking her out of school for simple things like this."
Soon, health department nurse Twyla Spidel gave Sophie the Tdap in the left arm and the meningococcal in the right arm. Sophie closed her eyes for the first, but not the second. Sophie had asked that one inoculation be administered in a specific arm to save the other for an upcoming bowling match.
The Back on Track event included a taco food truck, a bounce house, door prizes, free healthy food and other giveaways. The event took place at the Vigo County Annex, in the health department clinic and on the parking lot.
More than one-third of Vigo County children are behind on routine immunizations that protect them from serious illnesses. A major reason is that many doctor's appointments in which those shots would have been administered were canceled or postponed because of COVID; some families may have been reluctant to go to doctor's offices.
During the pandemic, many children did not get their vaccinations, said Joni Wise, Vigo County Health Department administrator. "We've partnered with the state Department of Health and MDwise to provide an opportunity for parents and guardians to get children's vaccinations up-to-date."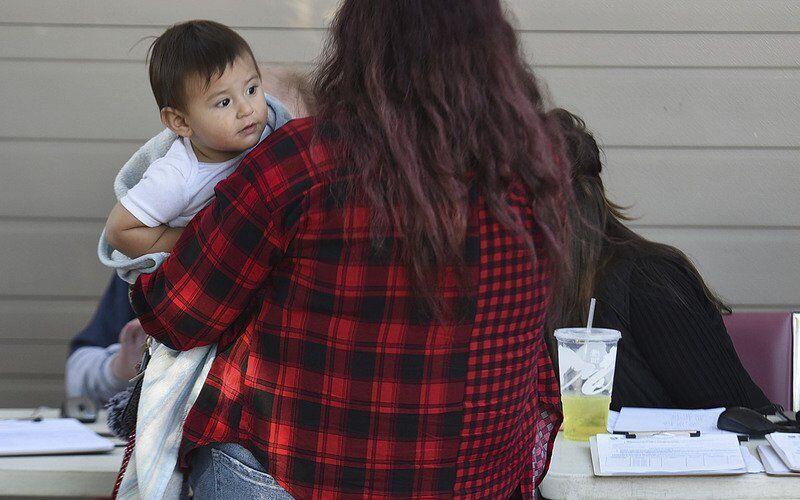 The health department is working with the Vigo County School Corp. because "it's almost time for exclusion letters [for those who haven't received required vaccinations]. We want to make sure everyone has the opportunity to get their vaccines with no barriers and no exclusion letters," Wise said.
In the first hour of the four-hour event, Jen Thomas of MDwise said, "We're thrilled with the turnout so far." Some people showed up before the event even started at 3 p.m. The goal of the event is to "get kids protected from preventable diseases" such as polio and measles, she said.
A similar Back on Track event took place in Allen County. In Vigo County, 32.3% of K-12 students don't have all required shots, according to state data. That compares to 26.4% statewide.
Also attending the event was Lauren Nering, who brought children Hugo, age 9, and Victor, age 3. "We're getting our flu vaccines," Nering said. "We saw it set up and I wasn't really sure what was going on. When we stopped by, it sounded like a really great way to get their flu vaccines and let them have a little fun."
Ashley Morales brought her 12-year-old son Lenar to get up-to-date on vaccinations. The Back on Track event "is pretty nice," she said. She planned to have her son get vaccinated first and then let her children enjoy the events outside on the annex parking lot.
Sue Loughlin can be reached at 812-231-4235 or at sue.loughlin@tribstar.com Follow Sue on Twitter @TribStarSue.