Some Vigo County residents voiced concerns that a bigger jail will not solve the root problem of overcrowding, with some directly asking the Vigo County Council not to support an income tax increase for a new jail, during a public hearing Monday at Woodrow Wilson Middle School.
The Vigo County Council listened to public comments on an ordinance that would increase the local income tax from 1.25 percent to 2.25 percent to pay for a new jail, as well as public safety, including 911 dispatch services. The County Council could vote next week on the proposed tax increase.
Not all were opposed to an increase, as some officials with volunteer fire departments voiced financial concerns would result in less service, advocating in favor of an income tax. Others asked the council to consider the overall impact of an income tax, given other large projects in the community, citing public schools, Hulman Center and a Terre Haute police station.
Other residents asked the council to split the income tax vote between funding a jail and funding public safety, so that each could individually be voted upon by the council.
Pat Goodwin, a former Terre Haute city engineer, called the income tax ordinance simply "a dirty political tactic" to link public safety with a new jail.
"Commissioners know that public safety is something that is very hard to say no to," Goodwin said. "If they can make this that you are either for public safety or against it, then you are forced into a corner to vote for public safety."
Goodwin asked for a show of hands from people at the hearing against public safety — no hands were raised. "We are with you," he said of police and fire departments. "What we are seeing is that public safety people are being used to try to get the jail in on the coat tails of public safety," Goodwin said.
In all, the County Council heard from 27 people, with the 28th — Sylvester Edwards, president of the Terre Haute Branch of the NAACP — stating the group will have a statement on its position of the jail at a later date.
About 250 people attended the public hearing at Woodrow Wilson Middle School. The meeting lasted approximately two and half hours.
More funds needed for public safety
Those in support of the income tax include Michael Stewart, deputy chief of operations for the Sugar Creek Fire Department in West Terre Haute.
Stewart said the department, like other units, has seen little budget increases since 2010, when property tax caps were enacted by the Indiana General Assembly. However, operating costs, ranging from equipment, personnel and insurance, have risen.
"We have cut back on fire prevention and education and almost eliminated our fire inspection program. If this tax is not passed, in 12 to 18 months, the Sugar Creek Fire Departments, along with many other departments, will be back in front of you asking for a separate tax to increase our budgets," he said. "We recognize no tax increase is popular, but it necessary..." for the department. "Show you are dedicated to public safety and infrastructure in Vigo County."
Matt McCullough, fire chief at Riley Volunteer Fire Department, also stated an income tax increase is needed for the department. "Taxes has not increased for us, while all our costs have," he said. McCullough said manpower may be cut, resulting in stations closing, which will decrease response time and increase homeowner insurance costs. "I am here on behalf Riley Fire Department and its citizens that public safety is a big important key to this outside of the jail" funding.
Terre Haute resident Cathy McGuire said she supports building a new jail "but not one that is supersized," she said. McGuire said there is no judicial order or court order that requires the county to build a new jail. "The parties, not the judge, represent to the court that construction of a new jail is the most reasonable alternative under consideration currently," she said.
Instead of a larger jail, McGuire suggests the county "hold weekend court; more ankle bracelets; and not jailing people for non-violent, minor crimes. I ask the council members to have courage and build a smaller jail."
Noah Gambill, president of the Taxpayers Association of Vigo County, referred to a resolution the association made against the tax increase.
The association suggests passing a tax for the jail "cannot be made in a vacuum without considering other future needs of the community which also require funding and which may have a better return on investment for this community's tax dollars than the proposed uses," Gambill said.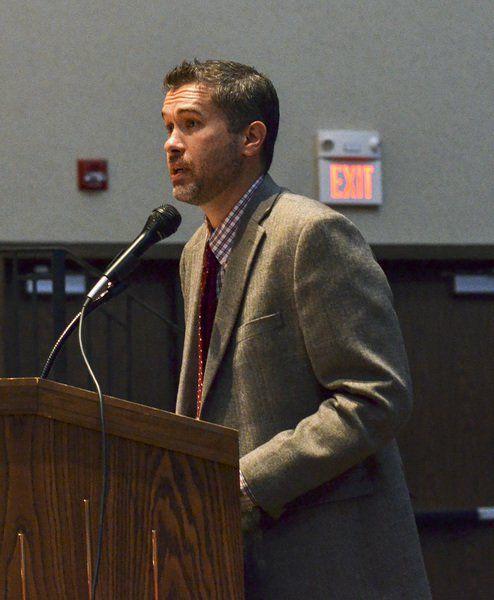 The association, in its resolution, states it "is not opposed to tax increases in general, so long as they be supported by by factual evidence to justify those taxes levied on the citizens of the community."
Gambill told the council the association's resolution seeks to obtain an estimate of total revenue over a 30-year period; how the public safety tax will be allocated to various public agencies; details of the funds needed to complete the jail project; details of how additional funds will be used; detailed estimate of operating costs of the proposed jail; why county needs additional beds in a new facility; demonstration that all other options to reduce times in the current jail, which have been shown to be primary reason for overcrowding, have been exhausted; current efforts of various public safety entities to work together to combine resources and share building space in an attempt to reduce overall cost of public safety.
County low in income; safety tax a bait and switch
David Zaun said a new jail will not provide economic development, unlike high schools, which need upgraded or replaced, and a renovated Hulman Center.
Myra Wilkey, said she was addressing the council as a citizen, not as executive director of Mental Health America of Vigo County. "Minimum wage in Indiana has not increased since 2009, but we have had numerous tax increases," Wilkey said. Vigo County ranks 16th in the state for single parent households; and 70th out of 92 counties for median personal income of $34,922, she said. "These are marginalized families that are living pay check to pay check. The poverty rate in Vigo County is ranked 4th in the state," Wilkey said, adding an income tax increase will impact low-income families in the county.
Terre Haute resident Ralph Leck claims the ordinance as presented makes county residents "a victim of unnecessary of bundling of two important issues and for this reason, I ask you to vote no on increase taxes," Leck said. "They have linked the mega jail and public safety. Both issues deserve independent hearing. Many people in the community are enraged by the bundling...and see this bundling as an attempt by the commissioners to confuse and mislead the public."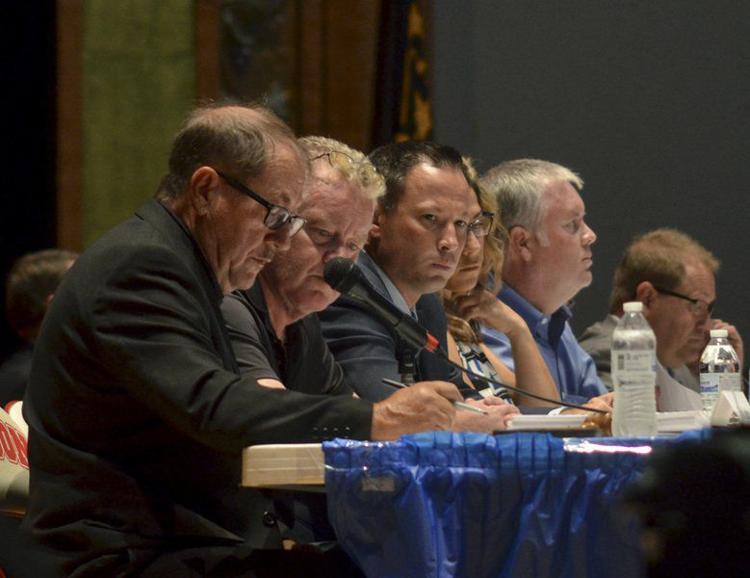 Leck called it a bait and switch. "We should be discussing the mega jail and the $180 million it will cost to finance it [over 30 years]. Most of all we should be discussing alternatives to incarceration — expanding drug court, increased mental health services, job training, expanded rehabilitation programs, non-traditional education, weekend court, bail reform for the poor," he said.
"We should be discussing a comprehensive solution, but the commissioners have rendered an independent assessment of the mega jail project impossible by linking it to another issue of public safety that quadruples the proposed tax increase," Leck said.
After the hearing, Robert Effner, attorney for the Vigo County Council, said the proposed ordinance can be amended downward from the proposed 1 point increase, but the council could not make two votes on separate income taxes. That, Effner said, would require new ordinances be submitted to the County Council and a new hearing be held.
Council President Bill Thomas said he intends to hold a vote on an income tax increase at Woodrow Wilson. After the meeting, Thomas said the vote could be held Aug. 16, adding he hoped to determine that date soon, possibly by today.
Prior to public comment, Kenneth Falk, attorney for the ACLU of Indiana that filed a lawsuit against the county resulting in a 2002 agreement to cap its jail population to 268, said it was his position that "Vigo County needs a new jail."
Falk said the jail averaged 272.4 people per day in June, requiring 40 people a day be housed in other jails. Based on those numbers, Falk said Vigo County would need 358 beds to meet current demand. Falk said it "would be foolish" to construct a jail at that number, as the jail would be immediately filled, suggesting the county needs a larger facility.
Tim Berry, managing director of municipal advisory services at Crowe Horwath, a public accounting, consulting, and technology firm hired by the county to review funding options, said the proposed 0.25 percent special income tax for a new jail, which expires after a maximum of 30 years, would generate more than $5.04 million a year.
A 0.1 percent income tax for 911 dispatch would generate more than $2.01 million annually, while the remainder of a public safety tax (at 0.65 percent) would generate more than $13.12 million annually, split among all taxing units for police, fire and fire protection districts. Overall, a 1 percent increase in the income tax would generate more than an estimated $20.19 million in 2018, if enacted this year, Berry told the council.
Reporter Howard Greninger can be reached 812-231-4204 or howard.greninger@tribstar.com. Follow on Twitter@TribStarHoward.