Bulldozers began moving dirt shortly after a June 21 groundbreaking to start construction of the Queen of Terre Haute Resort Casino on the city's east side.
Churchill Downs Inc.'s $260 million project, up from an initial $240 million, is to include a casino with 1,000 slot machines and 50 table games, as well as a 10-story hotel featuring 125 luxury guestrooms with a rooftop pool, as well as a TwinSpires Sportsbook and several food & beverage offerings.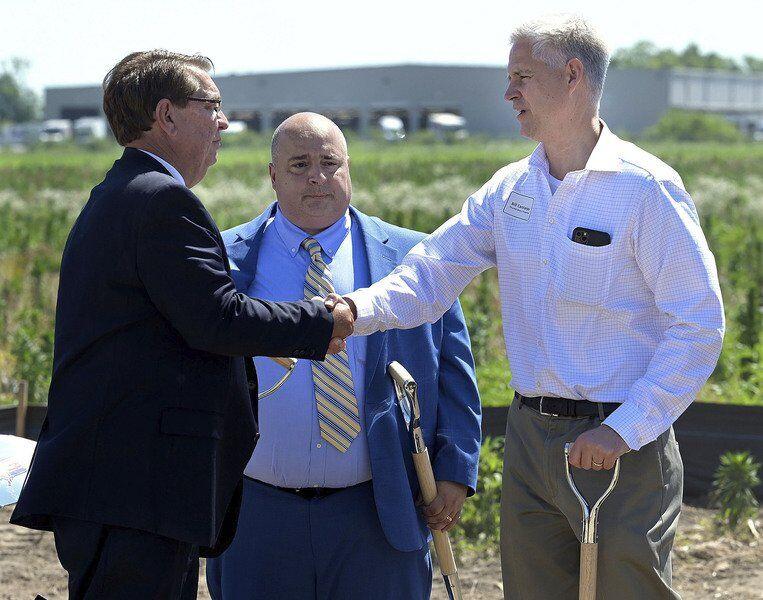 The construction project encountered some initial issues, including the need to add rock to the building site, 50 acres of land off East Margaret Drive.
"We knew about the soil conditions before we purchased the land. Soil in that part of Terre Haute holds a lot of water and can turn quickly to mud," said Ryan Jordan, senior vice president of real estate development for Churchill Downs.
"The gravel around the site is to ensure that contractors have a solid surface to drive on as they build the casino and hotel," he said.
Additionally, a redesign of the project put the hotel construction back under the review of the Federal Aviation Administration for flight path hazards after the hotel's location was moved. As a solution, Churchill Downs planned to lower the height of the building from 150 feet to 141 feet and install aviation navigation warning lights on the building.
Jordan said supplies, as in many construction projects, bring challenges.
"Lead times for many items are still longer than we would like, but our current schedule has taken those things into account. We continue to adjust to market conditions and have a great general contractor that helps work through these challenges," Jordan said.
F.A. Wilhelm Construction Co. is the general contractor on the casino project.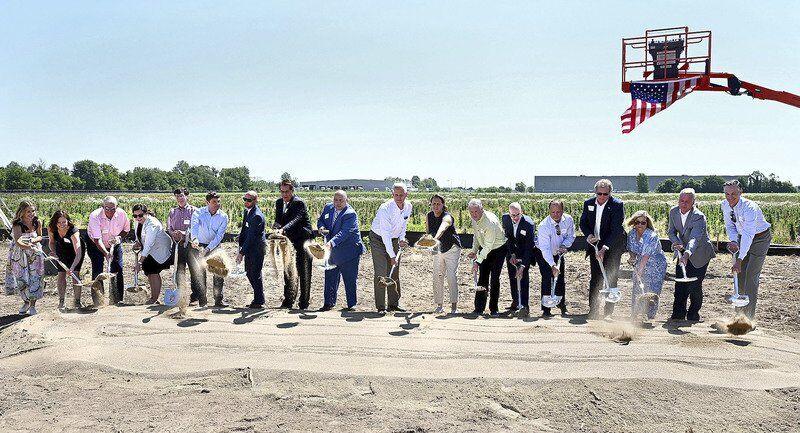 The project's hotel is to be positioned so as to be seen from Interstate 70.
"The hotel is a concrete tower with post-tension slabs. The casino structure is steel construction," Jordan said.
A rough construction schedule, Jordan said, is to have foundation work continue through October, with the hotel and casino structures erected from October through March 2023. The exterior enclosures will be done January through June 2023.
The interior work will be done from March 2023 through completion, currently slated for the end of December 2023.
The 400,000-square foot Queen of Terre Haute development on about 50 acres is the newest casino approved in Indiana, forecast to bring $190 million in annual economic impact and create 500 jobs. The casino itself will be about 56,000-square feet.
Gaming in Indiana
In 2021, Indiana had 13 commercial and tribal casinos in the state, which accounted for 22,133 jobs, according to the American Gaming Association. The casinos had an economic impact of $3.92 billion in the state in 2021.
Casinos in 2021 generated $2.72 billion in gross gaming revenue, according to the association.
In 2022, the gaming industry broke revenue records nationally and Indiana casinos posted significant year over year increases, with casino and supplemental taxes for fiscal year 2022, which ended in June, according to the Indiana Gaming Commission's 2022 annual report.
Gaming taxes totaled $660 million, up 18% from $560 million in fiscal year 2021, said Greg Small, executive director of the Indiana Gaming Commission, in the commission's 2022 annual report.
It's the first time Indiana collected more than $600 million in total gaming taxes since it received $602.4 million in 2017/2018.
Sports wagering taxes were up 38%, to $31 million in 2022, up from $23 million in 2021.
While the racinos and southern casinos experienced significant growth of about 13%, the northern Indiana market grew by 26%. The expansion of the northern market, which grew by $236 million from $900 million in fiscal year 20221 to $1.1 billion in fiscal year 2022, was fueled primarily by the new Hard Rock Northern Indiana casino in Gary, Small said in the annual report.
Terre Haute is expected to increase that growth.
"The selection of Churchill Downs as the licensee for the Vigo County casino in December will bring a new gaming venue to the state," Small said in the report.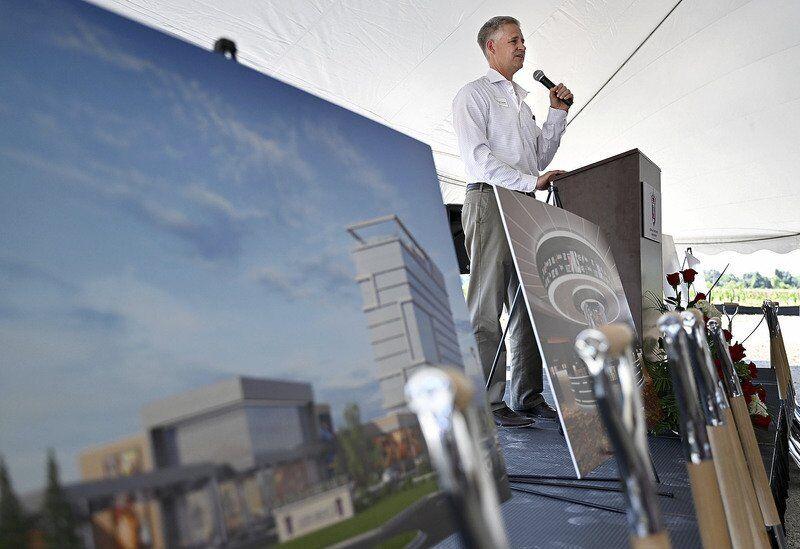 In the Gaming Commission's 2022 annual report, Small said the strength of Indiana's gaming industry "was also shown in the decision of Caesars to invest a total of $73.7 million for projects at the state's two racinos in Shelbyville and Anderson.
Horseshoe Indianapolis in Shelbyville completed its $33.7 million expansion in early 2022. The project expanded the gaming floor by 25,000 square feet, increased gaming positions including a 20-table poker room and high limit area, added food and beverage amenities, and created approximately 100 new jobs," Small reported.
Additionally, a $40 million expansion of Harrah's Hoosier Park in Anderson began in Spring 2022 with a scheduled July 2023 completion date, according to the annual report.
That project will add 30,000 square feet to Hoosier Park "and include additional gaming positions along with a high limit area, enhanced Caesars Rewards and promotional space, a new food outlet on the casino floor, and create 100 new jobs. Track side amenities and the sports book will also be refreshed," Small stated in the annual report.
A long time coming
Following several failed attempts, the Hoosier state first legalized casino gambling in 1993, but as only riverboats — with five at Lake Michigan, five on the Ohio River and one on Patoka Lake. The Indiana General Assembly removed the riverboat restriction in 2015, allowing land-based gambling.
Terre Haute had been the last metropolitan area of the state without a casino.
In 2018, Terre Haute businessman Gregory Gibson co-founded Indianapolis-based Spectacle Entertainment with long-time Indiana gaming executive Rod Ratcliff. John Keeler became general counsel for Spectacle Entertainment. In November, 2018, Spectacle Entertainment purchased the Majestic Star Casino, a two-boat casino based in Gary.
In early 2019 Gov. Eric Holcomb signed House Enrolled Act 1015, an omnibus state gaming bill whose authors included Republican state Sen. Jon Ford of Terre Haute. Among other things, it allowed one of the two Majestic Star gaming licenses to be moved from Gary to Vigo County.
In November, 2019 Vigo County voters approved a casino referendum. The following month, Spectacle partnered with Hard Rock International for a new Vigo County casino and were the only applicants to seek the license.
However, before the Indiana Gaming Commission awarded the license, officials in the commission became aware of a federal investigation tied to Ratcliff's former gaming company, Centaur Gaming, with that investigation including allegations against Keeler. Federal authorities alleged gambling company money was illicitly funneled into the unsuccessful 2016 congressional campaign of Republican Brent Waltz.
For the purposes of establishing a Vigo County casino, Gibson then established a new company — Lucy Luck Gaming.
However, Lucy Luck lost the license for the Terre Haute casino in June 2021, after the Gaming Commission declared Lucy Luck ineligible for renewal of the owner's license. The commission said a qualified executive team had not been established and Lucy Luck's financing was incomplete.
In November, 2021, the Gaming Commission selected Churchill Downs Inc. to receive the Vigo County casino license.
There was a legal challenge remaining, as Full House Resorts filed a lawsuit asking a judge to halt the process. It contended the Gaming Commission violated the state's open meetings law when it decided Churchill Downs would receive the license. However, Full House dropped the lawsuit in January 2022.
Reporter Howard Greninger can be reached 812-231-4204 or howard.greninger@tribstar.com. Follow on Twitter@TribStarHoward.