For those in Vigo County leading the fight against teen vaping, the Food and Drug Administration's order that Juul pull its electronic cigarettes from the U.S. market is a step in the right direction, but there's more work to do. 
"It's something we've been wanting to see happen," said Brandon Halleck, chief operating officer at Chances and Services for Youth, which has a Tobacco-Free Vigo program.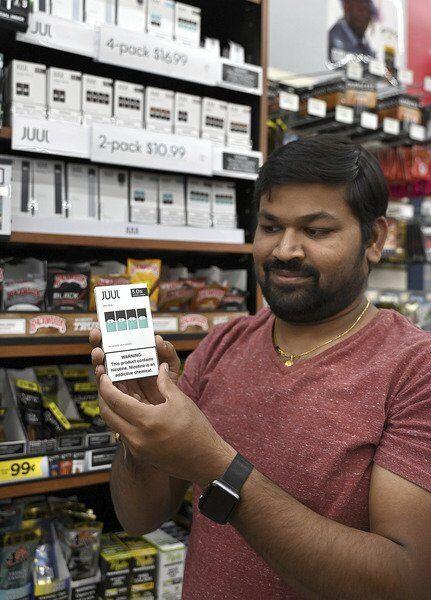 The FDA said Juul must stop selling its vaping device and its tobacco and menthol flavored cartridges. Those already on the market must be removed. Consumers aren't restricted from having or using Juul's products, the agency said.
"Electronic cigarettes really target the kids. It's always targeted the kids," Halleck said.
He views the FDA's order as a positive move, although other vaping products remain on the market. "We know if we can reduce and remove a lot of these devices, we're going to keep kids from picking up the habit," Halleck said. 
Retail establishments that sell Juul were just learning about the decision early Thursday afternoon.
At the "Smoker Friendly"  discount tobacco store at 2300 Wabash Ave., manager Sandy Bilyou said they had not yet received a direct order from their regional manager to take Juul  items off the shelf.
They believe Juul will challenge the FDA order, she said.
For those purchasing Juul products, they must show an identification no matter their age, Bilyou said.
Sales of Juul products are not as great as when Juul first came out, which she attributes to the FDA limiting flavors to menthol and tobacco.
At the Mobil Mart at Seventh and Hulman streets, a representative took Juul items off the shelf based on the FDA order.
A few vaping establishments in Terre Haute said they don't sell Juul.
At the Marathon Express Mart gas station, 301 S. Third, manager Raj Patel disagreed with the FDA order and says it could hurt business. He believes customers who want Juul products will find a way to get them.
Juul also helps people stop smoking cigarettes, Patel said.
Meanwhile, CASY's Sarah Knoblock, tobacco prevention and cessation coordinator for Vigo and Sullivan counties, said she was "definitely happy to see that the FDA is taking action on this."
When Juul first came out, it took the lion's share of the e-cigarette market "and made it very prevalent, especially among teens and young adults."
Because of limits on flavors, Juul's market share has gone down quite a bit, she said.
A problem remains, Knoblock said, because "there are a lot of disposable, flavored vaping products still on the market ... We'd really love to see those flavors removed from shelves as well because that's what teens and young people are using." 
The decision on Juul "is definitely a good step in the right direction," she said.
"Hopefully it will set a precedent and FDA will look at other products and start acting on those, too," she said. "Those other disposable e-cigarettes are also a danger to health. We're hoping they keep the ball rolling on it." 
Juul issued a statement Thursday in response to the FDA orders. It states in part:
"We respectfully disagree with the FDA's findings and decision and continue to believe we have provided sufficient information and data based on high-quality research to address all issues raised by the agency."
The statement also says, "We intend to seek a stay and are exploring all of our options under the FDA's regulations and the law, including appealing the decision and engaging with our regulator. We remain committed to doing all in our power to continue serving the millions of American adult smokers who have successfully used our products to transition away from combustible cigarettes, which remain available on market shelves nationwide."
Sue Loughlin can be reached at 812-231-4235 or at sue.loughlin@tribstar.com Follow Sue on Twitter @TribStarSue.