The Vigo County School Corp. wants to begin offering a state work ethic certification program aimed at providing students with needed workforce skills and employers with potential workers.
VCSC Superintendent Rob Haworth introduced the program, called the Governor's Work Ethic Certificate, during Wednesday's first meeting of the Business/Education Roundtable at the Ohio Building in downtown Terre Haute. Those attending included representatives from local industry, community and higher education leaders as well as VCSC staff.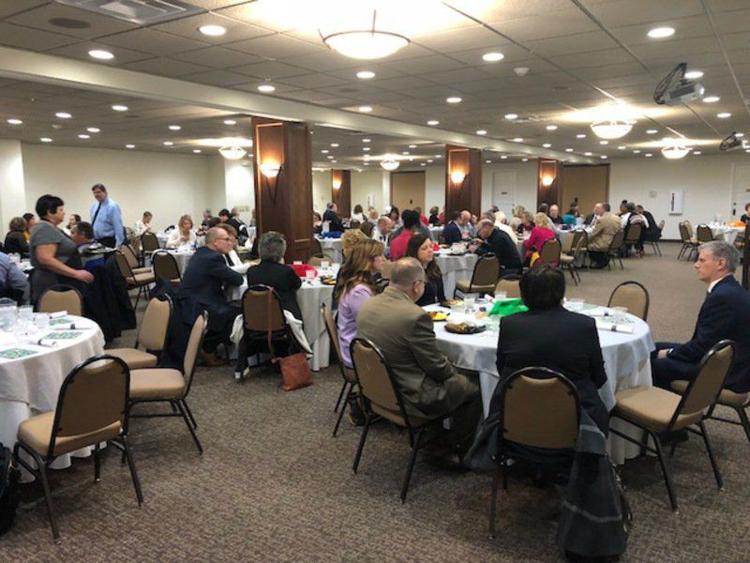 The goal of the roundtable is to develop deeper partnerships with the local business community and provide students with career and college readiness skills.
The district has already formed a Nonprofit Roundtable and a Faith-Based Roundtable.
Haworth believes the work ethic certification, which he hopes to begin offering for the 2020-21 school year, "will bring our schools and our businesses closer together." Several Indiana districts offer the program, including Elkhart Community Schools, where Haworth previously served as superintendent.
"It's been in place for several years within our state," he said. Those who successfully complete the program receive a certificate signed by the governor.
According to the GWEC website, the program's goal is "to identify and mentor high school seniors who demonstrate the kind of character, work ethic and skills that produce good employees or good students of higher education."
Their senior year of high school, students would have to meet certain criteria in areas such as attendance and tardies, GPA, community service, internships/job shadowing, workplace tours and potentially random drug tests.
Another criteria, Haworth suggested, might include a student obtaining three signed signatures verifying that a student demonstrates persistence, respectfulness, initiative, dependability and efficiency.
The district would develop its own criteria, with input from local businesses and industry. Those attending the roundtable were asked to fill out a form indicating their expectations as far as criteria.
They were also asked whether they would want to participate in the program and potential incentives they could offer students who achieve the certification. "If we ask students to pursue the work ethic certificate, what makes it work is if our business partners rally behind it ... with incentives," Haworth said.
Those incentives might include a guaranteed job interview, applicant pool preference, increased base pay, scholarships, abbreviated probationary period, sign-on bonus or tuition reimbursement, he suggested.
"Don't be afraid to come to us with an out-of-the-box idea," Haworth told attendees.
Making the connection between students and businesses is one way to prepare a future workforce and to keep those students in the community — as well as to provide them incentive to return if they go away to college.
"We need this connection with you, the business leader, so that our children can see it," Haworth said. "With careers, if you can't see it, you really can't be it."
Haworth also talked about the district's declining enrollment and the community's declining population, a trend he believes can be reversed if education, business and community groups work together. Some communities in Indiana are growing, and he'd like Vigo County and the Wabash Valley to be the next in line.
"We have a tremendous advantage here. We are an educational hub," with Indiana State University, Saint Mary-of-the-Woods College, Rose-Hulman and Ivy Tech, Haworth said. "We need to take advantage of that ... How do we work together to retain talent?"
Haworth told business leaders, "We'd love to work with you." But in addition, he said, "We need to think differently. If we continue to do the same things we've always done, I think we're going to get the same results."
Attendees also heard from the Terre Haute Chamber of Commerce regarding the 2025 Community Plan and WorkOne regarding career development initiatives.
VCSC also presented on the new Character Roadmap, an initiative also focused on career and college readiness skills.
The Roundtable's next meeting is April 29. The agenda will include developing requirements for the Work Ethic Certificate; identifying employers and higher education institutions that will participate; identifying incentives; and discussing the development of a new apprenticeship program for students.
Sue Loughlin can be reached at 812-231-4235 or at sue.loughlin@tribstar.com Follow Sue on Twitter @TribStarSue.