A Tuesday morning ribbon-cutting celebrated the multi-million dollar expansion of the flagship location of Valley Professionals Community Health Center and its collaboration with Union Health Clinton.
"This is a huge, monumental ribbon-cutting for us and a celebration," Valley Professionals CEO T.J. Warren said, recounting some history and the work that went into the almost $4.6 million project.
"We've had some bumps in the road, but everybody came together to make it possible," Warren said.
Funding came from the Health Resources and Services Administration of the U.S. Department of Health and Human Services and from the U.S. Department of Agriculture.
"This new state-of-the-art facility offers 35 exam rooms, six behavioral health treatment rooms, and a large group room for substance abuse treatment. Our large corporate offices on the second floor for staff are very important to us. We've never had that, especially under one roof," Warren said.
Union Hospital Clinton Administrator Stephanie Laws said the collaboration has created a health campus the community can trust for exceptional rural health care, dental care, acute care and specialty care.
The health center is adjacent to the hospital, and the expansion integrated easy access between the facilities.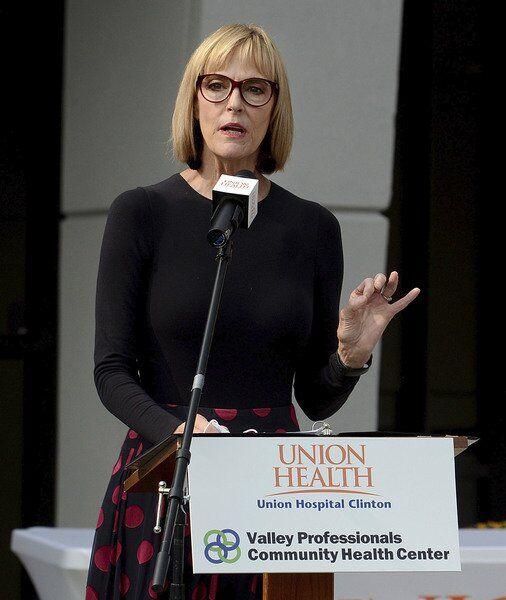 Valley Professionals opened in February 2008 with six exam rooms, one provider and one therapist. Warren said 1,600 patients were served that year through 4,000 patient visits.
Today, the health centers sees 10,000 patients with more than 30,000 patient visits annually at the Clinton location. Adding the health center's other locations in Parke, Vigo and Montgomery counties, more than 25,000 patients are served annually with 90,000 patient visits.
"The opening of this health campus signifies Union Health's ongoing commitment to improving access for thousands of rural residents in West Central Indiana, especially in Parke and Vermillion Counties," Laws said. "The culmination of this project demonstrates Union Health's collaboration with Valley Professionals Community Health Center to ensure that our friends, families, and neighbors can receive compassionate health care of the highest quality."
Indiana Lt. Gov. Suzanne Crouch commended the collaborative effort as guest speaker at the ceremony.
"As Hoosier's we celebrate the risk-takers who blaze a trail for others. We embrace the American dream, and we know that through hard work, our dreams can become a reality. And we see the evidence of that reality today," she said, commending the dedication of Warren and his team, Union Health CEO Steve Holman and the Vermillion County partnership.
Crouch said she often sees lack of access to healthcare in communities across the state. Valley Professionals is an example of offering valuable services many communities need, including chiropractic and women's health.
"I commend them for this approach in improving the quality of life for our Hoosiers in western Indiana," the lieutenant governor said.
Crouch toured the facility – the third expansion at the site since it opened in 2008 – and said she was impressed by the health campus.
"I was so impressed with the openness, the airiness, and it has an uplifting feeling that certainly is going to make the clients feel positive, just when they step through the doors," Crouch said.
Inside the facility, tours showed the patient service areas on the ground level, and the administrative offices on the second level.
Among those sharing their new work space was Linda Lonneman, a licensed clinical social worker. She welcomed visitors into a warm and inviting office with a couch, area rug and homey furnishings.
Lonneman said she sees clients ages 5 to 100, and the new space is a more comfortable setting to engage in treatment.
The patient accounts and business areas also give staff more work space and, as chief medical officer Dr. Steve Waltz said, brings together staff who had been separated into offices at multiple sites.
Valley Professionals Community Health Center provides comprehensive and integrated health care. It has clinics in Montgomery, Parke, Vermillion and Vigo counties in Indiana, as well as a mobile school-based health center that visits local schools.
Union Health is an integrated health system consisting of Union Hospital, Union Hospital Clinton and Union Medical Group. 
The  partnership between Valley Professionals and Union Health forms an inclusive health campus in which residents can be seen for a large variety of health care needs in a central location.
Among those attending the ribbon-cutting ceremonies were Indiana Sen. Jon Ford (R-Terre Haute), Sen. Phil Boots (R-Crawfordsville), Rep. Bob Heaton (R-Terre Haute), USDA Rural Development state director Michael Dora and Clinton Mayor Jack Gilfoy.
Lisa Trigg can be reached at 812-231-4254 or at lisa.trigg@tribstar.com. Follow her on Twitter at TribStarLisa.