Terre Haute came out en masse to support one of its own Saturday night at the Wabash Valley premiere of "Eva" in Tilson Auditorium at Indiana State University.
"Eva," a production of Ted Green Films and WFYI-TV, chronicles the well-known parts of Eva Kor's story — her tortured existence in the Holocaust and subsequent forgiveness and message of peace — but also delves into the years between.
And while years between liberation and forgiveness may have been a new wrinkle to those who saw the film April 5 at Butler University, many long-time Hautians may remember Kor's especially bombastic brand of activism from newscasts and newspaper stories in the 1970s and '80s.
The firebrand was determined to tell the story of her and her sister's survival in Auschwitz and find the man responsible for the heinous experiments conducted on the twins, infamous Nazi doctor Josef Mengele.
But Kor's determination was often met with equal or greater pushback.
"Probably until the early '80s, I don't think anyone understood me," Kor said. "They thought I was an embarrassment to this community and the kids picked on me.
"It was a very very difficult time for me and I did not understand why people didn't just leave me alone."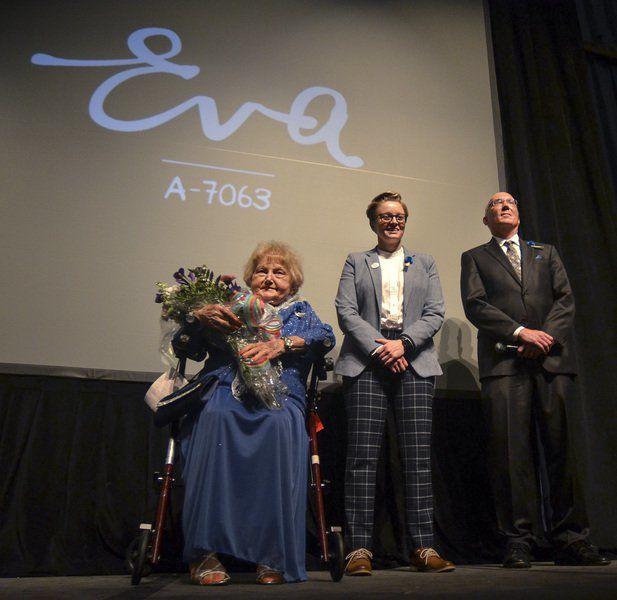 Kor was considered a pariah in the community, a label "Eva" co-Producer Mika Brown remembers hearing growing up in Terre Haute.
"Growing up in Terre Haute Eva was a pariah, that's what I knew," Brown admitted. "But then I met her and her personality just kind of pulls on your heartstrings and you catch the Eva Bug, as I call it."
Brown graduated from Terre Haute South Vigo High School in 2005; a place that she credits teachers Patrick Killeen and Carol Nasser with instilling in her a passion for photojournalism.
Almost five years later Brown was working with a local newstation and was tasked with going to Auschwitz with Kor for a five part miniseries.
Brown said she was pleased with how the news package turned out but came away knowing there was far more to Kor's story than had ever been told before.
"In 2010 I knew that I was on to something, maybe not on to something, but that there was more to Eva's story that could be bigger and better than the package I just put together," Brown said.
"I was sent over there with just this little hand-held camera, and while I was pleased with how it turned out I was kind of disappointed as a photojournalist because I knew there was so much more to be done to really just capture her story."
It wasn't until 2014 that Brown acted on that hunch, pulling together $5,000 to rent camera equipment and follow Kor to Auschwitz again.
"I told myself that I was going to shoot just enough to put together a trailer and just show it to someone," Brown said. "And in 2016 I was able to get a meeting with the president and vice-president of WFYI. Along the way I met Ted in a kind of serendipitous meeting and we hit the road."
Brown said the two years spent filming "Eva" was an honor and will cherish the times Kor trusted the film crew enough to tell stories she'd never previously shared.
"The fact that she just trusted us is something that I will forever cherish," Brown said. "Those moments that we were with her and she just opened up and trusted us enough to do the right thing with it were amazing. And I think we have."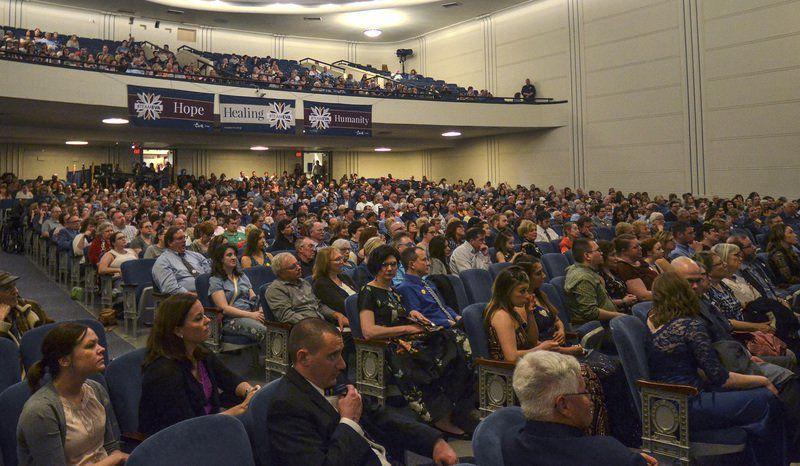 And Saturday night more than 1,000 people from around the community turned out to see what Brown and crew had done with Kor's story, including ISU President Deborah Curtis and Terre Haute Mayor Duke Bennett.
Curtis said the premiere is an important opportunity for the community to learn Kor's story and to further strengthen the bond between the university and CANDLES Holocaust Museum.
"This is an important opportunity to uplift her experience and for us to learn from it and understand it is so important," Curtis said. "We're so honored to partner with the CANDLES Museum and the production premiere of this documentary."
Curtis said she had an opportunity to meet Kor and tour the museum early in her days as ISU president, calling the experience "incredible."
"I've had the opportunity to sit with her and talk and there's nothing better than that; to have her take you around to all the exhibits and explain them is incredible," Curtis said.
Mayor Bennett echoed Curtis' sentiment, saying Kor and the CANDLES Museum are gifts unique to Terre Haute.
"Unique is certainly not an understatement," Bennett said. "I don't think people realize the gem that she is, first of all, and the fact that we have the Holocaust museum here to tell that story, especially to the youth.
"I think a lot of kids today don't know enough about that. And if we didn't have that the local kids wouldn't be exposed to it. Whether they're young or old they can go down and explore history in a way you wouldn't get it anywhere else."
But despite all the fanfare, Kor stayed true to her message of finding truth, no matter how difficult, and championing that truth once it's found.
"When you watch the film you will see all these things, but I never really felt I was doing anything wrong in particular," Kor said. "I just wanted the truth.
"And if you really find the truth and people seek the truth, the truth will set you free." 
Reporter Alex Modesitt can be reached at 812-231-4232 or at alex.modesitt@tribstar.com. Follow him on Twitter @TribStarAlex.