A look inside the incident command center at Union Hospital on Thursday revealed six people sharing data, tracking illnesses and directing hospital operations as part of the coordinated response to the COVID-19 pandemic in the Wabash Valley.
"Everything filters through us. We do that on purpose because if we have one center to make the decisions, then the decisions stay consistent," said Barry Nicoson, EMS and emergency preparedness coordinator for Union Hospital as he explained how Union responds.
A core group of nine staff members have worked for 18 days in the incident command center to make decisions on topics such as setting up a medical tent outside the emergency department to assess patients for the COVID-19 virus.
The hospital has reduced its entrances to three – east, west and emergency – during the day, with only one entrance opened overnight. Visitor restrictions are in place to limit the potential spread of the disease.
The incident command team members are department directors and managers, so they still oversee day-to-day operations in the hospital.
Many issues reported by national news outlets, such as limited hospital beds and lack of personal protective equipment and masks – is being tracked by the team and sub-groups who report to the team.
For instance, a supply team tracks the personal protective equipment. And each day, the hospital must report to the state how much PPE is on hand, the patient census, ICU census and the ventilator count. The state keeps track of that data, and allocates distribution of more supplies.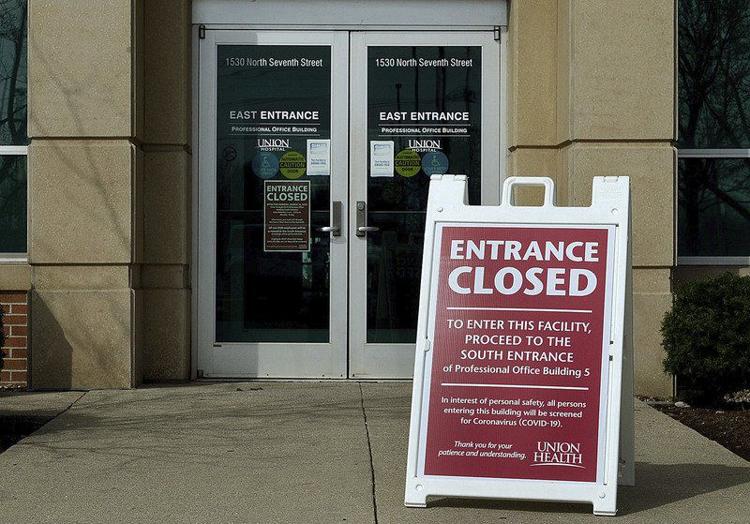 One common concern is the lack of ventilators, since this strain of coronavirus impacts the lungs, among other systems. Many hospitals nationwide are reporting a need for more ventilators, but supply is limited.
"We have a decent number of ventilators," Nicoson said, "but the potential for not having enough is there. It's happening all over."
Union Hospital planned ahead, he said, and has looked into some ways to run two people on a ventilator when possible.
Regular patient beds cannot be easily converted to ICU beds, he said.
"There's a lot more in one of those [ICU] rooms than in a regular room," Nicoson said.
With 257 licensed beds in the hospital, only 28 are designated as ICU beds. There is the possibility to flex up to 36 ICU beds, Nicoson said.
When an admitted patient is confirmed as having COVID-19, he explained, the person is placed in a designated area of the hospital so they can be cared for together by the same staff. All staff has been training on using the PPE and taking care of COVID-19 patients.
Testing, procedures
Early on, patients were not tested if they were not going to be admitted to the hospital, he said, but now a mobile medical tent is set up at the Emergency Department entrance to test patients for the virus and determine if the person should be admitted or sent home to shelter in place.
The hospital is limited in testing supplies, he said. A relatively healthy person without other "co-morbidities" such as diabetes or other serious issues that could be complicated by the virus, will be given information on what to do and sent home to self-isolate.
"When we [Indiana] went into the 14-day lockdown, it is really truly the only way we can stop spreading this disease. COVID-19 is very contagious and we need to be very smart on social distancing," Nicoson said.
As of Thursday morning, Union had seen three confirmed COVID-19 cases.
"As soon as we have a positive test, the health department is notified immediately," Nicoson said of the Vigo County Health Department, which in turn notifies state health officials.
The test itself is a nasal swab way back in the nose, so proper PPE is required because the test will usually illicit a cough or sneeze onto the healthcare worker.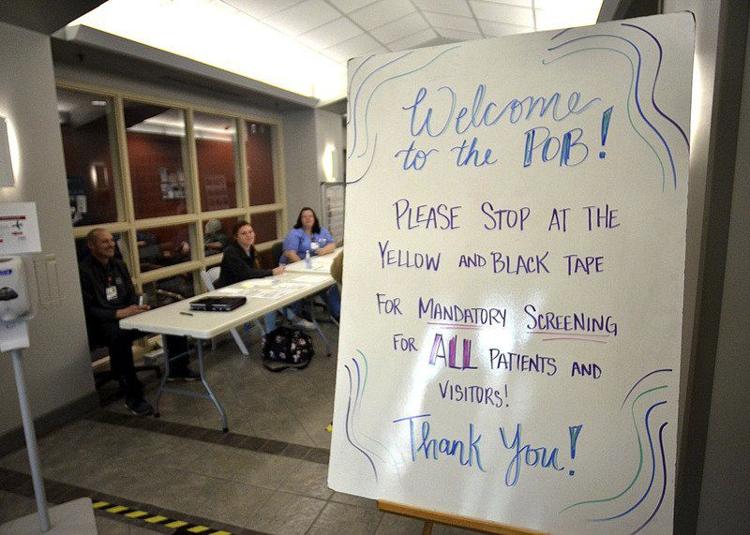 Depending on if the person is a community member or a staff member, the test sample is sent one of two routes. Tests for the community members go to LabCorp, which sends the swabs out of state for testing and gets the results in a few days.
If the test is on a staff member, the test is going straight to the state lab in Indianapolis for a faster result.
Nicoson said visitor restrictions in the hospital have gone well and been well received by the public.
That shows the community is understanding the seriousness of the pandemic, he added.
Nicoson said he expects the incident command center could be in operation for at least a few weeks.
The lessons learned are being documented, he said, and will be used in future training and preparedness drills.
In the meantime, anyone entering a Union Health facility will be screened with questions about their current personal health, such as fever, cough and wellness before being allowed to continue to appointments.
Anyone with a question about COVID-19 can call the Union Health hotline at 812-238-4871. A trained healthcare professional will answer questions from 7 a.m. to 7 p.m. daily.
Lisa Trigg can be reached at 812-231-4254 or at lisa.trigg@tribstar.com. Follow her on Twitter at TribStarLisa.