An innovative use for technology already on hand is being deployed at Union Hospital to slow the spread of COVID-19 as new patients enter the facility.
Jack Jaeger, executive director of the RHIC Simulation Center at Union Hospital, said the telepresence robots usually used to train medical and nursing students and hospital staff have been re-purposed to other areas of the hospital to function as a safe go-between for patients, families and staff.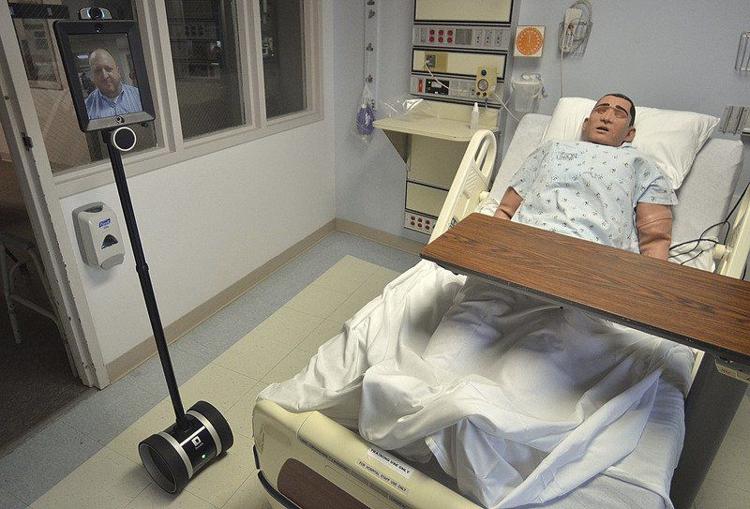 "The registration and admitting folks are not getting exposed to this like they would otherwise," he said, explaining that when a screening for a suspected COVID-19 patient takes place, the double-robotics telepresence means questions get asked and answered remotely.
Twelve robots are stationed in different parts of the hospital and at Union Hospital Clinton, and are being used primarily for registration and in triage areas of the emergency department.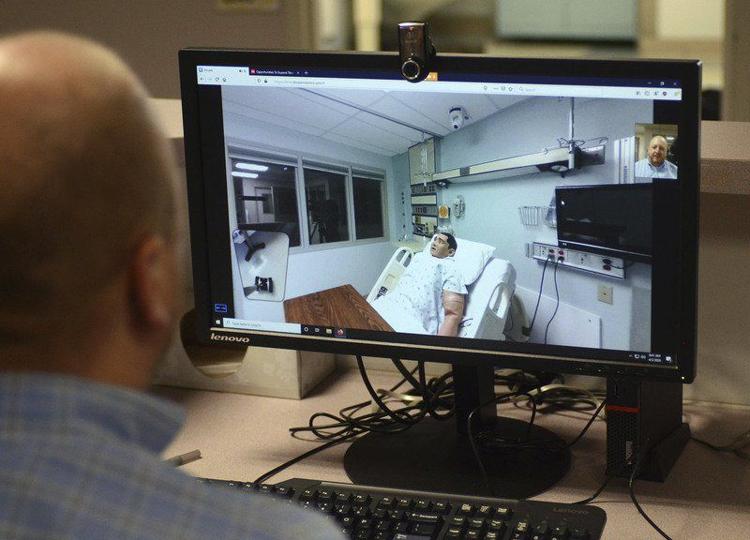 The "robots" are essentially iPads on an adjustable pole that can roll around on two wheels to visit patients in rooms.
While the patient sees the staff member who is operating the robot remotely, the staff person can observe and hear the patient.
For patients who do have the virus, the robot can also be used to enter the room. It can also be a communication device that lets the patient talk to a family member without exposing that loved one to the virus.
Jaeger said the hospital has been using the robots for several years in the simulation center, and actually began planning to use them before COVID-19 caused the current restrictions on visitation.
"It's worked pretty well," Jaeger said.
He noted it can be tricky to navigate at times, and getting the wheels stuck beneath a hospital bed or on equipment is a concern.
Using the robots for something other than training distance students who want to watch teaching simulations has been a different but positive challenge.
"I've been very impressed with Union Hospital's response to this and their adaptability," Jaeger said. "Every day, there is something new coming down from the CDC or the government, and this response has shown adaptability."
Hospital staff are constantly reminded to wash their hands and use protective equipment against the spread of COVID-19.
The public has also been responding well to the safety measures the hospital has put in place, he said, and that helps flatten the curve of increasing exposure as the number of cases peak in coming weeks.
"Any way that we can decrease exposure to COVID-19 is essential. The ability to flatten that curve makes such a huge difference, not only for the people who are infected by it, but for the massive influx that could happen if we don't decrease exposure for the health care professional that try to take care of these patients and families," he said.
Lisa Trigg can be reached at 812-231-4254 or at lisa.trigg@tribstar.com. Follow her on Twitter at TribStarLisa.