Terre Haute Regional Airport's Hulman Field, one of five airports under consideration for a foreign military sales training center to house F-35, as well as F-16, fighter jets for Singapore, has a long history with military aircraft.
That history — and a pair of long runaways — might help Hulman Field bring military aircraft back to Terre Haute.
Secretary of the U.S. Air Force Barbara Barrett on July 6 signed a memorandum to establish a permanent foreign military sales training center at a single location in the continental United States for 24 to 36 F-35s, a fifth-generation stealth fighter jet.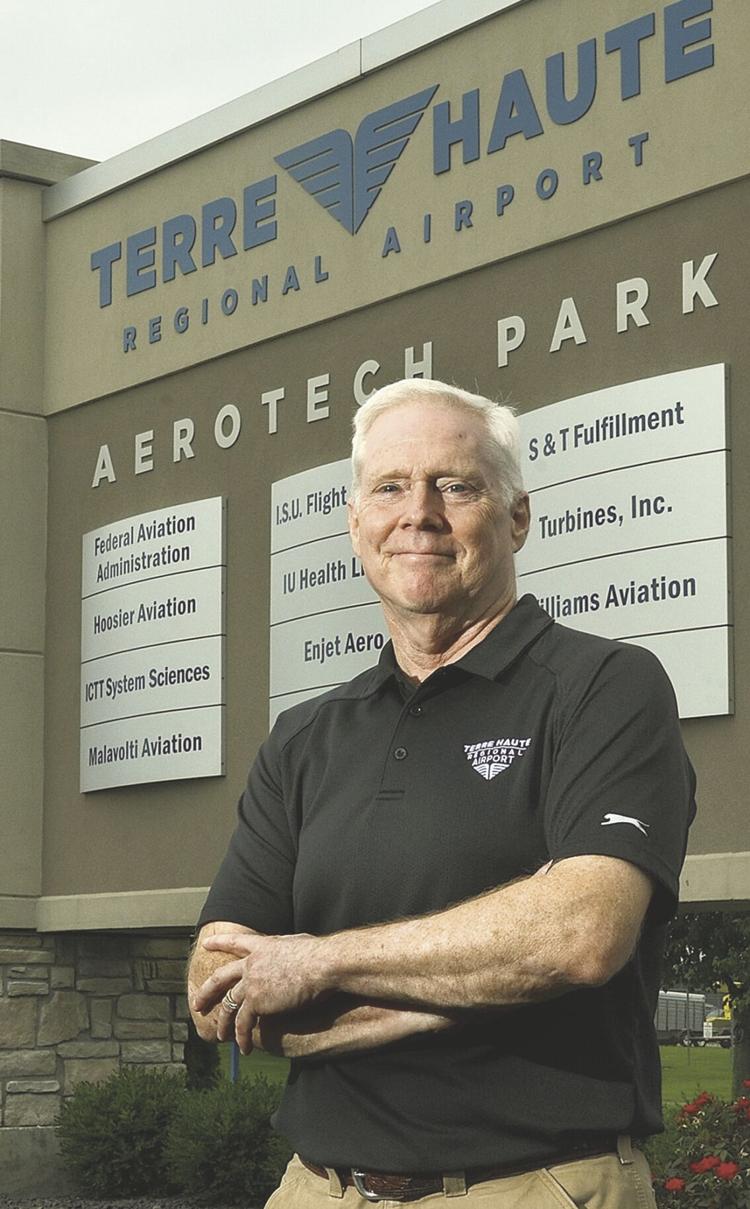 The Republic of Singapore Air Force is an F-35 military sales customer and seeks to co-locate its F-16 squadron, currently at Luke Air Force Base, with its F-35 aircraft at the new long-term sales and training location.
Singapore, located between Malaysia and Indonesia, is a regional security partner of the United States. However, the island nation is small. Rhode Island is nearly four times larger than Singapore, which also has limited air space.
Because of that, about a quarter of its combat aircraft are stationed abroad at any one time, mainly in the United States, France and Australia.
In the U.S., Singapore pilots train in Arizona, Idaho, Louisiana, Alaska and Nevada, according to the Republic of Singapore's Air Force web site. (www.mindef.gov.sg/oms/rsaf/careers/about-us/training-experiences.html)
Ann M. Stefanek of the Air Force secretary's office of public affairs confirmed to the Tribune-Star the Air Force is considering Buckley AFB, Colo.; Fort Smith Airport, Ark.; Hulman Field; Joint Base San Antonio-Lackland, Texas, and Selfridge Air National Guard Base, Mich. for the military sales training center.
Terre Haute's history with military aircraft
Terre Haute's link with military aircraft began in 1954, when the Indiana Air National Guard established a base at the airport for the 113th Tactical Fighter Squadron, part of the 181st Tactical Fighter Group.
The airport since has housed military aircraft such as the P-51, F-80, F-86, F-84 and the F-100 in the 1970s. The 181st converted to the F-4 in the late 1970s, and in the early 1990s, converted to the F-16.
In 1995, the 181st Fighter Group was changed in status to a Wing, being part of the Air Force's one-base, one-wing requirement. But F-16s left the airport in 2006 and in 2008, the 181st Fighter Wing was re-designated as the 181st Intelligence Wing.
It's a history well known to Airport Director Jeff Hauser, who has led the airport efforts since 2014 and who also had a long military career.
As a colonel, Hauser served as commander of the 181st Fighter Wing from January 2004 to April 2008 and as commander of the 181st Intelligence Wing from April 2008 to August of 2011.
Hauser then became brigadier general, serving as air component commander of the Indiana Joint Force Headquarters for the Indiana Air National Guard. He retired from the military in April 2018.
Hauser began in Terre Haute in 1980, when he was an enlisted man and a weapons loader with the Indiana Air National Guard. His aviation career includes more than 2,000 hours flying and instructing in the F-16, F-4, T-38, and T-37. He was instrumental in the transition of the 181st Fighter Wing to 181st Intelligence Wing.
"We always had (military aircraft) until September 2007," Hauser said, who was among the last four pilots to fly an F-16 out of Terre Haute. "We were the only state at that time that had two combat-coded F-16 wings. That was (Terre Haute) and Fort Wayne," Hauser said.
"We knew back than that the chances of keeping two (combat) wings was very slim. We knew that intelligence was an upcoming mission," so the airport sought that designation, he said.
Yet, the airport remains ideal for military aircraft, he said.
Terre Haute's two runways are major assets and both can be extended by about 1,000 feet, further enhancing its use for a potential military sales training center, Hauser said.
"Of the other places (under consideration by the Air Force) most have one long runway without an alternate runway, except for Fort Smith Arkansas which has two, but those are both shorter runways," Hauser said comparing the sites to Terre Haute.
Terre Haute airport's primary Runway 5-23 is Indiana's fourth-longest runway at 9,020 feet long. It also has a secondary Runway 14-23 that is 7,200 feet long.
Hauser said Terre Haute's airport "is less congested. When you are not in a big city, you don't waste a lot of extra money by air traffic control vectoring you around waiting to land. Here, is it pretty easy to get in and out of," Hauser said of Hulman Field.
"I think our air traffic control, our runways and being in the Midwest, right in the middle of the country, are really good for us," Hauser said.
Efforts to improve airport runways started in 1990s
In the late 1980s and into the 1990s, Terre Haute's airport was home to both the military and air cargo companies.
Evergreen Express operated at the airport from 1987 to 1989, followed by Roadway Global Air from 1993 to 1995. Daylight Air operated from 1996 to 1997 and American International Freight from 1997 to 1999.
Both air cargo and the military were the driving forces behind expanding the airport's secondary runway, starting in 1997 and completed in 1999, said Charles J. Goodwin, who served as executive director of the then Terre Haute International Airport-Hulman Field from 1990 to 2003.
Since 2003, Goodwin has served as director of operations and aviation business services for Columbus Regional Airport Authority, which oversees three airports in Ohio.
"When we started hosting additional cargo activity in the 1990s, it became pretty apparent to us that being a single (long) runway airport was going to be a challenge for those folks that operate aircraft that are time sensitive and where reliability is key," Goodwin said in a telephone interview.
"We began an effort to look at the potential of extending that second runway, which was called (Runway) 13-31 at the time, and we happened to change that (to Runway 14-32) during the course of that project," Goodwin said.
"In our efforts to look at the justification for that project, we found that the commercial carriers were not the only users of the airport that would benefit from a secondary runway that would provide the redundancy that they desired and needed for their customers, but also that the military would benefit from it," Goodwin said.
An additional concern at that time, Goodwin said, were "multiple rounds of the Base Realignment and Closure (BRAC) Commission that were underway, and we felt that if our (National) Guard unit was forced to relocate for any amount of time because, for example, if we were rehabilitating the primary runway, 5-23, there is a risk those (F-16) airplanes would not come back to Terre Haute," he said.
"So, we undertook an effort to provide kind of a joint project between the National Guard Bureau and the FAA (Federal Aviation Administration) and were successful in getting both military funding and FAA funding to extend that runway to 7,200 feet, which was really the length required for an F-16 to operate without restriction," he said.
That secondary runway project "was a big deal for us. It was the first big contract, as least when I started," said Darryl Huyett, who served 24 years on the airport's board of directors, retiring last year.
Huyett said the project included installation of barriers on the runway that would pop up in emergency situations to stop military jets on the runway. Those barriers were later removed in a future paving project, he said.
"That gave us a true backup runway. Over the years, we have tried to keep the airport in a position to where it would be attractive to commercial and military purposes," Huyett said. "I think this proposed training center would certainly benefit the airport and I believe it would benefit the community with more jobs and activity."
Goodwin said the runway extension was supported by former Terre Haute Mayors Pete Chalos and Jim Jenkins, as well as former U.S. Rep. John Myers, who Goodwin said "was a key" for military funding.
"Myers was the chairman of the (U.S. House) military construction appropriation subcommittee and he was very helpful in securing those funds for us," Goodwin said.
Another benefit was noise reduction.
"At the time, there was substantial residential development occurring southwest of the airport, with Lexington Farms and Richland Manor and the Honey Creek area southwest of the airport," Goodwin said. "We wanted to mitigate potential noise impact on those heavy population areas, so that runway extension was intended to have some of that (air) traffic move to the southeast, where is it was far less populated."
To help remediate noise, a $5 million bond issue was supported by the community, Goodwin said.
"A lot of community leaders were drivers behind that. Pat O'Leary was leading the Alliance for Growth and Progress, then Marc Elliott (Terre Haute Department of Redevelopment) and Sam Borden from Ivy Tech (Community College) was involved. They were passionate about helping Terre Hatue prepare for the future," Goodwin said.
"We purchased a number of homes along (Indiana) 46 to the southwest as part of a bond issue to help eliminate those (noise) impacts the FAA deemed significant," Goodwin said. "We also bought land to southeast of the airport to accommodate the (runway) extension but also for the noise impact we were anticipating."
The runway extension "was intended to improve the utility of the airport, reduce impacts on the surrounding community and create jobs," Goodwin said.
Improvements have continued at the airport, such as:
• In 2010, the airport's main Runway 5-23 underwent a $10 million rehabilitation, milling off old pavement and adding 5 inches of new pavement. This is when emergency stop barriers were removed from the airport.
• In 2011, as a measure to avoid possible subsidence, the Indiana Department of Natural Resources undertook a $6.6 million project to drill and then fill sections of open mine caverns. The work created pyramids that act as supports for the ceilings of the now-inactive mines.
• And in 2017, the airport utilized tax increment finance revenue to complete more than $1.2 million terminal facade upgrades.
Reporter Howard Greninger can be reached 812-231-4204 or howard.greninger@tribstar.com. Follow on Twitter@TribStarHoward.