A trio of candidates in this fall's race for Terre Haute mayor addressed both the school and casino referendums, their plans for public safety in the city and a host of other topics Tuesday at a forum hosted by Citizens of Action.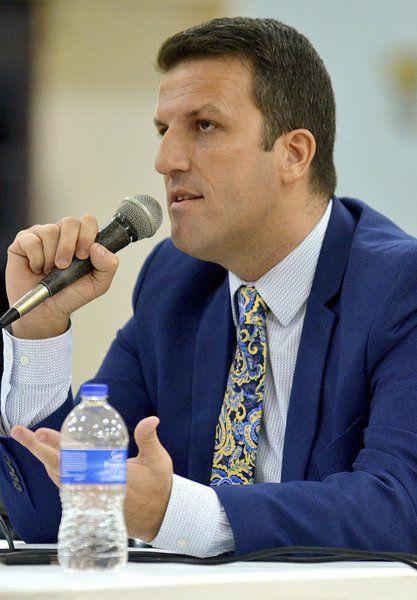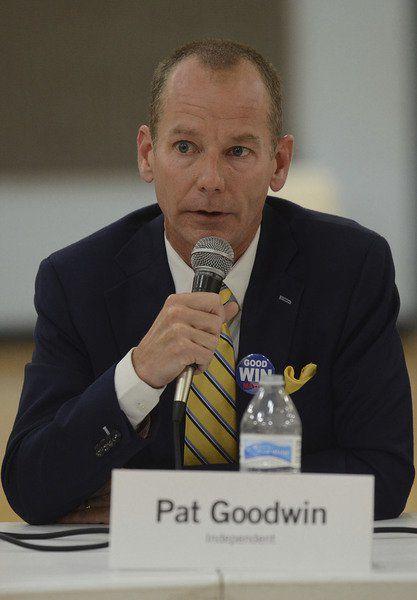 Republican candidate and incumbent mayor Duke Bennett, Democrat Karrum Nasser and independent Pat Goodwin spent a little more than an hour laying out their positions on everything from race relations to broadband access.
But it was a question about the city's public safety spending that provoked the most heated discussion of the evening.
When asked about a supposed plan to cut public safety, Goodwin went on the offensive saying people, likely his opponents and their supporters, have been spreading lies.
Goodwin said he has no intention of cutting public safety, but added officials need to get away from the idea that spending more and more on police and fire equals support.
"It's not true, I never said it," Goodwin told the dozens in attendance at the Booker T. Washington Community Center. "But here's the thing; the public safety departments are around two-thirds of our general fund budget.
"We have to get over this idea that the only way to support public safety is to spend more money. We can improve public safety without always spending more money. We have to work on improving the departments without spending more money. I never said I was going to cut these departments. … I really wish these two [Bennett and Nasser] would stop telling people those things."
In response, Nasser said he's glad many of Goodwin's campaign forums have been recorded so that those interested can go back and see for themselves what Goodwin said.
"I was at one of the meeting where he did say that ..." Nasser said. "When we have contracts that have minimum staffing requirements, you can't say one thing, be caught in your tale and then go back and say you never said that."
"I would ask that everybody make sure to look at the video," Goodwin interjected.
"I'll post it on my Facebook site," Nasser shot back.
Bennett didn't address either of his opponents, instead opting to say the public's safety and those that ensure it should be any mayor's number one priority.
"The most important thing you do as mayor is public safety," Bennett said. "I can guarantee you everybody that calls me and thanks us for what we do, in answering the calls with good equipment and trained officers and firefighters, we're going to continue to invest in that.
"We've averaged about a 1% percent raise since I've been in office, if we think that's too much, that's ridiculous."
All three candidates also addressed the Vigo County School Corporation's funding referendum on the November ballot.
Both Nasser and Bennett wouldn't commit to outright supporting the referendum, with both saying they'd like more information on how the money is to be spent and what specific budget cuts are necessary to ensure the corporation's sound financial footing moving forward.
Goodwin said he supports the referendum and lauded Superintendent Rob Haworth's effort to fund Vigo's schools in as transparent a way as possible.
"Dr. Haworth has demonstrated leadership on this issue," Goodwin said. "He has been very open, has identified what the problems are, has told us what those problems are and he has had I don't how many public meetings, 50, 60, 100, it's been so many shame on you for not knowing, because he's made it almost impossible not to know what's going on with the school corporation."
The trio also touched on the other referendum on this fall's ballot, that of the proposed development of an inland casino in the county.
Again Bennett and Nasser were lockstep in their answer, saying they support casino development and think the tax revenue can address some of Terre Haute's quality of life issues.
"Regardless of whether you gamble or not, the money that comes back we can all take advantage of and we can all use," Bennett said. "The first project on my horizon is an aquatic-type facility to replace the Deming Park pool — and we wouldn't need the Y[MCA] pool at that point — that can be a destination for people to use."
Goodwin said the casino focus should be about making sure Terre Haute and Vigo County get the best deal possible when soliciting bids from prospective operators. He said he'd like to see promises in the requisite local agreement about infrastructure improvement or a new fire station in the city's southeast quadrant, the rumored site for any potential casino.
Reporter Alex Modesitt can be reached at 812-231-4232 or at alex.modesitt@tribstar.com. Follow him on Twitter @TribStarAlex.