Connie Wrin thumbed through a small scrapbook of the Blues at the Crossroads festival on Tuesday afternoon.
This year's festival was just 10 days away. Sitting at a table inside her Wabash Avenue nightclub, The Verve, Wrin freely recounted the annual music event's earliest years. A painting by popular artist Mike Neary hovered over Wrin's shoulder on the wall. It depicts a band, in mid-song, that performed in past Blues at the Crossroads festivals, and will again this year.
Wrin enjoys the Blues fest's history, but stays focused on the one coming up.
"I'm not a real forward thinker," she said. "I don't sit here and think, 'Will I be doing this in 10 years?' I just get up and do it."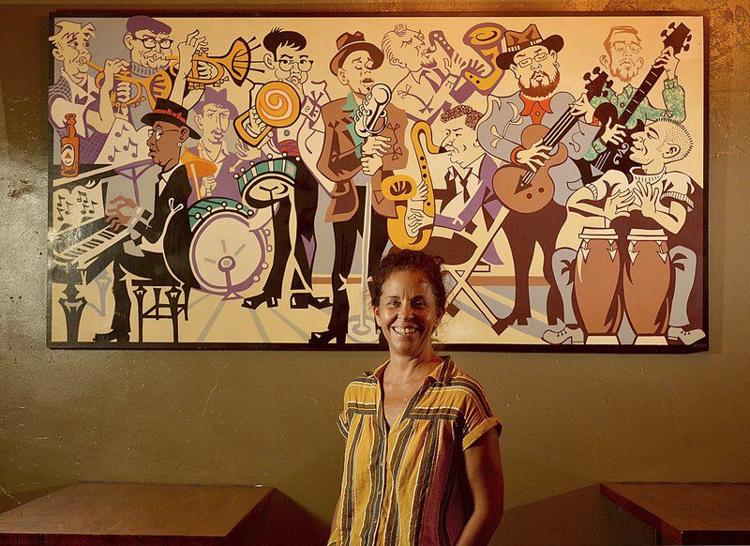 That in-the-moment approach has succeeded. Wrin and her team, which includes 80 volunteers, are preparing for the 19th Blues at the Crossroads Festival this Friday and Saturday at the intersection of Wabash Avenue and Seventh Street. She launched the festival in 2001, just nine months after opening The Verve and just four days after the Sept. 11 terrorist attacks on U.S. landmarks.
Blues fest endured that fresh shock of 9/11, the Great Recession, and occasional stormy weather. Such perseverance makes Blues at the Crossroads one of Indiana's longest-running blues festivals. Its formula — 19 national, regional and local acts; food and beverage vendors; a casual urban setting with an elevated stage and a crowd seated in lawn chairs on Wabash; $10 admission; and fans ranging from retirees to college students to toddlers — impresses organizers of other Hoosier blues festivals.
"What you have on Wabash Avenue is a festival park, not a listening room. And that's what it's meant to be. It's an expression of joy," said Grant Stuart, organizer of the Bean Blossom Blues Festival, founded in 1999 at Nashville, Ind., and believed to be the state's oldest continual blues event.
Stuart, a Terre Haute native and Nashville businessman, has run Bean Blossom Blues for the past six years at the historic Bill Monroe Park. It draws 1,800 to 2,500 fans, who typically camp at the park for the three-day festival weekend in a rural atmosphere. Stuart has also attended Blues at the Crossroads in his hometown, where festival-goes are often "daytrippers," as he put it.
Like Bean Blossom Blues, the Terre Haute festival includes acts from other genres influenced by blues. Blues at the Crossroads routinely features artists from variations of blues, rock, soul, R&B and funk. Many music festivals, anchored on one genre, include others. California's famed Monterey Jazz Festival also brings blues and rock acts to its stage.
Stuart cited the lyric by legendary bluesman Muddy Waters that "the blues had a baby and they named it rock and roll." Music festivals, Stuart said, are about "almost as much the experience of getting together with fellow music lovers, not just of hearing a particular genre."
Artists slated for prime-time slots at this year's Blues at the Crossroads blend other genres with blues. Indianapolis' Austin Stirling plays guitar and banjo and describes his sound as a mesh of blues, country and "the sweaty vibes of rockabilly." Indy singer Jennie Devoe's "smoky" voice has a mix of soul, gospel and blues. Evansville's Monte Skelton plays 20 different instruments and has performed with R&B legends The Temptations and jazz singer Sherrie Bias.
Each fills an evening slot on the Terre Haute stage this weekend. 
And there's Blind Mississippi Morris, a pure blues singer and harp (harmonica) player born in Mississippi and playing regularly in Memphis, Tenn. He and his band play 7:45 to 9 p.m. Saturday in Terre Haute.
"Every festival I've ever been to that has a name in a genre is eclectic," Wrin said. She's excited about this year's lineup.
Crafting that roster is a process she begins almost as soon as one Blues fest ends. By the following March, she's normally finalized the acts for that September's festival. A rarity occurred last week when a talented Ohio act that Wrin recruited months before finally confirmed its appearance. She penciled them into the schedule.
Several Wabash Valley-based performers will also take the stage this weekend, because "there's so much talent in this town," Wrin said.
Wrin spends nearly $120,000 each year to pay the festival's performers, insurance, vendors, sound crew, security and bartenders. Ideally, gate receipts and revenue allow the festival — which is a nonprofit — to at least break even. Proceeds beyond that will fund a new collaboration with the Vigo County YMCA, which will be the site of the Music Is Key program to give kids access to instruments and lessons.
Rainy years complicate the festival's aim to break even. And the recession, which hit barely a year after she expanded the festival from one day to two in 2007, wasn't easy for Wrin, a 51-year-old mother of five, grandmother and former ER nurse.
"I could barely keep my head above water," she said, "but I'm a creature of habit." She kept going.
Mike Milligan understands the process of staging a blues festival, as well as playing the music. The veteran blues guitarist from Kokomo has performed several times at Terre Haute's Blues at the Crossroads. Then in 2010, he organized the Indy Winter Blues Fest, and that event is scheduled to happen for the 10th time on Feb. 14 and 15 in Indiana's capital city.
As a festival gains longevity and success, its ability to attract performers grows, Milligan said last week. Preparation becomes a routine.
"Once you get a reputation as a legitimate festival, and it's gone on a while, it kind of organizes itself," Milligan said.
Wrin's style, approach and accommodations for artists at the Terre Haute's Blues fest has Milligan's admiration. "It's just really classy," he said.
Likewise, he's always been impressed by the diverse, steady crowds at Terre Haute — "a really good, solid citizen base" in the early hours, as Milligan put it, followed by a rush of Indiana State University students late in the evenings.
On Tuesday, Wrin wrote the late confirmed band's name into her planner book, and also had on her mind a routine meeting on safety and security with excise police. When asked if she'd ever pass the Blues fest organizer torch on to someone else, such a question was clearly the last thing on her mind.
Maybe her kids will take that on, she finally speculated.
"It would be really hard for me to do that, because I'm kind of a control freak. ... Unless somebody wrote me a really big check," Wrin said laughing.
Mark Bennett can be reached at 812-231-4377 or mark.bennett@tribstar.com.