Dylann Roof – the newest and youngest inmate housed on federal Death Row – now waits with 51 others sentenced to die by lethal injection at the U.S. Penitentiary in Terre Haute.
Roof – the 23-year-old gunman convicted of killing nine members of a Bible study group at a South Carolina church in 2015 – was moved to the maximum security federal prison on April 21.
In a month when the state of Arkansas has executed four condemned inmates on an accelerated schedule because the state's lethal-injection drugs were about to expire, the wait on federal Death Row shows no signs of ending soon.
It's been about 14 years since the last federal execution was carried out. A federal moratorium has put the lethal injection process in limbo since 2004, pending a Justice Department review after a series of botched state executions blamed on faulty drugs.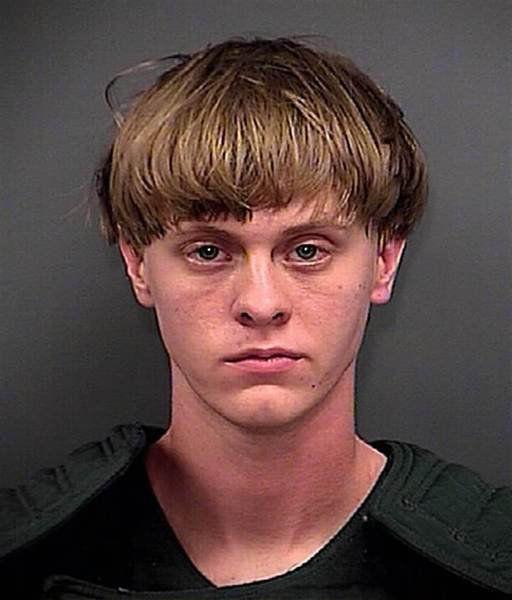 Roof is the first person sentenced to death under the federal Shepard/Byrd Hate Crimes Act. He was convicted in December of killing nine people and wounding three others when he went to a midweek Bible study at Emanuel AME Church in Charleston, South Carolina, on June 17, 2015, and opened fire with a .45-caliber handgun.
A white supremacist, Roof told investigators he was hoping to start a race war in America. He has also pleaded guilty to nine counts of murder in a South Carolina court and was sentenced to life in prison without parole. The state conviction essentially serves as a back-up in case the federal trial verdict is overturned.
Federal inmates with death sentences are usually housed in a "Special Confinement Unit" established at the Terre Haute penitentiary by the Bureau of Prisons in the 1990s.
Not all at Terre Haute
Three inmates have been executed at USP Terre Haute since then — Oklahoma City bomber Timothy McVeigh in 2001, drug kingpin Juan Raul Garza in 2001 and murderer/rapist Louis Jones Jr. in 2003. The moratorium went into effect the next year.
In addition to the 52 inmates housed on death row in Terre Haute, five other people with death sentences are being housed at other federal facilities. They will ultimately be transferred to the Terre Haute USP if their execution is to be carried out.
Three of those inmates are housed at the federal Administrative Maximum Facility (ADX), the federal prison system's super-maximum-security penitentiary in Florence, Colorado.
Among those at ADX are Boston Marathon bomber Dzhokhar Tsarnaev, who was 21 when he was convicted of 30 counts related to the bombing plot instigated by his older brother, Tamerlan.
Seventeen of those 30 counts carried a possible death sentence. The younger Tsarnaev was found guilty of conspiring and detonating weapons of mass destruction at a public event as an act of terrorism resulting in death. Tsarnaev will turn 24 in July. Tamerlan Tsarnaev died April 19, 2013, from wounds suffered during a chase and shootout with police.
Also at Florence is Kaboni Savage, 42, and Joseph Ebron, 38.
Savage was sentenced to death in 2013 for orchestrating 12 murders in relation to drug crimes. Ebron was sentenced in 2009 for murdering a fellow inmate at a federal prison in Texas.
Lisa M. Montgomery, the only woman on federal death row, is housed at Carswell federal medical center in northern Texas. She was sentenced in 2007 for the kidnapping and murder of a pregnant woman, whose unborn baby she then took and claimed as her own.
Condemned inmate Robert Bolden, 53, is being held at Springfield, Mo., federal medical center. He was sentenced in 2004 for killing a bank security guard during an attempted robbery in St. Louis.
The moratorium
The halt on federal executions and ongoing Justice Department review of lethal injection protocols came after a number of botched state executions in which some lethal drug combinations failed to anesthetize inmates, causing inmates to scream and writhe in pain for a prolonged period.
"The Justice Department is continuing its review of the federal protocol used by the Bureau of Prisons as well as policy issues related to the death penalty, and we have, in effect, a moratorium in place on federal executions in the meantime," Justice Department spokesman Peter Carr has said.
All states and the federal government use lethal injection as their primary method of execution. States use a variety of protocols using one, two, or three drugs. The three-drug protocol uses an anesthetic or sedative, typically followed by pancuronium bromide to paralyze the inmate and potassium chloride to stop the inmate's heart. The one or two-drug protocols typically use a lethal dose of an anesthetic or sedative.
A bleak existence
Sister Rita Clare Gerardot of the Sisters of Providence at Saint Mary-of-the-Woods was a silent protester at the McVeigh and Garza executions. She has also been a spiritual adviser for former death row inmate David Paul Hammer, who was resentenced in July 2014 to life without parole after spending about 15 years on death row.
Gerardot has told the Tribune-Star that facing execution is a bleak existence at the prison.
While she herself has never been inside the special confinement unit, she said she has heard descriptions of it from Hammer and others who have experienced it first-hand.
"They are in a small cell by themselves. All their meals are pushed through a slot. There is no recreation, but they can go out of their cells three times a week into cages," she said.
The cells contain a bed, toilet, shower and a chair connected to a desk, she said. And there is a small color television in each cell — color only because black-and-white TVs are no longer available.
The inmates can speak to other nearby inmates at the fronts of their cells, she said, and they have a limited amount of time when they can use a telephone and access email, and have access to a library. If a friend or relative sends money for commissary, the inmates can order additional food or clothing beyond what is provided by the prison.
"Truthfully, I don't know how they keep their sanity," Gerardot said.
Gerardot started visiting Hammer at the request of a Sister of Mercy from New York, who would not regularly make trips to the penitentiary in Terre Haute. Gerardot said went as a "minister of record" for Hammer, so she would not count as one of the limited visitation times that he received each month. She spoke to him through a window, using a two-way telephone, the same as family members and other visitors. He was led to the meetings in shackles, she said, and returned to his cell wearing shackles.
Hammer is now housed at a federal prison in Missouri since his re-sentencing.
Other notable inmates
The penitentiary at Terre Haute also houses other notable inmates who are not on death row.
The correctional complex, which also includes a medium security federal correctional institution and a satellite minimum-security camp, has a history of housing some "celebrity" inmates convicted of non-violent crimes.
Currently, John Walker Lindh, often called "the American Taliban," is serving a sentence until May 2019.
Abdulwali Abdukhad Muse of Somalia has a release date of October 2038. He was sentenced to 33-plus years in prison after pleading guilty to hijacking, kidnapping and hostage-taking connected to the April 2009 piracy of the container ship MV Maersk Alabama, which was dramatized the movie "Captain Phillips."
Former celebrities who have been housed at the prison complex include troubled NFL quarterback Art Schlichter, former Illinois governor George Ryan and former Ku Klux Klan member James Ford Seale, who died in custody in 2011 while serving a life sentence.
Others former high-profile inmates include singer Ronald Isley, who was convicted of tax evasion; Chuck Berry, who was sentenced for his alleged amorous involvement with an underage waitress in the 1960s; Chicago power broker William "The Pope" Cellini, who was released in 2013; baseball pitcher Dennis Dale "Denny" McLain, the last MLB pitcher to win 30 games in one season; and Native American activist Leonard Peltier.
The U.S. Penitentiary at Terre Haute is high security with a population of about 1,409 total inmates, including 52 on death row.
The medium security federal correctional institution has a population of 1,010 while the satellite camp has another 328 inmates.
The entire population of the complex is about 2,747 inmates.
Lisa Trigg can be reached at 812-231-4254 or at lisa.trigg@tribstar.com. Follow her on Twitter at TribStarLisa.