With Halloween less than three weeks away and winter weather on the horizon, the Terre Haute Fire Department reminds people to be cautious during the upcoming holiday seasons.
Norm Loudermilk, THFD arson investigator, said Halloween should be a fun time for those who choose to participate but warned that open flames and most costumes and decorations don't mix.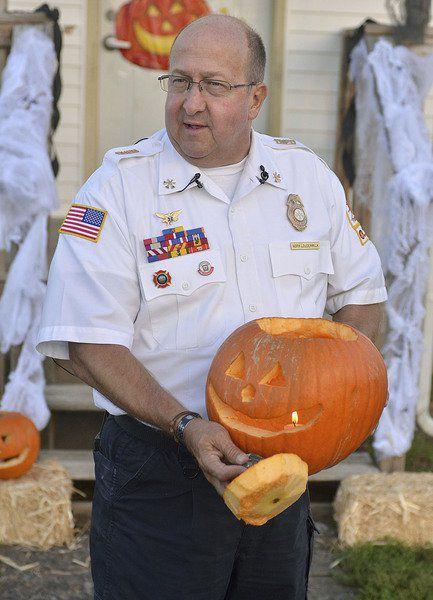 Using a pair of synthetic children's costumes, not unlike most found in large box stores, Loudermilk demonstrated the ease with which most costumes can turn deadly serious by holding them near a fire and watching them slowly melt away into a plastic puddle.
And while neither burst into flames like cotton costumes of old might do, Loudermilk said the playing around bonfires and lit candles in modern costumes can cause serious injury or death.
"We want to help kids safe," Loudermilk said of the demonstration Wednesday. "We want to make sure when they go to parties and roast marshmallows and are around weenie roasts they don't get too close with their costumes.
"Most of those costumes have flowing fabric and you can fall and get hurt. Or I've seen cases were they've been running around a bonfire, trip on their costume and fall in the fire and get hurt. And obviously if they're standing around talking next to the fire and get too close it can start to melt or catch fire."
The same applies to lit candles around Halloween decorations or in the holiday staple, jack-o-lanterns, Loudermilk said.
Putting a battery-operated candle in one carved pumpkin and a standard candle in a second, Loudermilk showed how quickly a pumpkin can become a fire hazard if left unattended for too long.
Not 15 minutes after lighting the candle and putting it in the pumpkin, Loudermilk lifted to lid and showed a black resin on the underside that was warm to the touch. He said if left for too long, the lid can dry out and catch fire, much the same as dried flowers, cornstalks and crepe paper.
"These things will catch fire, they'll burn," Loudermilk said of his test pumpkin. "And if they're knocked over by somebody on accident, or you know it's Halloween and someone decides to trick, then that candle could set the bale of straw on fire you have at your house."
In short, Loudermilk said, he recommends folks invest in battery-operated candles as decorations are the first thing to ignite in 900 home fires each year across the U.S.
So far as trick-or-treating safety is concerned, Loudermilk said children should carry a flashlight or be outfitted with glow sticks, necklaces or bracelets.
He also recommends only trick-or-treating at the homes of friends and family or at the least inspect each child's candy before they dig in.
Loudermilk said anyone with questions or concerns can reach out to Terre Haute Fire Department at 812-244-2803.
Reporter Alex Modesitt can be reached at 812-231-4232 or at alex.modesitt@tribstar.com. Follow him on Twitter @TribStarAlex.