The classroom of Cathy Herrin was "organized chaos" on Friday as West Vigo High School students got into the Christmas spirit of giving through their Baskets of Cheer project.
Members of the Family, Career and Community Leaders of America Club bustled around with laundry baskets filled with non-food items. Shampoo, detergent, toothbrushes and toothpaste, lotions, paper towels, deodorants – all items not usually available from food pantries focused of feeding folks.
The students also included hand-made holiday cards in each basket. The Area 7 Agency on Aging selects recipients for the baskets.
"For several years we've been doing the baskets, said club sponsor Cathy Herrin. "This year, we are also doing stockings for the Providence Food Pantry."
The project is a good way to get students involved in a community project, she said, and it helps them think about others and their needs. Collection of the items began in November, and other area schools have joined the project as well.
North Vigo and South Vigo high schools, Woodrow Wilson Middle School, and Central Elementary in Vermillion County have come on board to collect items and assemble baskets.
The leftover items collected by each group are sent to Herrin, who uses them to assemble more baskets and stockings.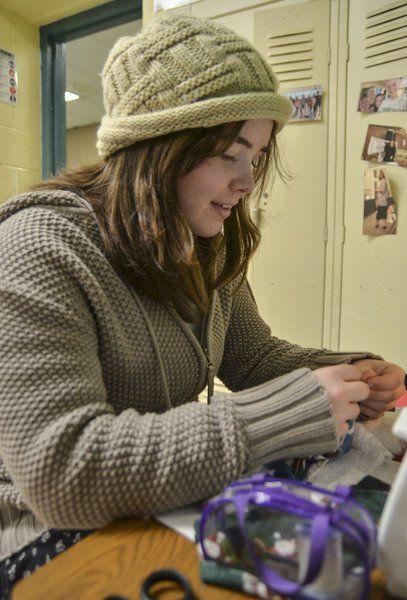 "It makes me happy" Abigail Meehan said as she worked with a group on the stockings. "It makes me feel good."
"I'm just so happy we can give back to the community," said Ellie Davis.
Senior Aliyah Orten has worked on the project for four years, and said she enjoys projects that help folks in the community.
"We are helping the elderly, and we don't think about them normally," Orten said. "We think about giving presents to children. But maybe this helps them so they will have more money to buy gifts for their grandchildren. We take for granted the essential non-food items they need."
Herrin's students also organized an Angel Tree for Christmas this year. And, in November, they organized a dinner for 70 at-risk families in the community.
Herrin said her home church, Northside Community United Methodist Church, has also joined the project and is providing 33 baskets.
"It has become a community thing," Herrin said.
Area 7 will be collecting the baskets from each school and location. About 800 Area 7 clients are eligible to receive one of the baskets, Herrin said.
Lisa Trigg can be reached at 812-231-4254 or at lisa.trigg@tribstar.com. Follow her on Twitter at TribStarLisa.