Bees, busy as they are known to be, have benefited people, plants and the planet for centuries and continue to play a vital role in agriculture. Bees pollinate crops, increase yields and give rise to a lucrative honey industry.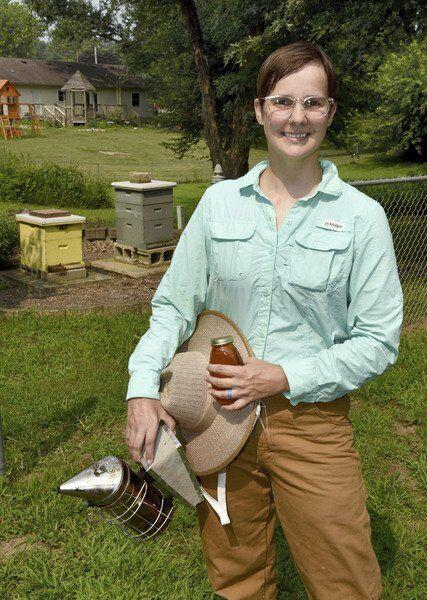 Tabby Flinn, owner of Honey from the Haute, earned her bachelor in entomology (the study of insects) from Purdue University. She earned her master degree there as well because she was mesmerized by the habits of social insects (those that colonize such as bees, ants and wasps).
"I got my first bee hive in 2016 when my Mom wanted to start keeping bees. I harvested five gallons of honey that first fall," said Flinn. "I added a second hive the following year and then another, but the winter of 2018 had a harsh freeze, so I lost one hive."
Flinn, who is the agriculture and natural resources coordinator for Purdue Extension of Vigo County, now has four hives and said she's always looking to expand. She sells her honey through social media sites and plans to sell it at the Terre Haute Farmer's Market at the Meadow's Shopping Center on Poplar Street in Terre Haute this summer. She said it takes a lot of energy for the bees to make honey combs, so she only sells honey but will occasionally sell the bee's wax too.
As pollinators, honey bees help flowers produce fruits and seeds. Female worker bees fly from plant to plant in search of nectar and pollen to feed their colony. On their way, the tiny hairs all over their body help pick up pollen from one flower and brush it onto another, thus aiding the plant's reproduction process.
Over one third of the food we eat relies on pollination by bees, either directly or indirectly. But between the large size of today's farms and the severe population declines that our natural pollinators have suffered in recent decades, many farmers today must contract with beekeepers to truck in honeybees to ensure their crops are well pollinated. 
"I know of several beekeepers who drive across the country, from state to state, taking their bees to the farmers who need help with pollination. I have one beekeeping friend who hauls his hives all the way out to Florida every year to help pollinate the citrus groves," said Flinn.
Well-managed farms can provide good habitats for bees, who, in turn, provide pollination services for agricultural production.
In the United States, more than one-third of all crop production – 90 crops ranging from nuts to berries to flowering vegetables - requires insect pollination. Managed honey bee colonies are our primary pollinators, adding at least $15 billion a year by increasing yields and helping to ensure superior-quality harvests, according to the U.S. Department of Agriculture.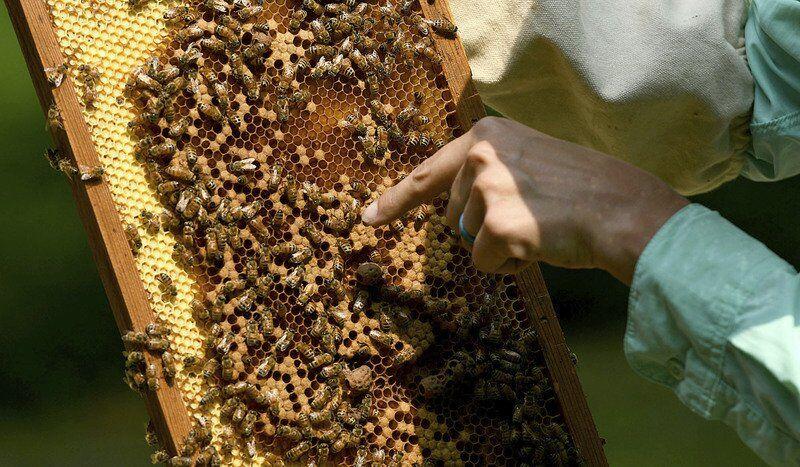 However, our beekeepers have been steadily losing colonies. The USDA website states that the number of honey bee hives in this country has decreased from 6 million in the 1940s to about 2.5 million today. 
Changes in land use and landscape structure, intensive agricultural practices and use of pesticides have led to large-scale losses, fragmentation and degradation of their habitats. 
Flinn said there's a solution that can help resolve that problem.
DriftWatch is a voluntary communication tool that enables crop producers, beekeepers and pesticide applicators to work together to protect specialty crops and apiaries through use of the DriftWatch registry mapping program. Indiana farmers can create an account at https://in.driftwatch.org where they can also view maps of all 50 states.
The DriftWatch registry tool is meant to help pesticide applicators and specialty crop growers communicate more effectively to promote awareness and stewardship activities to help prevent and manage drift effects. Prevailing wind or repetitive features in a landscape can cause honey bees to enter a different hive from the one that they left, which is known as drifting.
The site features a powerful map interface that clearly shows applicators the locations of registered specialty sites so they can use the information in their ongoing stewardship activities before they spray.
DriftWatch was designed by staff from the Purdue University Agricultural and Biological Engineering and Agricultural Communications departments with input and support from Purdue University Cooperative Extension Specialists. It is now operated by FieldWatch, Inc, a non-profit company created by Purdue in collaboration with interested agricultural stakeholder groups. For more information, visit www.fieldwatch.com.
"There's been a real change in attitude among farmers who use chemical pesticides on their crops. They now realize that they must cooperate with the bees in order to sustain their crops and are coming up with other pesticide options," said Flinn.
Another resource that can help with bee population that she sited is the Indiana Department of Natural Resources which provides the state's swarm list to connect beekeepers with the public for the removal or collecting of honey bees. Click on a county in the map to find a beekeeper at https://www.in.gov/dnr/entomology. If there is not a beekeeper in your county, check other counties near you to see if another beekeeper will come that far for the honey bees.
"Rescuing swarms of bees is how we got a couple of our hives," Flinn said.
When you see a swarm, do not panic. A swarm of honey bees is generally very calm and they rarely sting.
Do not spray the swarm with water or poison. Call a beekeeper as soon as you see them. Swarm season in Indiana is in May around Mother's Day. Once in while, there may be swarms in March and into September. This depends on the weather and the hive condition.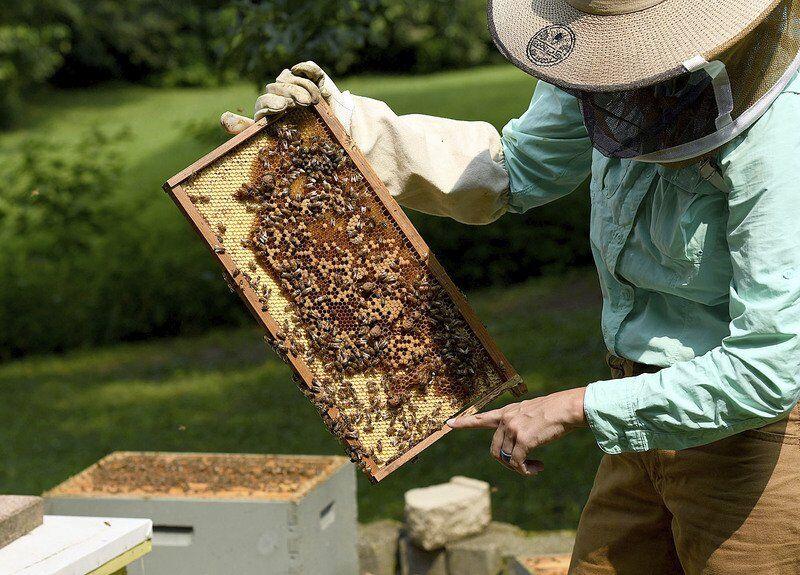 There are many reasons why honey bees swarm. It's the natural method or reproduction or increase in population. Flinn said that sometimes, bees just get lost. Other times, it's because a beekeeper's hive is overcrowded and the queen has run out of space to lay eggs. She will stop laying eggs and shrink down in size so she can fly. When swarming, the queen takes off with part of population to start a new colony. The old colony will make a new queen and continue to prosper.
Flinn said the DNR site is also helpful to people who are interested in keeping bees.
"Contact those local beekeepers who know what they're doing. Beekeepers are always willing to help others learn the ins and outs of starting and maintaining healthy hives."
Before Flinn accepted her current position with Purdue Extension, she worked with area 4-H clubs. Beekeeping is a 4-H project, so teaching kids and adults how to save pollinators was something she enjoyed and hopes to do again in the future.
"First-timers are often nervous when they get up close to a bee hive, so you have to have lots of protective equipment for them," said Flinn. "Hats with veils keep the bees out our your hair and off your face and neck while gloves and long sleeves and pants keep them off the rest of your body."
Michele Lawson can be reached 812-231-4232 or michele.lawson@tribstar.com. Follow her on Twitter @TribStarMichele.