As Jennifer Egan and Jessie McKean tweaked wires and gears Thursday morning on their solar cars, they were getting the same kind of hands-on activity they hope will energize their students in the classrooms this fall.
Egan, a fifth-grade teacher at Fayette Elementary, and McKean, a science teacher at South Putnam High School, happily got their solar-powered cars moving along a sidewalk at Rose-Hulman Institute of Technology during the Sustainable Energy Boot Camp for teachers.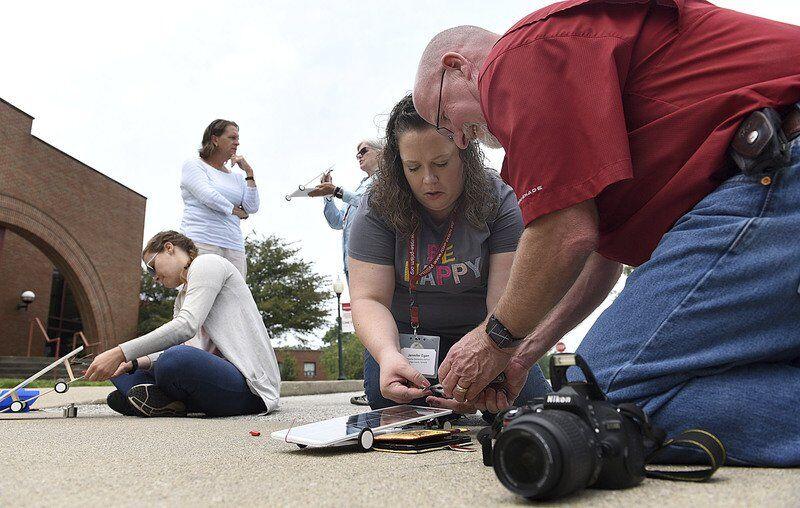 "This would be a great project for after they take their AP [advanced placement] tests," said McKean, who teaches an advanced placement environmental science class.
Several teachers from around the state participated in the free workshops provided through the Portal Resource for Indiana Science and Mathematics, or PRISM, program at RHIT. Financial support came from the Duke Energy Foundation and Rose-Hulman alumni Becky and Frank Levinson.
The teachers learned about energy conservation practices, solar and wind energy, hydropower, lighting systems, the U.S. power grid, and coal and natural gas power plants – gaining valuable knowledge they can add to their classroom curriculums to show students the practical application of science and math.
Vigo County math teacher Tanya Pfaff said she has often been asked by students when the math they are learning in the classroom will be used in real life.
"If I can just take a little snippet of this and connect it to what I'm teaching in the classroom, it's a win-win for everyone," Pfaff said.
The teacher participants took field trips to a Duke Energy power plant at Cayuga, wind farms in Benton County, power plants near West Terre Haute and Merom, and to Indianapolis' Ben David High School and its Area 31 Career Center.
"Teachers like to learn. We're just like students," Pfaff said. "We like to re-energize and re-engage in our subject matter. So something like this just gives us such a great opportunity," she said. "As we teach, we can work in certain aspects of what we've learned this week and I think that's the best part."
Pfaff is also an Indiana legislator, and the laws and policies for energy producers and users are often debated in Indianapolis.
"There is a lot going on in Indiana with sustainable energy, and we've always got to look to the future," Pfaff said. "We as a state need to look at all possibilities, and for me, that's one reason I wanted to take time to do this boot camp, because I need to be more educated about the future of energy."
RHIT instructor Andy Mech, emeritus professor of mechanical engineering, said interest nationwide is growing in renewal energy and environmental sciences. The boot camp topics introduce educators to both the conventional resources as well as renewable resources for power.
"With all of the cutbacks on carbon fuels and the switchover, which is important, grade school kids and those going into college need to understand what's going on," Mech said. "And teachers need to know enough so they can tell them accurate information rather than just hearsay."
Students who take science and math classes might wonder why they are doing certain projects, Mech said. But putting them into a hands-on situation where the science is being used gives a better understanding and can inspire future technological growth.
Lisa Trigg can be reached at 812-231-4254 or at lisa.trigg@tribstar.com. Follow her on Twitter at TribStarLisa.