Whether it's by wearing a uniform or tending the home front, Taya Kyle — wife of famed Navy SEAL and marksman Chris Kyle — said everyone has the capacity to serve.
Kyle's appearance at Indiana Theatre on Thursday is part of the Wabash Valley Base Community Council's effort to bring service families and the community together.
Throughout her speech, Kyle praised the base community council for their efforts to create a support network and sense of community in Terre Haute for the spouses of service members, something she said was invaluable while her husband was training and deployed.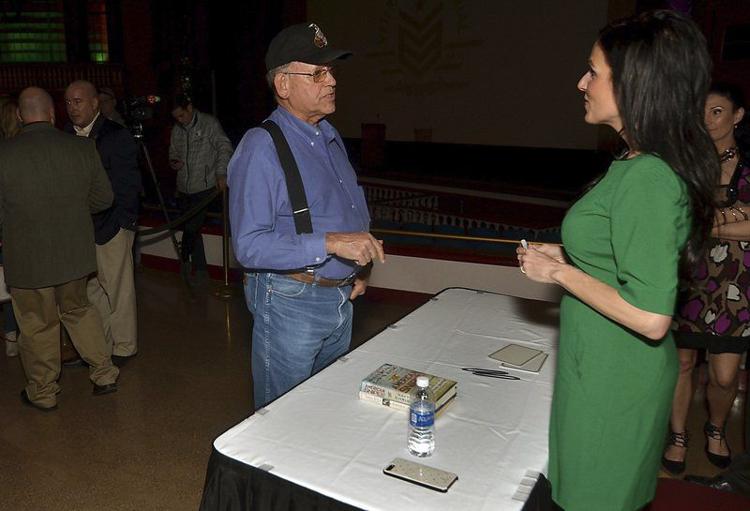 Kyle, author of the book "American Wife," said it was her neighbors who helped ease the anxiety that often accompanied her husband's combat deployments.
"The community ended up being a huge support system for me," Kyle said. "When I look back at our time in the service I don't think about base, well I do when thinking about Chris' work, but I didn't think of that as my safety net.
"It was the community of my safety net. Those are the people that lifted me up."
After telling a number of stories chronicling the help she got from neighbors over her and her husband's time in the service, she said it's those memories that make the mission of the base community council so or her.
"I think that's what the BCC is trying to do; get people together to have compassion and understanding," Kyle said. "This world is and isolating type of world to be in. It isolates you from your support network, your marriage.
"People want to fix everything else and say 'Oh we can do this for PTSD. We can do this for TBIs. We can do this for the amputees. And we can do this for the kids.' And I get it. I think that's great. But to me, what I keep coming back tom, the best thing you can do for people is to make their home a safe place and the rest of that stuff will fall in line."
In that vein, Kyle went on to talk about the mission of the Chris Kyle Frog Foundation, a non-profit organization dedicated to the memory of her late husband and helping military and first responders' marriages and families.
Kyle founded the organization after her husband Chris, the "American Sniper," was killed by a fellow veteran in 2013 on a gun range in Texas.
Chris Kyle was renowned for his skill behind a rifle, earning him two Silver Star medals, five Bronze Star medals and the nickname "The Devil of Ramadi" from enemy insurgents.
Base community council President Shelley Klingerman said hearing Kyle's message will further invigorate the organization to bring service families and the community together.
"A lot of the points that Taya covered in her talk were just validation as to how important this effort is," Klingerman said. "We want to make sure that when a spouse is deployed there is a support network in their community to help them."
Klingerman said the organization will launch a website in the near future, but in the meantime people can visit its Facebook page and message the Wabash Valley Base Community Council.
Reporter Alex Modesitt can be reached at 812-231-4232 or at alex.modesitt@tribstar.com. Follow him on Twitter @TribStarAlex.