An advisory committee is being formed to address parking concerns in downtown Terre Haute and Mayor Duke Bennett hopes the panel will hold its first meeting in December.
Bringing back parking meters is expected to be among the topics discussed, something another college town did several years ago.
The 2013 installation of about 1,500 meters in Bloomington after a more than 30-year absence is generating more revenue for the city but reviews are mixed among businesses and customers.
For several years, Bloomington has seen growth in the number of downtown residents, something Terre Haute has only recently begun to experience with construction of more housing to serve Indiana State University students.
"If you want to solve your problems in Terre Haute, meters are a good solution," said Jim Blickensdorf, a restaurant owner who chairs the Bloomington Parking Commission. "But you have to consider the system holistically with parking garages, neighborhood zones, free parking around the city [and] two-hour limits."
Bloomington got off to a rough start with a high failure rate among refurbished meters the city purchased from San Diego-based IPS Group at a cost of $1.9 million. The company completed a rehab program in 2015 and meters generated $618,000 in net revenue in 2016, according to the Parking Commission's most recent annual report.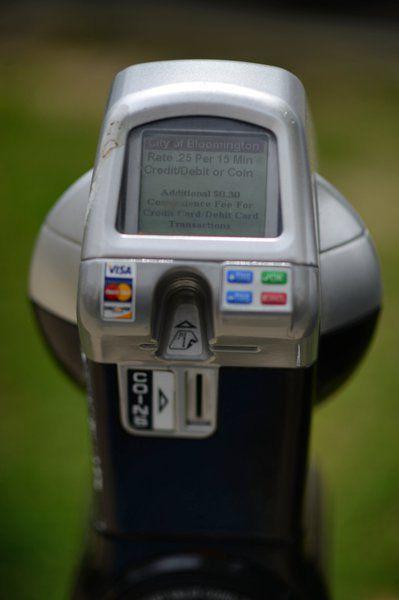 Combined with more than $383,000 in parking fines placed in the city's general fund rather than its parking fund, the total surplus exceeded $1 million, the report noted. The surplus is projected to increase by nearly $240,000 annually once lease payments on equipment are completed this year.
Bloomington meters charge $1.00 per hour and must be "fed" between 9 a.m. and 9 p.m. Monday through Saturday. They accept coins, credit and debit cards and payment can be made using a smartphone app. For those shopping, dining or visiting downtown, the first three hours of parking are free in city-owned garages and lots.
Some like 'em, some don't
Prior to meters, Bloomington had a two-hour limit for downtown parking, which "just created a two-hour shuffle. It didn't really change anything," Blickensdorf said.
Talisha Coppock, executive director of Downtown Bloomington Inc., said "there was a big learning curve" when meters returned. "If you walk two or three blocks you have options for free parking and covered parking. People are starting to get used to it now. Bloomington can be such a destination place. People want to pop in quickly, get something and leave. It has managed that supply."
But not everyone has adjusted. At the B-town Diner, a 24-hour eatery, manager Meranda Shipley said she goes "back and forth" concerning meters.
"We have our students and we have our townies who don't like to come downtown because of parking," she said. "Either they can't find it or pay a dollar an hour or by chance get a ticket. The app is fine but a lot of townies have never come to the diner because of parking spaces."
Shipley appreciates the three hours of free parking available in a garage just a few dozen steps from the diner and encourages customers to take advantage of it. But, she notes, "convenience is very important to people."
At Argentum Jewelry, customer service representative Kathleen Thomas said the return of meters "takes the leisure out of shopping. If somebody's taking the time to shop for an expensive gift and they have only half an hour on their meter they often have to run back out and put more money in. I've had cases where people leave and don't come back."
For Jeffrey Denny, manager of Indiana Running Co., the move to meters "doesn't really take away business; it just shifts it. I'd say we're busier on Sundays because parking is free on Sundays."
Denny said his business has received few customer complaints, "but some days it's really busy and it's a pain to find a place to park."
'Small price to pay' for what city offers
Jan Sinn, who lives on Bloomington's far east side beyond College Mall, comes downtown to shop and for appointments with her masseuse.
"I understand fully why we need to pay to park because that allows us to have more coverage for activities that are a part of what makes Bloomington special in terms of city activities," she said. "My perception is that it's a small price to pay for the amenities provided by the city."
Sinn appreciates the app that allows users to increase the amount of time on meters from their smartphone if they're running late.
While meters have been in place for more than four years, "it takes a while for people to adjust," she said.
With the return of meters, said Blickensdorf, the Parking Commission chairman, "a lot of people had the idea the sky was falling and the world was coming to an end. A lot of business is still here … At least two hotels and six or seven restaurants have opened since 2008 when meters were first proposed."
Meters, he said, "mean additional transactions downtown, more sales, more sales tax, in the long run higher wages, lower cost of goods and lower cost of housing."
But Blickensdorf said issues of social equity remain.
"What about those people who can't afford to pay for parking?" he asked. "We need to make sure the system does not exclude certain people from coming downtown. These are questions that haven't even been addressed in Bloomington yet."
Dave Taylor can be reached at 812-231-4299 or dave.taylor@tribstar.com. Follow him on Twitter @TribStarDave.