The Wabash Valley Community Foundation is distributing nearly $500,000 from 200 designated grants to nonprofit agencies and organizations in Vigo, Clay and Sullivan counties.
It's a record financial amount in the foundation's 26-year history, with the majority of that —  $400,418 — distributed to agencies in Vigo County.
The largest single distribution in Vigo County — $66,000 — was presented to the Swope Art Museum, 25 S. 7th Street, in downtown Terre Haute.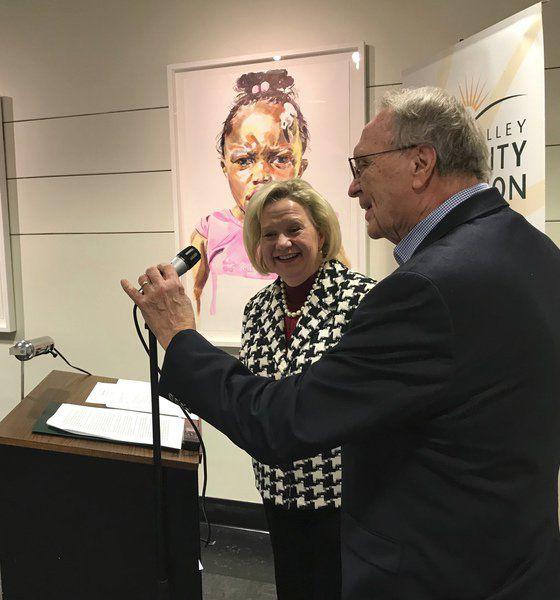 "There are 16 separate endowment funds" for the Swope, created either by donors or by the organization itself, seeking to assure an annual source of revenue, said Beth Tevlin, executive director of the community foundation. "It is such an important institution to our community," Tevlin said.
Fred Nation, interim executive director of the Swope Art Museum, said the community foundation funds are "approximately 14 percent of our budget for a year, so that is 14 percent that we don't have to go out and raise otherwise. The Swope, because it is a free-admission museum by the will of the estate of Sheldon Swope, we have to raise every year approximately 80 percent of our budget. That is very unusual in the museum world," Nation said.
"Because of all kinds of circumstances, we don't have a restaurant or a gift shop, we don't have some of the kinds of elements that other museum may have," Nation said. "That doesn't mean we won't have these things at some point, but the museum has grown in its square footage space a lot over the years.
"We didn't always occupy all of this building and now we occupy all three floors, roughly 35,000 square feet," Nations said. "About 20 years ago, we probably occupied 10,000 square feet, so the world has changed and we are changing," Nation said.
Tevlin said checks to other Vigo County organizations were mailed Wednesday. The community foundation will distribute grant funds for Clay County organizations on Sunday and grants to Sullivan County next week, Tevlin said.
Nation said artwork on display in the Swope museum, now through Sunday, was created by Cleveland artist Darius Steward.
"We hope to do a big community mural with his help sometime in this year," Nation said.
Steward, Nation said, works in water colors. Referring to one large painting, Nation said "what makes these unusual is that they are not on paper as we all know it, but rather on plasticized paper, so the colors dry right away and he is able to work them, so it is a very unusual technique and it gives a very unique look to his painting. Every work here is of his two children or his wife," Nation said.
Nation said the museum is undertaking a fundraiser to obtain $20,000, which would allow for two murals, with one of them downtown.
The museum's largest annual fundraiser — the Swope Art Museum Mardi Gras Party — will take place Saturday at the Terre Haute Brewing Company.
Reporter Howard Greninger can be reached 812-231-4204 or howard.greninger@tribstar.com. Follow on Twitter@TribStarHoward.