Using cotton pads, gravel and a coffee filter, three eight-graders from Parke-Heritage Middle School filtered water from the Wabash River until they had fluid that looked almost clean enough to drink.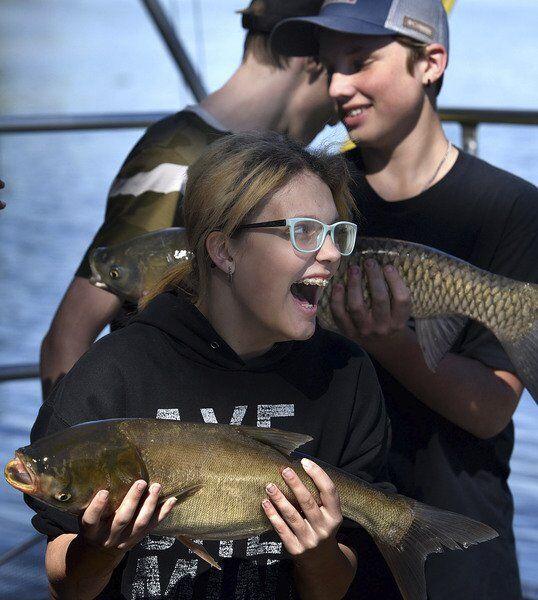 Hallie Miller, Daniel Jones and Hayden Vandivier said their water looked "okay-ish" as they peered through the clear plastic cup at water that had been rather cloudy just minutes before.
Their experiment was repeated throughout the day Thursday by multiple student groups who participated in the annual wetlands outdoor classroom project at Duke Energy's Cayuga power plant.
With directions from Deb Barnett, Eric Shidler and Daniel Welage, educators for the soil and water conservation districts in Parke and Vermillion counties, the middle-schoolers learned about water quality, natural filtration of groundwater, and municipal systems that produce drinkable water.
The students then built their own filters for the experiments.
Moving on to a session on pond ecology, biologists for Duke Energy encouraged the youths to dip nets into a swampy wetland and examine the bugs and critters they caught.
The biologists regularly survey the river both upstream and downstream from the power plant to monitor the fish and aquatic insects.
The vegetation around the river is also an important filter for ground water that flows to the river, and for wildlife who call the wetlands home.
The tallgrass prairie that reaches into Indiana has been mostly taken over by land development, but what remains is home to hundreds of species of wildflowers, grasses and insects.
At the entomology station monitored by Tabby Flinn of the Purdue Extension in Vigo County, students saw a hellgrammite, the larvae of eastern dobsonflies.
Whirligig beetles swam around the surface of a tub among dragonfly and damselfly larvae.
Learning about the processes and life cycles that go on in the wetlands was fascinating for many of the students.
"There are a lot of bugs at the entomology that I didn't know about but that were pretty cool," Miller said as the students took a lunch break after learning about engineering at the power plant. Miller said she hopes to become a science teacher in the future.
"Now, if I go hiking and I see some of those bugs we learned about in entomology, maybe I'll know what they are now."
The Parke-Heritage students, as well as a group from LaSallette Academy in Georgetown, Illinois, also learned how the power plant's operations and its environmental equipment help reduce emissions.
Lisa Trigg can be reached at 812-231-4254 or at lisa.trigg@tribstar.com. Follow her on Twitter at TribStarLisa.