On Friday, Vigo County School Corp. coordinator of safety Travis Chesshir showed video footage of a driver who not only passed a school bus with its stop arm down — the driver also could be seen looking at a cell phone.
That video was forwarded to Indiana State Police, and potential charges are pending under a new law passed this year that toughens penalties for stop arm violators.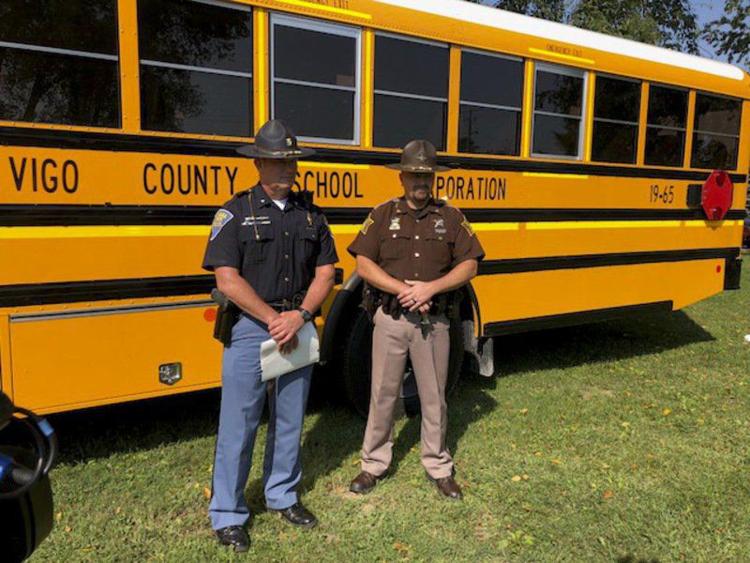 The school district has a new tool at its disposal, with several new buses having exterior cameras that can be used to videotape, and prosecute, stop arm violators.
The goal is not to penalize or prosecute drivers, said Bill Riley, VCSC director of communications. The goal is to strengthen driver awareness.
"We're less concerned about catching people and more concerned about keeping our kids safe," Riley said during a news conference at the VCSC bus transportation facilities. Also present were Sgt. Matt Ames, Indiana State Police public information officer, and Derek Fell, Vigo County Sheriff's Office chief of operations.
"We've had really good volunteer compliance from our community," Riley said. "I think people really care about keeping our kids safe" and not driving distracted when buses are picking up or dropping off children.
Yet, stop arm violations do occur, and the exterior cameras "are a huge preventative item for us," Riley said.
The cameras are high definition and capture drivers coming and going. "We can see who is driving ... and we can see license plates very clearly. We do have one case where charges are being prepared for a stop arm violation," Riley said.
Under the new law, Senate Enrolled Act 2, recklessly passing a school bus with its stop arm extended would be a class A misdemeanor, up from a Class B misdemeanor.
If the reckless driving results in injury, the stop-arm violation increases from a Class A misdemeanor to a Level 6 felony, and if the action results in a death it is a Level 5 felony, which carries a penalty of one to six years in prison.
Ames, of ISP Putnamville post, said state police are working with the school district by reviewing the video showing stop arm violations "and providing that information to the prosecutor's office once we're ready for adjudication."
State police, the sheriff's office and other jurisdictions have been focusing on school bus safety and stop arm violations, he said. He believes the public has a greater awareness of the safety issues and the new tougher penalties.
He described possible penalties. Drivers who illegally pass a stopped school bus can be charged with a class A misdemeanor punishable by up to one year in jail and up to a $5,000 fine.
If a someone is injured, the driver faces a possible level 6 felony, punishable by up to 6 months to 2 1/2 years in prison and up to $10,000 fine, Ames said.
ISP Putnamville post covers six counties, and each one has a designated trooper following school buses each morning and afternoon looking out for stop arm violations and distracted driving around school buses, he said.
Fell reported on grant-funded special patrols by the sheriff's office to watch for unsafe driving during morning and afternoon school bus routes. Over three weeks, the effort led to 20 citations, including 14 stop arm violations and two warnings.
Because the exterior stop-arm cameras are new for the district, officials wanted to talk about the process when they have video of a violator. The bus driver "marks" the video so it is easily retrieved and the video is sent to Chesshir, who reviews it.
Currently, Chesshir works with Indiana State Police on the "first round" of stop-arm violations caught on video. In the future, video of stop arm violators will likely be sent to other police jurisdictions depending on where the violation occurred, Riley said.
Riley noted that bus drivers will not extend a stop arm — which opens the door and allows students to board or exit — if they see that extending the arm could put students at risk. That might lessen the number of stop-arm violators caught.
"Our drivers are putting our kids safety first," Riley said.
A stop arm violation can also be infraction, which carries no jail time but a possible fine of up to $10,000.
According to Ames, for a violation to become a misdemeanor, "There has to be some recklessness" involved. "There is a lot more thought and process goes into it" and discussion with the prosecutor's office.
The ultimate goal is to prevent stop arm violations and keep children safe, Fell said. He encouraged the public to "let us know if there are issues in their area and we can shift our focus to other areas."
Riley noted that in high-traffic, high-speed areas, the transportation office manages routes so that when children are picked up and dropped off, they are not walking across those busy roads.
According to Michelle Edwards, Terre Haute city clerk, the court cost for a Class A misdemeanor is $185.50, and any fine is added to that amount. The maximum judgment, or fine, is $5,000, but there is possible jail time for a misdemeanor.
For an infraction, the court cost is $135.50, with a maximum fine of $10,000; there is no jail time for an infraction.
In Terre Haute City Court, the judge requires court appearances for infractions involving stop arm violations, Edwards said.
Sue Loughlin can be reached at 812-231-4235 or at sue.loughlin@tribstar.com Follow Sue on Twitter @TribStarSue.