Terre Haute singer and musician Travis Dillon certainly leads an interesting life. Some might call it crazy.
When not entertaining winter tourists with live performances on Carnival Cruise Line ships, which he's done for the past six years, Dillon hikes long distances throughout the United States.
Very long distances.
Dillon, 35, recently through-hiked the scenic Pacific Crest Trail. He started May 23 in Campo, California — near the Mexican border — and finished Oct. 15 at Manning Park in British Columbia, Canada. He hiked roughly 2,300 of the 2,653-mile route.
"There were fire closures," Dillon said, explaining why he didn't go the full distance. "At one point, I was freezing. So I had to get out of there and get warmer clothes. But, mainly, it was forest fires that kept me skipping around.
"Every through-hike is different. It's so hard to be a purist [someone who insists on trudging through every mile of a trail] on the PCT because of the fire closures."
A Pimento native who graduated from North Central High School in 2001, Dillon promised himself before this hike that he wouldn't try to navigate through significant snowfalls.
"Then there I was, pushing through 1 1/2 to 2 feet of snow," he said. "I was like, 'Daggone it, this was not what I wanted to do.' Every night for the last two months, I fell asleep trying to get my hands warm."
But during the early months of this hike, his longest ever, high temperatures presented Dillon with his toughest obstacle. He even suffered a minor heat stroke in southern California.
"I had been suffering from heat exhaustion for a couple days," he recalled. "It kinda took its toll on me finally. I was down for almost a week. ... I was actually afraid of the sun for a few days. I couldn't go in the sun without wincing. I felt like a vampire."
Dillon brought along a smartphone and solar charger to go with his camping gear and guitar. He kept friends updated on his status with semi-regular Facebook posts.
A love of hiking  
Dillon has been hiking since his early 20s, but he decided to through-hike the challenging Appalachian Trail in July 2016. He concluded the 4 1/2-month, Maine-to-Georgia trek in November 2016, logging about 1,400 miles.
"I've always loved camping and I've always loved being out in the woods, sitting around the fire," Dillon said. "There's nothing I don't like about hiking.
"Anybody who doesn't like hiking or doesn't like camping did it at the wrong time with the wrong people. I like cold-weather camping, personally. The less humidity you have, the better. Then you can actually enjoy your fire instead of sweating it out like you're in a sauna."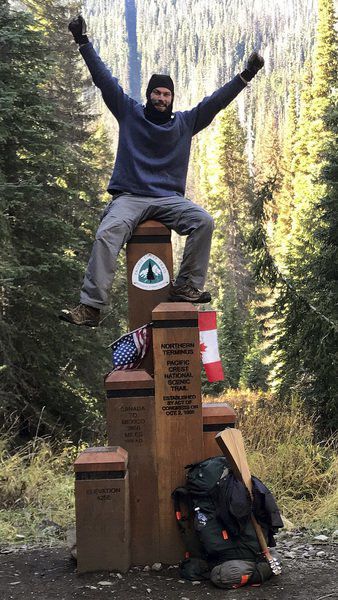 Dillon defined "through-hiking" as a commitment to completing all or most of a long trail.
"I like being submersed in the lifestyle," he said. "You're walking with everything you need on your back. The longer you can stay out, I think, the more you get from it. A lot of people who fail at through-hiking, they quit on the first day, sometimes within hours of starting."
Dillon often travels solo, but he doesn't mind running into acquaintances and strangers/new friends along the way.
"Nobody goes hiking to be surrounded by people," he said. "You don't want to fight over campsites and stuff."
In 2017, Dillon didn't take on a super-long U.S. trail, mentioning that he "backpacked around" the New Forest National Park in England instead.
Physical demands and songwriting 
During Dillon's recent PCT hike — so physically demanding that it caused a 40-pound weight loss on his 5-foot-10, previously 190-pound frame — he added experiences to his personal journal almost every night. Alone with his thoughts and guitar, his creativity flowed freely enough to write several original songs.
"The lyrics would come from either the stories of another hiker or stuff I thought about while I hiked," he said. "Very rarely did I actually sit down and intentionally write something. It usually came to me in a meditative sense. But there were specific moments when I was very inspired by a moment or scenery."
"Desert Moon" ended up being Dillon's favorite song that he penned during the PCT hike.
"One night, I camped in this beautiful valley and a full moon came up," he recalled. "There's nothing better than a nice, relaxing end of the day after 12 hours of hiking and it cools off really nice in the desert at night. It was just a beautiful moon."
An old-school Paul Simon fan who describes his own musical style as a mix of folk and acoustic rock, Dillon plans to perform Desert Moon during his upcoming Carnival cruise tour.
"I've been all over the Caribbean," he said. "I'm getting ready to do a three-day trip [out of Miami] to Nassau [Bahamas] and then a four-day that goes to Key West [Florida] and Cozumel [Mexico]. That'll be my life for the next five months, just on a seven-day cycle. I'll be back home in early April.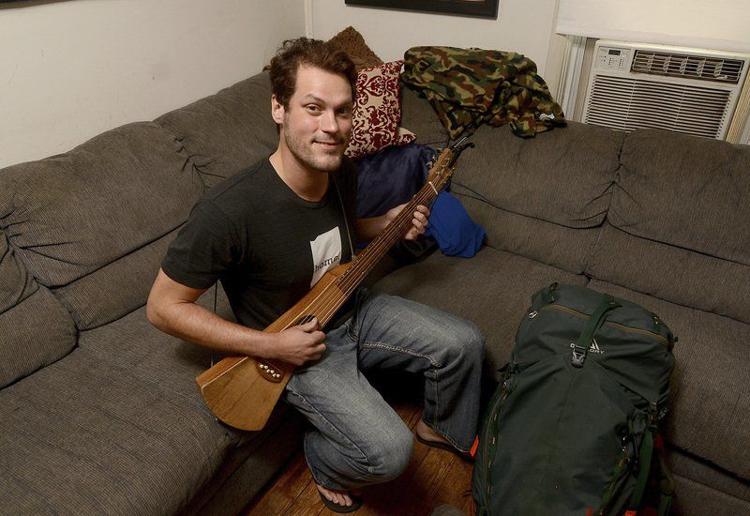 "Every cruise is different. Every cruise has its own character. You'll get big party groups that are traveling together or you can have a really quiet cruise where you might have a few people sitting and listening to you."
Looking ahead, Dillon insists he's not striving to reach any singing goals.
"Artistically, if I want to do something, I do it," he said. "I make a steady paycheck. I can't imagine what more I'd want out of music — maybe to be a hired songwriter. I think that would be pretty cool. Or if I could sell some songs.
"People are always telling me, 'You should be on American Idol.' And I just think, I don't like standing in lines."
His hiking goals are more specific, however. Dillon plans to through-hike the 3,100-mile Continental Divide Trail for the first time in 2020.
David Hughes can be reached at 812-231-4224 or at david.hughes@tribstar.com. Follow David on Twitter @ TribStarDavid.