The Indiana Special Olympics 50th annual Summer Games kicked off Friday afternoon with a special relay race featuring Special Olympians, area law enforcement officers and community partners.
The Run Unified Relay, a 4x100-meter race around Indiana State University's Gibson Track, is a collaborative fundraising effort that pairs athletes, police officers and community partners for a race that embodies the games' inclusive mantra.
The arrival of this year's Flame of Hope preceded the race and was delivered by a host of athletes.
The Flame of Hope is seen as symbol of courage and part of a global effort to use sports to end discrimination against people with intellectual disabilities.
Among the torch-delivering athletes was Vigo County native Ramone Parks, a member of the Vigo Special Olympics bowling team.
Parks said it felt good to be part of the torch team and that he's excited for another year of competing in the Special Olympics. He said his favorite part of the games is being awarded a medal. Asked if he anticipated getting a medal this year, Parks smiled and said, "Of course."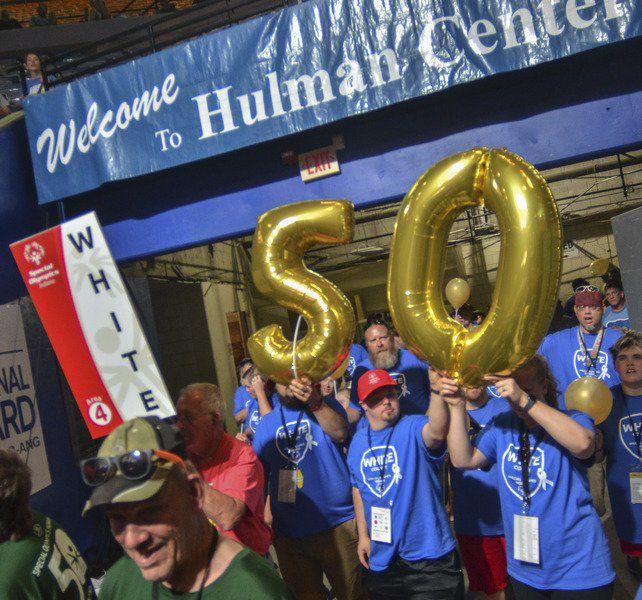 After the Flame of Hope was taken around the track in a ceremonial first lap, the eight sponsors, 16 law enforcement officers and 8 Special Olympics athletes took their marks around the track.
Vigo Sheriff's Office Lt. John Moats said that while everyone on the track is there to support a good cause and have fun, the athletes treat it with the same intensity as they do their regular events.
"It doesn't matter to them that we run this race to raise a little money, they're serious about it," Moats said. "When we meet with the athletes before the race, they tell us what we need to do and when to do it."
Moats' team raced to a fourth-place finish, but onlookers wouldn't know it by the amount of hugs and high-fives being shared after the race.
"It's so fun to be around these athletes every year," Moats said. "It takes very little effort for us to show up and it brings them so much joy. Who wouldn't want to come and be around people so positive?"
Indiana State Police Sgt. Matt Ames echoed Moats' sentiment and said it was a privilege for the nine participating Putnamville Post troopers to share the track with the Special Olympians.
"It is so much fun to be able to come out here and meet these athletes before the race and get to run with them," Ames said.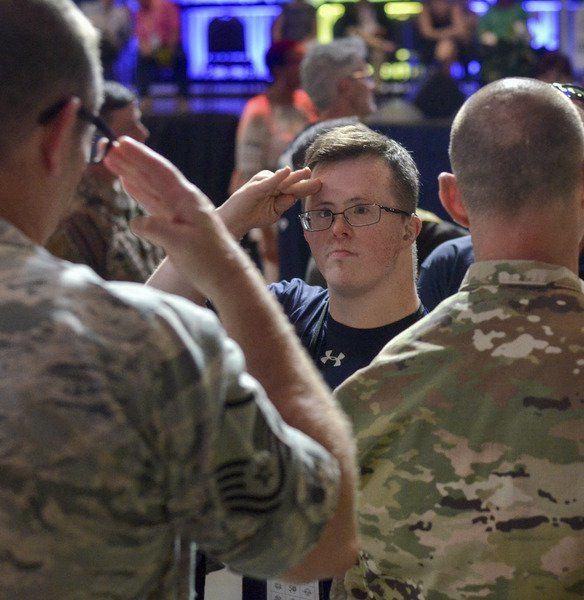 Ames credited the anchor leg of his relay team for closing strong down the final stretch and securing a second-place finish.
"These folks are talented, don't let that get lost in all the fun we're having," Ames said. "These folks are really fast and train really hard for this.
"It's going to be a great weekend for the city of Terre Haute as we enjoy have these athletes with us this weekend."
Reporter Alex Modesitt can be reached at 812-231-4232 or at alex.modesitt@tribstar.com. Follow him on Twitter @TribStarAlex.