On Thursday, Kylie Fendrick, an athletic trainer at Terre Haute South Vigo High School, looked over the knee of student-athlete Dylan Case, a wrestler.
Case, who has had surgery for an injury, gives a thumbs up to the efforts of the school's athletic trainers, who are employees of Union Health Sports Medicine, which has a partnership with the Vigo County School Corp.
"They're the best. They help us with everything," Case said.
The school has received national recognition for its efforts to keep student athletes healthy and safe.
It has received the National Athletic Trainers' Association Safe Sports School award, which recognizes secondary schools that have met recommended standards to improve safety in sports.
South Vigo is one of only 15 high schools in the state to earn the national recognition in 2019.
Union Health athletic trainers Fendrick and Aimee Eldridge, along with Indiana State University graduate assistant trainer Shelby Watts, applied for an earned the award for the high school.
Union Health partners with VCSC for athletic training services.
"The award reinforces the importance of providing the best level of care, injury prevention, and treatment," according to a news release.
Both Fendrick and Eldridge are licensed athletic trainers; Fendrick has worked full-time at South since October, while Eldridge is starting her seventh year.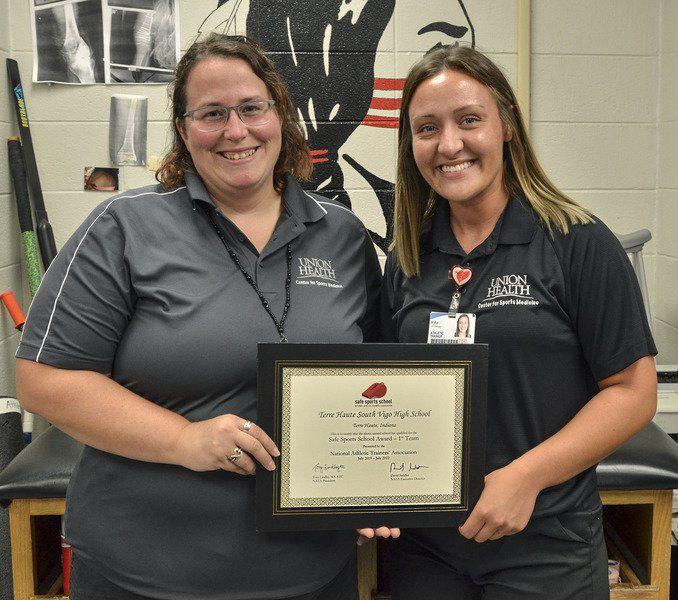 "We're very big into making sure our students are safe, making sure they have a good environment to practice and play and making sure we're providing the best care for them," Eldridge said.
Fendrick says the award is a "really big honor" that demonstrates how the athletic training staff is "trying to provide the best care we can" for South Vigo student-athletes.
It's a team effort that includes coaches, the athletic director and Union Health, Fendrick said.
According to Eldridge, the award affirms "we're doing the right thing and we're doing what we're supposed to do for our athletes."
In applying for the award, they learn what improvements are needed and then work to "reach the standards they want us to reach," Eldridge said.
Improvements might involve revamping policies and procedures or learning from other organizations how to do things in a way that is safer and more effective, Eldridge said. The goal is to "stay up with the times and provide the best standards of care."
The school can re-apply for the recognition every three years.
Athletic trainers provide preventive, emergency and rehabilitative care, Fendrick said. They also serve as liaisons, referring injured athletes to advanced health care professionals, including doctors or physical therapists.
Union Health Sports Medicine supports athletic training at Vigo County secondary schools, as well as nine other Wabash Valley schools.
Sue Loughlin can be reached at 812-231-4235 or at sue.loughlin@tribstar.com Follow Sue on Twitter @TribStarSue.