A loose-knit group of organizations and individuals called Wabash Valley in Solidarity is seeking to keep a vote center at Indiana State University for 2019 municipal elections — and beyond.
The group conducted a news conference Friday at United Campus Ministries. It will stage a rally by the Vigo County Courthouse at 5:30 p.m. Monday and representatives plan to attend Tuesday's meeting of the Vigo County Election Board.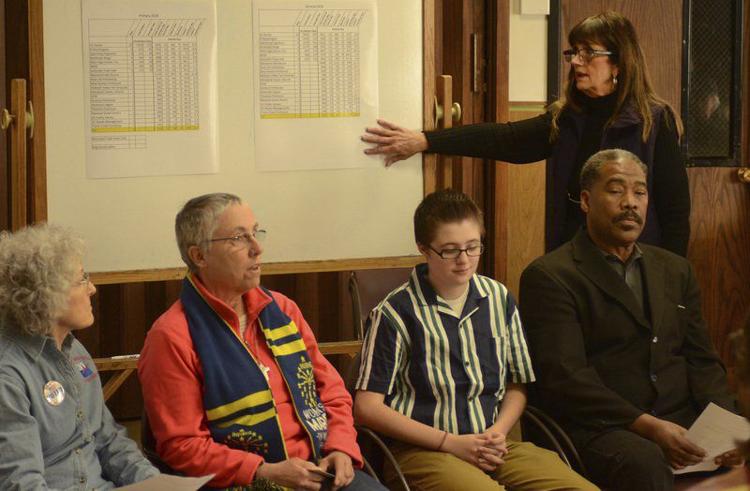 At a meeting earlier this month, election board members Kara Anderson and Brad Newman, also county clerk, stated the campus will not have a vote site in this year's municipal elections.
Newman stated at that meeting there were "some things that happened at ISU that we have to work out. Our people were yelled at, some of them were cursed at and were treated very poorly. I don't want to see anybody treated poorly."
Other issues cited related to parking and convenience.
During Friday's news conference, Tammy Boland, who is part of Wabash Valley in Solidarity, stated, "Our hope is we can work with the clerk's office, address the concerns," increase voter turnout and engage student participation in the electoral process.
"We don't believe the decision of the Election Board is representative of what the citizens of Terre Haute want," Boland said. "We believe the Election Board has given up prematurely on ISU."
The group believes the concerns "can all be easily resolved. We want to collaborate with the clerk's office and Election Board," she said.
Also speaking during the event was Sylvester Edwards, Greater Terre Haute NAACP branch president. The Terre Haute NAACP "stands firm with ISU students, staff and faculty to maintain a permanent voting center at ISU with an adequate number of voting machines," he said.
Doing so "would go a long way in supporting increased voter turnout," Edwards said.
Caitlyn Cantrell, co-founder of Terre Haute Teens for Action, also advocated for maintaining a voting site at ISU. The community has a lot of conversation about keeping young people here, she said.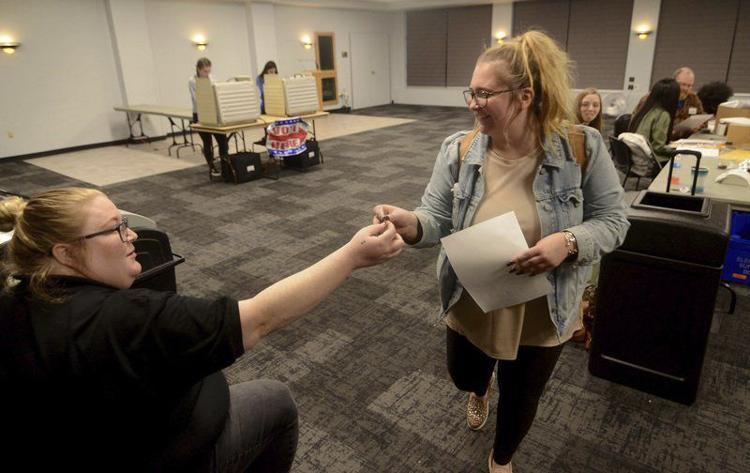 "If they want to keep young people here, they've got to listen to our voice and part of listening to our voice is listening to our vote," Cantrell said.
Also speaking were Sister Barbara Battista, justice promoter for the Sisters of Providence, and Robbie Piper, secretary of the League of Women Voters, Vigo County.
Others supporting the effort include ISU student government, staff council and faculty senate; ISU College Republicans; Vigo County Democratic Party; the three mayoral candidates; several city council members and city council candidates; Citizens for Better Government; and the Student Coalition for Social Justice.
Newman, contacted by phone, said that because of problems previously cited, "I don't see ISU being a vote center for municipal elections" this year.
But his office and the Election Board are working with ISU to overcome some of those issues, he said.
"ISU is willing to work with us on this," Newman said. "If we can get one there in 2020, we will."
Some people "are making it out to be more of an issue than it really is," Newman said. "It's not us versus them."
The Election Board "needs to be allowed to do what we are there to do. We're making decisions in the best interest of all voters, not just a select few," Newman said. "We've worked hard to make voting easier and to encourage people in the community to vote, and we always will."
According to Boland, the ISU site "proved highly successful" and resulted in the highest number of voters per machine, per hour, of any site in the county for both the primary and general election. In the general election, it had 14.9 voters, per hour, per voting machine; in the primary, it had 13.1 voters per hour, per machine.
Boland believes the Election Board's concerns can be addressed, in part by providing additional voting machines to lessen wait time, which reached three or more hours over the course of the day during the November election.
Also, she said, with the large number of provisional ballots -- only two of 90 provisional ballots cast at ISU counted as valid -- many were likely due to first-time voters unfamiliar with registration and voting requirements.
That problem could be alleviated through increased education using technology, clear signage regarding requirements and encouraging voters to double check registration status via online resources, she said.
The 88 provisional ballots were from people not eligible to vote in Vigo County; most were registered in other Indiana counties and some were not registered at all.
For the general election last fall, 535 total votes counted at ISU, Boland said.
Sue Loughlin can be reached at 812-231-4235 or at sue.loughlin@tribstar.com Follow Sue on Twitter @TribStarSue.