Box stores had their day, web-based company's will have theirs come Monday, but mom-and-pop shops around the Wabash Valley took their turn front and center Saturday as the holiday shopping season ramps up.
Small Business Saturday, originally started by American Express in 2010, highlights the efforts local shop owners pour into their offering unique, often handmade, items not regularly found in chain retail stores.
Kelly Rost, owner of Country Cabin, deals in just that.
Offering a space where a host of local vendors can display their country chic home decor items — most made of reclaimed wood and featuring a hand painted or printed saying — Rost carries an inventory wholly unique to her store.
Unable to compete against giants like Wal-Mart, Target and like, Rost and other small business owners rely on days like Saturday and the understanding that everything bought locally supports that business owner and its vendors.
"It's important that people shop small because I don't think people realize all the hard work that goes into it," Rost said. "Everyone should take the day to skip the big box stores and support the little people."
After working at a similar craft store for more than a decade, Rost went into business for herself in 2010. The Country Cabin relocated from The Meadows Shopping Center in 2017 to its current home in Ellis Plaza in 2017.
Rost said owning a small business is anything but a get-rich-quick proposition and more often a labor of love.
"I love what I do, but it's nothing you're going to get rich doing," Rost said with a laugh. "And while this is definitely more than a hobby, I'd say if you love what you do, like I do, then it's never work."
Across town another group of smaller business owners, both in inventory size and stature, peddled their wares at the Little Makers Suitcase Sale.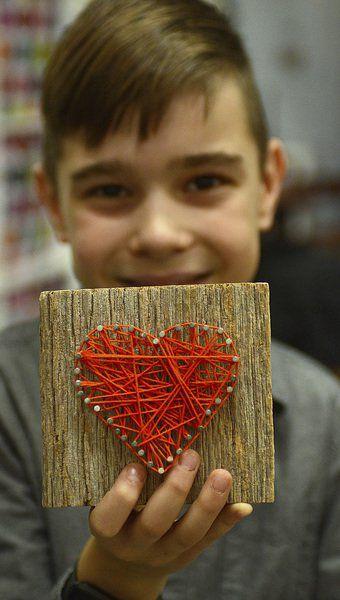 Sponsored by Charm School and hosted by Millie and Maude, 10 "kidpreneurs" sold handmade goods out of suitcases.
Lou Ogborn, an 11-year-old student at Jackson Township Elementary in Clay County, sold out of his string art creations in almost no time, after having brought more than 20 to the event.
Ogborn said he learned to make the crafts from a friend at recess. He started putting his own spin on the designs and people started taking to them, he said.
Ella Tapy, an 11-year-old student at Woodrow Wilson Middle School in Terre Haute, shared with customers an assortment of handmade ornaments, earrings and charms.
Tapy spent the better part of a week making the crafts, the best part of which is spending time with her mom, she said.
"It's always exciting to see all these people liking your stuff," Tapy said. "It's funny that sometimes people are nervous when they come up and start looking through your trunk, almost like they're afraid to mess anything up.
"But the best part is the time I get to spend with my mom making all the stuff."
Reporter Alex Modesitt can be reached at 812-691-6771 or at alex.modesitt@tribstar.com. Follow him on Twitter @TribStarAlex.