Those attending Thursday's community meeting related to the future of Vigo County School Corp. high schools had plenty of opinions.
About 70 people attended the hour-long session at Lost Creek Elementary, with another 50 watching live online. More views were expected after the meeting.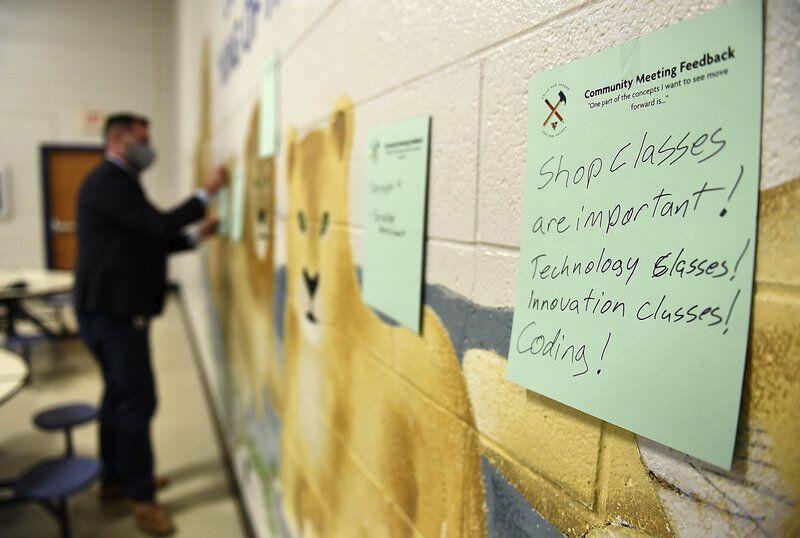 During a final community participation segment, ideas written on paper from small group sessions were taped to walls, and attendees could place stickers on ideas they agreed with. Among the more popular ideas:
No mega school. Do it right, not cheap. No renovation — should do a new build. School identities are important to protect. Shop classes are important/technology classes/ innovation classes/coding.
Those attending also had an opportunity to ask questions and comment.
Marquis Songer, a program chair at Ivy Tech, asked whether any thought has been given to a centralized career center. Clark Cowden asked if use of co-design — or partnerships with other entities — would reduce the property tax impact of a high school project.
After the meeting, Superintendent Rob Haworth said he was encouraged by the attendance and participation.
"This was great turnout," he said. "This is how we're going to get to a project if there's going to be a project. This starts to help us build what that project will be."
Also attending the meeting was Michele Kirby, North Vigo director of counseling.
"I'm waiting to see what the future brings," she said. "It impacts our daily life."
Updated facilities are important for students as they prepare for post-secondary education, Kirby said.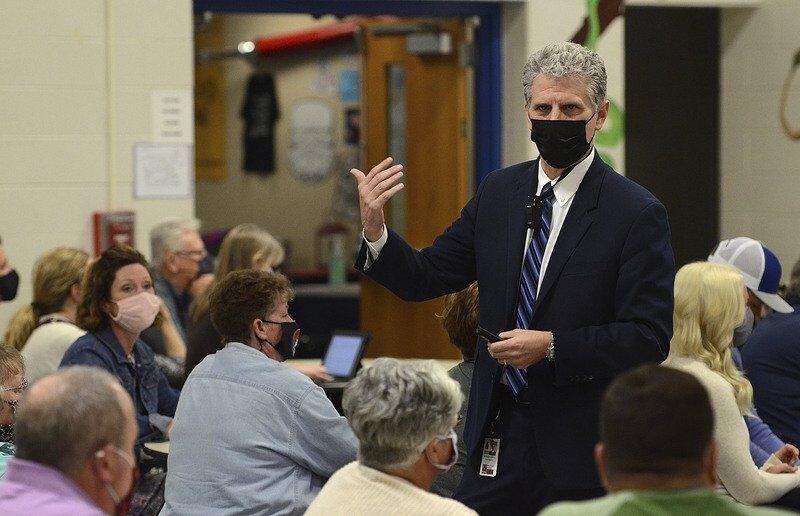 Ron Hinton, who attended with his wife, Shirley, said he attended because "I want to hear their options and what the issues are really and why they haven't maintained the buildings better than they have." He's also concerned about the impact of projects on property taxes.
The Hintons are retired, and Shirley formerly taught high school in North Vernon.
During a presentation, Haworth presented the eight high school options. The least expensive alternative, which would be a major renovation of existing high schools, is roughly estimated to cost about $200 million, he said.
The most expensive option, which would involve four new, smaller high schools [replacing current high schools and building a new east side one], is roughly estimated at $360 million.
No specific price tags were attached to those options; officials say there are too many unknowns at this point, including whether the district will be able to use federal COVID relief funding for those facilities as well as potential future federal infrastructure funding.
Looking at costs without that federal funding, for every $100 million in project costs, that would translate to 15.4 cents per $100 assessed value on the tax rate. The monthly tax implications would be as follows: for a $97,500 home (Vigo median), it would be $3.99, while for a $200,000 home, it would be $12.52.
One factor working in the school district's favor is that debt service for various projects will be rolling off the tax rate in upcoming years, which will assist the school district in limiting tax rate impact from high school projects.
But Haworth emphasized that the three high schools have facility needs that must be addressed; the problems include plumbing, roof leaks and heating/cooling issues. North and South will be 50 years old next year, and West Vigo opened in 1960.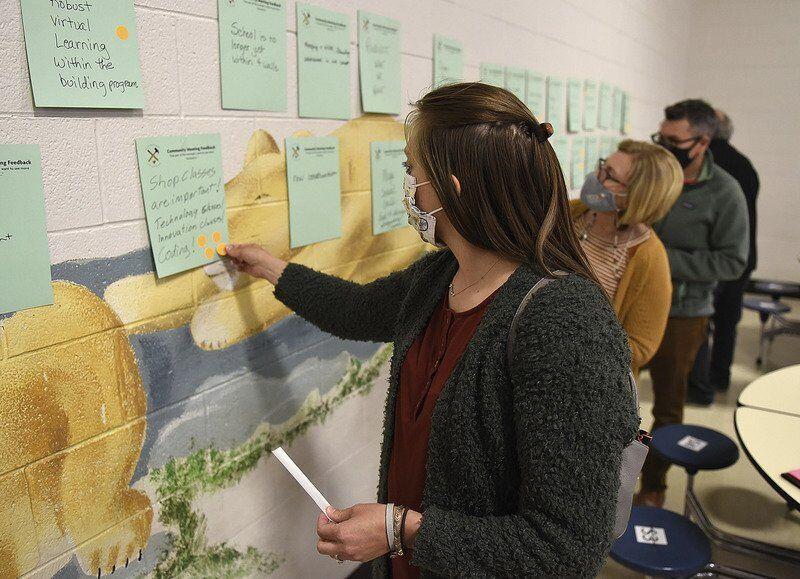 A facility assessment gave West Vigo an F grade, while North and South Vigo both received a grade of D.
During a small group session, Amy Papinchock, a teacher, said she liked the idea of a career center as well as maintaining the West Vigo High School Green Dome. She also favored a separation of West Vigo middle and high schools, which currently share some facilities.
Jeff Lough, also a teacher, said it's important to build new rather than renovate if the goal is to attract people to Vigo County. He personally likes the idea of four new, smaller high schools. As to whether the community can afford it, he said, "I think the choice is going to have to be made of how we're going to afford it."
Lough added, "I want the most I can get for my money, and if we choose something else [renovation], I'm not getting value for my money."
Seven additional community meetings are planned, and the next is Tuesday at Riley Elementary. "Right now, we want to focus on what our community wants the scope and priorities of our high school project to be" as the district learns more about potential funding sources, said Bill Riley, VCSC director of communications.
Haworth noted that co-design could reduce the footprint of high schools by developing multi-use spaces: Examples include shared spaces with colleges/universities, neighborhoods or iconic buildings in the community.
Sue Loughlin can be reached at 812-231-4235 or at sue.loughlin@tribstar.com Follow Sue on Twitter @TribStarSue.