Sarah Scott Middle School on Friday celebrated the fact that it will be the only middle school in Indiana to have a rowing team.
Mayor Duke Bennett cut the ribbon on the Erg Ed (Ergometer Education) pilot program, featuring 10 rowing machines received via a donation of $10,000 from the Clara Fairbanks Foundation and the Wabash Valley Crew.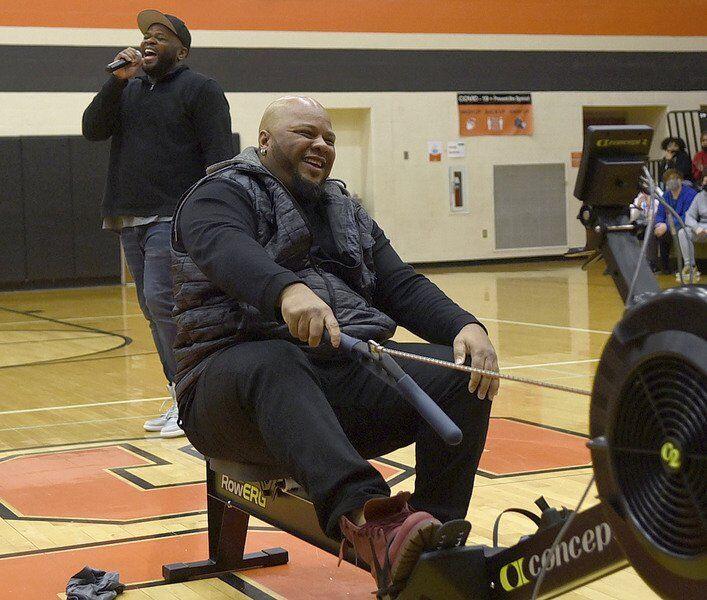 Arshay Cooper, the man who selected Sarah Scott for the honor, appeared at a school assembly in the school's gymnasium. Cooper wrote "A Most Beautiful Thing: The True Story of America's First All-Black High School Rowing Team" based on his life experiences, and he also appeared in the documentary film adaptation.
"The first time I came to this school three years ago, it was the diversity in this school — making sure the team reflects the diversity — was powerful," Cooper recalled. "I talked about my life as a kid and growing up without a father, and some of the kids afterwards came up to me and explained that they were going through the same things and that did it for me. I have never stopped thinking about this school and the opportunity of rowing changed my life and I wanted to do the same for them."
On Friday, Cooper delivered an inspirational speech about how his life was changed by rowing.
"How do I allow the fire inside to glow brighter than the fires around me," he said. "This is an opportunity to make history for your school, for your city, for your family and for your friends."
His speech was followed by rowing competitions. The student competition was won by Gavin Wallace, with Sawyer Hamm taking second. Martin Nagy took the teachers' race, followed by Amy Cunningham.
The four then raced against each other and a friend of Cooper's from that historic rowing team, Alvin Ross, introduced as "Big Al." It's safe to say that Big Al was a ringer, as he easily won the third race, followed by Hamm.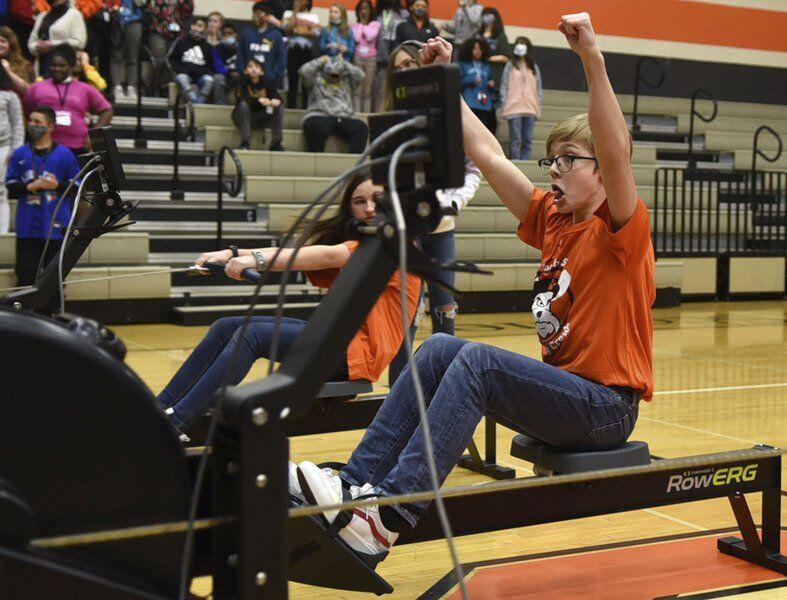 The last time Cooper visited Sarah Scott, students there and from other local schools saw an advance screening of "A Most Beautiful Thing," which was produced by NBA greats Dywane Wade and Grant Hill and narrated by Common, a Grammy- and Oscar-winning songwriter and one of Cooper's musical heroes.
Seeing the film with the students, Cooper said, "was powerful, because I remember being a kid watching movies — the only difference was, I was never able to meet those people in it that I looked up to. So seeing it and meeting me in real life, seeing who I was growing up and seeing me now, it made them see themselves in the future."
Of meeting Common, Cooper said with a laugh, "I tried to get him out on the water but it didn't work out."
When Cooper was first introduced to rowing, "I didn't know what to think," he admitted. "I wasn't thinking about history because I wasn't thinking about the circumstances people were living in."
It made for a steep learning curve — Cooper had to learn how to swim, because there was no access to pools where he lived. But, he added, "Everyday practice and having really great coaches who believed in you and teachers who advocated for this program was what got us to where we needed to be."
Cooper has paid it forward — his A Most Beautiful Thing Inclusion Fund raised money for 2,000 students last year, in the hopes of getting them access to colleges.
But rowing also accomplishes something important.
"It becomes a sport of meditation before it becomes a sport of competition," he said. "And that is powerful and it calms the daily storms that we go through every day."
David Kronke can be reached at 812-231-4232 or at david.kronke@tribstar.com.