The robots in Carlotta Berry's Rose-Hulman robotics program certainly don't look capable of conquering the planet and becoming our overlords, but give them some time.
Berry and two of the Institute of Technology's students, Murari Srinivasan and Josiah McGee, are teaching their diminutive contraptions how to navigate and even map out their terrains.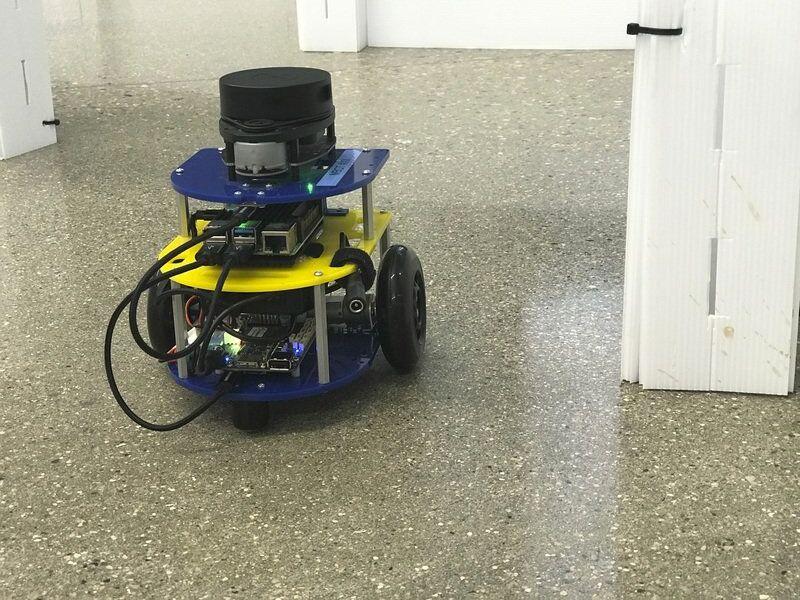 "They're both learning about advanced robot behaviors as well as controls," explained Berry. Srinivasan's creation, crafted from programming that the University of Michigan shared with Rose-Hulman, is "the smartest robot in the room right now," Berry said. "But we're going to try to get the others to that level [of sophistication]."
"When we first got in here, I was doing a lot of hardware, building and soldering things," Srinivasan recalled. "On this project, I've shifted to software, going through files trying to change codes. It showed me how robotics works — building things and programming."
Srinivasan is programming his robot to travel around something of a small obstacle course while simultaneously mapping the area and transmitting the results of its mapping to a laptop. At one point, the bot bumps into a wall — repeatedly — something it is definitely not supposed to do.
"I gave it an instruction and told it to go somewhere before it had all the data of where it was configured in that space, so it went a little haywire," Srinivasan explained. "There's a certain distance a robot is told not to go towards the wall."
Robotics is more complicated that it might initially seem, Srinivasan said. "It's not just telling a motor to move a wheel or telling a censor something," he said. "You have to do all the mathematics about how much it's going to move, your angular kinematics. You have to do stuff that helps you understand how your robot is moving and why it's moving before you can get bigger levels of movement."
Soon, his robot is circling the obstacle course with aplomb. Srinivasan's next goal, he said, is to "work on a multi-robot collaboration so that we can have two of these robots work together to create a full map." Eventually, he hopes to employ what he has learned from this robot to benefit another of his interests, sustainable energy, employing a set of robots in something called heterogeneous training.
He envisions the robots working together to accomplish one goal, say, repairing a solar panel. "One robot would detect the damage, one would mark the damage and one robot would come fix the damage," Srinivasan said.
Meanwhile, McGee is working with a robot he has named Sunny, inspired by the movie "I, Robot." Coincidentally, Sunny was created by the company iRobot, and looks like one of its more famous creations, the Roomba, only it's not a vacuum. At this point, Sunny is able to follow alongside a wall, but McGee plans "to switch to more difficult things using a different program, ROS" [Robotics Operating System].
ROS represents "a lot of nasty code, is more graphic and has more capabilities," McGee said. Eventually, Sunny will be able to interact with other robots, much like Srinivasan's goal.
Meanwhile, Berry herself is working on a couple of robots and sharing their open-source designs [the tech equivalent of public-domain materials], as well as information on where to get the necessary materials, on her Rose-Hulman web page so that all ages can create their own robots with varying degrees of sophistication.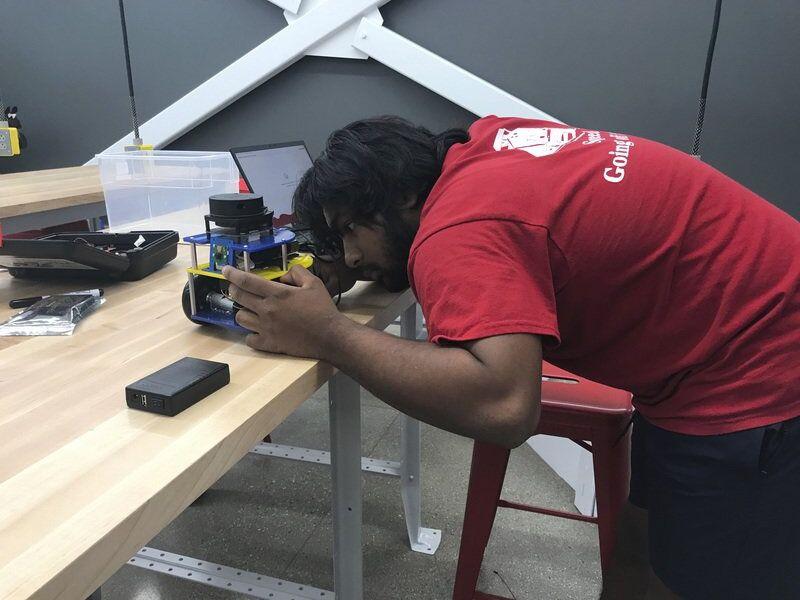 "Anyone who wanted to design a robot could design this and change anything they want," Perry said. "Anyone can use this robot and make it more complicated as you become more advanced. I will be documenting designing this robot and then making it progressively more complicated, for K-12 all the way up to the graduate level."
Lily-bot is her smaller robot, and Rosie-bot, named after the school's mascot, will be taller and wider and otherwise more complicated.
Berry was recently named the Society of Women Engineers' 2022 Distinguished Educator of the Year, not only for her work at Rose-Hulman but also her outreach work in robotics and for programs she co-founded to increase access to STEM [training in Science, Technology, Engineering and Mathematics] to diverse populations.
It's one of a number of honors Berry has received recently, including the Institute of Electrical and Electronic Engineers' Undergraduate Teaching Award and the 2022 Distinguished Educator Award from the American Society of Engineering Education's Electrical and Computer Engineering Division. She also was named to the Trailblazer Fellows Program by the Open Source Hardware Association.
No matter how many accolades pour in for Berry, she finds each one meaningful.
"They do, because they all come from different organizations," she said. "What makes it most meaningful to me was when I was a college student, I had somebody who encouraged me not to get into engineering, and now I'm getting awards for teaching it, so it makes it worth it."
David Kronke can be reached at 812-231-4232 or at david.kronke@tribstar.com.