A new glass-enclosed pavilion at the student union has boosted student quality of life on the campus of Rose-Hulman Institute of Technology, school officials say.
A ribbon-cutting ceremony for the new facility was conducted Thursday, kicking off homecoming weekend at Rose-Hulman.
Linda and Mike Mussallem provided a $1.5 million gift to cover design, construction and equipment costs for the project, according to a news release from the institute.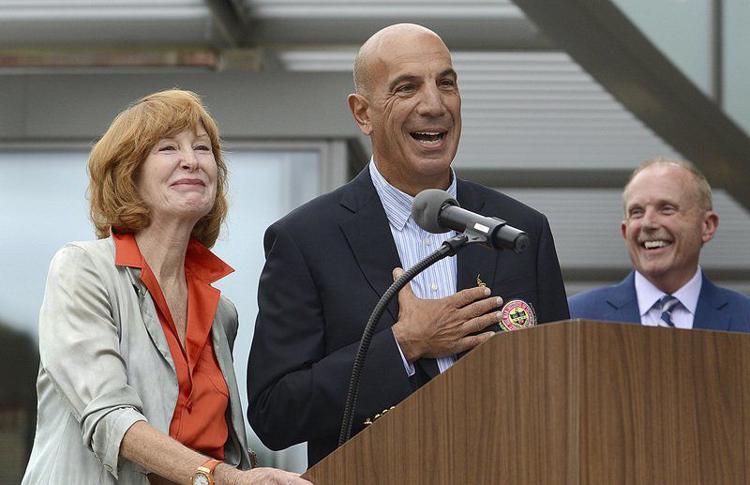 That gift supplemented a $9 million lead gift for a $25 million expansion of the student union, renamed the Mussallem Union in honor of the couple in May 2018. The facility has become known on campus as "The Muzz," which is a Mussallem family nickname.
Mike Mussallem, a 1974 chemical engineering alumnus, is chairman and chief executive officer of Edwards Lifesciences, based in Irvine, California. The Gary, Indiana, native is a Rose-Hulman trustee.
 "It was just a few years ago that Linda and Mike Mussallem approached us with the idea to transform our student union into something that would be a true hub of student life and a stunning campus centerpiece, Rose-Hulman President Rob Coons said. "That transformation has taken another step forward with the pavilion, which is a tremendous new addition to the quality of life on our campus."
The pavilion has seating for 40 to 50 people and can host events nearly year-round, with sliding glass doors around the perimeter. Audio-visual equipment can be used inside the building for multimedia presentations, including student movie nights and other gatherings. Outdoor grills also are available for use during student events.
The pavilion features a sustainable green roof that will be visible from the second floor of the nearby student union. This provides continuity with the large living wall consisting of potted tropical plants that serves as a focal point.
"We're thrilled that The Muzz has become a gathering place and opportunity for creating community at Rose-Hulman. We hope that the addition of the pavilion will provide even more opportunities for students and others in the campus community to come together for collaboration and knowledge sharing, as well as for fun, relaxation and togetherness," the Mussallems said.
Students will have the opportunity to give the pavilion a permanent name.
 The pavilion was designed by RATIO Architects of Indianapolis, which also designed the Mussallem Union. C.H. Garmong & Son of Terre Haute was the project's construction manager.