Thanks to some imaginative and talented Rose-Hulman Institute of Technology students, children with disabilities will soon benefit from specially designed toys that carry such names as Rattle Race, Grab-Bit and O-Lace.
The first-year engineering design students displayed their prototypes during a presentation Thursday at Mussallem Union. When completed, the toys will go to REACH Services adaptive lending library, which allows Wabash Valley parents, teachers and therapists to check out toys for children with special needs.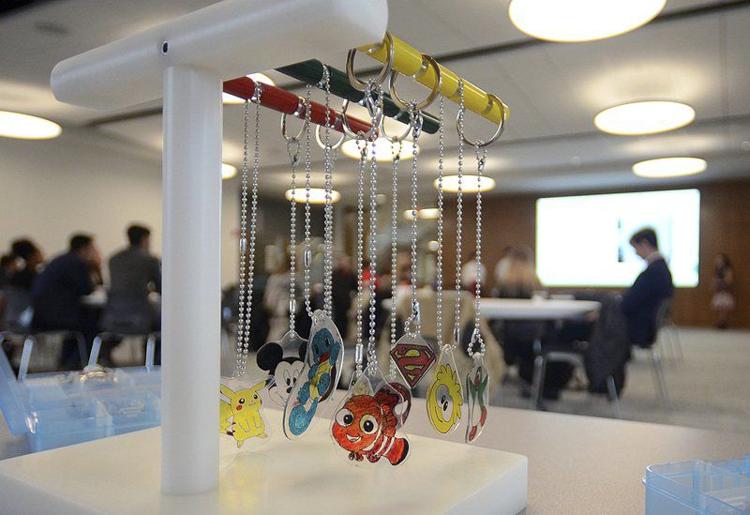 The specially-designed toys are fun ways for the children to expand their motor and cognitive skills.
And the Rose-Hulman students take what they've learned in the classroom and put it to real-world use.
Student Jackson Costa wants to design educational products as a career. "This is what I want to do — and I've done it my freshman year," he said.
He was part of the four-member team that designed O-Lace, an art toy that develops fine motor skills using lacing cards. The toy uses a sliding funnel that helps children get thread through the holes in the character cards, which include a Minion, turtle and bunny.
Another O-Lace team member, Caleb Boutell, said students are just in the first quarter of their freshman year, but "we're already able to use what we're learning with a real-world impact."
Abigail Leul, also on the O-Lace team, said, "Helping people is a passion of mine." And being able to do that now, so early in their college education, "is meaningful for everyone."
Another team made up of Jesus Capo and Marin Bishop developed the Rattle Race, a simple, handheld toy in which the player flicks his/her wrist to cause marbles on three tracks to continuously spin around. The project is in its sixth prototype.
After they finished one of the early designs, Capo and Bishop took the toy to the kids' themselves for some feedback, which helped them improve it.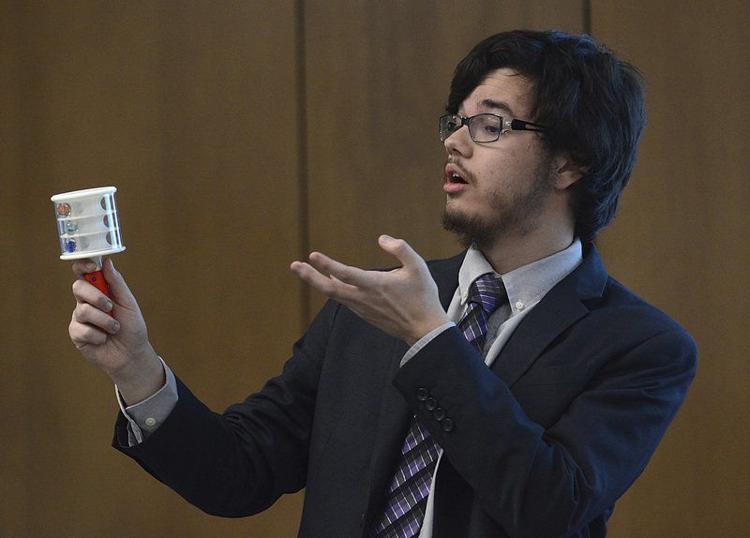 The children wanted to know why the marbles wouldn't go through holes inside the toy; the holes were too small. So, Capo and Bishop revised the prototype so the marbles would go through the holes.
The students are learning engineering design skills in class, "but it's so much easier to learn those things if your driving force is something way more interesting and interpersonal," said Bishop. "It's super rewarding when people would pick it up and were using it and enjoying it."
In their presentation, the duo pointed out toys for children with disabilities are often difficult to obtain and expensive, but the noisy Rattle Race is easy and inexpensive to manufacture.
Professor Patsy Brackin, director of the engineering design program, said the toy is a hit.
"When you start playing with it, it's addictive," she said.
But all five toys presented Thursday will, once finalized, make their way to Reach Services, she said.
"I'm very excited about that. The quality this year of what they've produced is really good," Brackin said.
The freshmen have only been on campus nine weeks, but they've accomplished much in that short time, she said.
The students have gone to Reach Services to receive feedback from staff there. The Reach Services staff "do it in a very positive, constructive way," Brackin said. "It's a great working relationship."
And of course, the Rose students also sought feedback from the children, whose likes and dislikes will determine the success of the toys.
"I think the thing that gets me the most is that our students really do want to make the world better," Brackin said. "They get so motivated and work so hard to make sure they can help a child with disabilities."
Jackie Wrin, Reach Services occupational therapist, described the effort as "an amazing collaboration" between Rose-Hulman and the agency. "It has been a wonderful blessing to me to be part of it ... and just see the incredible minds and what they come up with and create" that will help children.
Tiffany Busenbark, Reach Services occupational therapist and clinic director, appreciates the way the Rose-Hulman students interacted with children to get their feedback.
This is the third year that Rose-Hulman freshmen have completed projects for the agency. Past projects have featured a Bigger, Better Battleship game, Lite-Brite Special Grip and Batman Utility Belt.
Sue Loughlin can be reached at 812-231-4235 or at sue.loughlin@tribstar.com Follow Sue on Twitter @TribStarSue.