Tragedy struck a well-known Parke County family late Thursday when a head-on collision with a suspected drunken driver claimed two lives.
Retired Parke County Sheriff Michael Eslinger, 74, and his wife, Darla Eslinger, 73, were both killed in the 11:30 p.m. crash on U.S. 41 about two miles south of Rockville.
They were passengers in a Nissan SUV driven by their 17-year-old granddaughter, Josie Eslinger, a student-athlete at Riverton Parke High School. She was taken to Terre Haute Regional Hospital with multiple injuries and remained in the pediatric unit Friday afternoon.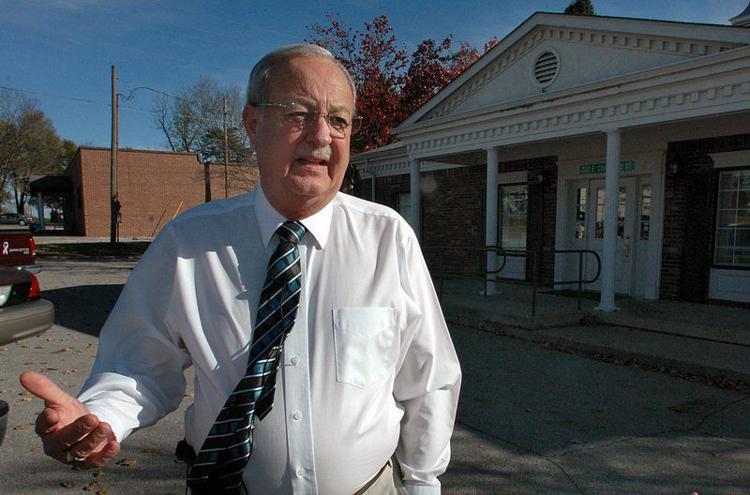 Police said Josie Eslinger was driving the SUV when a Dodge pickup truck crossed the center line of the highway and collided head-on with the Eslinger vehicle.
The pickup truck driver was identified as Bryan Robertson, 41, of Rockville. He was taken to Union Hospital Clinton, then transferred to Methodist Hospital in Indianapolis
Parke County Sheriff Justin Cole said Robertson had a blood-alcohol content of 0.117 percent. In Indiana, 0.08 percent BAC is the legal threshold. Robertson faces two counts of driving while intoxicated causing death and two counts of driving while intoxicated causing serious bodily injury.
A passenger in Robertson's truck — 28-year-old Hannah Flaurr — was taken to Regional Hospital for treatment of serious injuries.
"It's tragic and very unexpected," Sheriff Cole said Friday morning. "The worse part of it is he had spent his whole career in law enforcement — and then for him to be killed by" a suspected drunken driver.
The Eslingers were well known in Parke County.
Darla Eslinger had retired after many years as the county's emergency management director.
"She was a sweet person who doted on her grandchildren," said Mary McMurray, who works at the county ambulance service and has known the Eslingers for years. "I met them through friends. They were just fun-loving people. They had a pontoon boat out at the lake, and they loved their grandchildren and their whole family."
Mike Eslinger served two terms as Parke County Sheriff in the 1970s, followed by a 20-year career with Indiana Sheriff's Association where he was deputy director and executive director. He was later re-elected as Parke County Sheriff and served another two terms, retiring in 2014.
"He was my immediate predecessor," Cole said. "I don't know if it's still sunk in with us yet. Everybody knew them."
Mike Lunsford, a teacher at Riverton-Parke High School and a Tribune-Star contributing columnist, said Josie is a well-liked senior in one of his honors classes.
"She's just a really nice kid," Lunsford said. "She's in a good class of seniors."
This year's graduating class is comprised of 61 seniors.
The Eslinger family is well liked and highly regarded Lunford said.
"I know they've given their lives to this county. They are just a well-loved and well-respected family who have impacted our community in the best ways," he said. "I think we're a very family oriented school. I think a lot of our students and staff are close, and I'm sure there are a lot of people hurting for her today."
Riverton-Parke coach Josh Douglass said Josie Eslinger was the leading scorer on the girls' basketball team, which had played a game Thursday evening against Southmont in Montgomery County.
Following the game, many of the players and their families went out to eat in Crawfordsville. Mike and Darla Eslinger had been at the basketball game, and returned with Josie to the school to pick up her vehicle.
"They were great people," Douglass said of Mike and Darla Eslinger. "They cheered for every girl on the team. They were there for every game."
Douglass said he visited with Josie Eslinger in the hospital on Friday, and said she is expected to make a full recovery.
"She's a very bright student, a very smart girl," Douglass said. "And she's a great role model on the floor and for the younger girls, too. This is an unfortunate circumstance for her."
Law officers stunned
Many in the law enforcement community were sharing remembrances of the Eslingers on Friday.
Sgt. Joe Watts of the Indiana State Police said he got his start in law enforcement under Eslinger in the 1970s.
"I was a jailer and a dispatcher in the old jail," Watts said of the former jail on the southeast corner of the courthouse square in Rockville.
"Mike and Darla lived upstairs in the jail. She was always nice to me."
Watts said he recalled that Eslinger served 10 years with the Indiana State Police in the 1960s and 1970s.
Eslinger then left law enforcement for a few years when he owned and operated a truck stop at old Indiana 63 and U.S. 36 near Montezuma, Watts said.
In the late 1970s, Eslinger decided to run for sheriff, and he was elected to the first of his four terms.
"I campaigned for him, driving a car for him," Watts said.
Clay County Sheriff Paul Harden said he was saddened to hear of his colleague's death.
"I've known Mike for a lot of years," said Harden, who previously worked as an Indiana conservation officer. "I first met him when he was in the state police. It's a loss to the community, as well as to the state of Indiana. He was a friend to most everyone."
The irony of Eslinger dying as a result of a someone charged with drunken driving  was not lost on any of the officers.
"We're all vulnerable, just like every other person," Harden said. "We can't think that this can't happen, because it did happen."
Current Chief Deputy Jason Frazier said he worked for eight years under Eslinger during the veteran officer's third and fourth terms as sheriff.
"I was promoted from canine officer to patrol sergeant under Mike," Frazier said. "He was a great person. He was just one of the most reasonable bosses I've ever had."
Frazier echoed the statements of many in the community about the death of the Eslingers.
"It's just tragic. You spend all your life in law enforcement, and then to have it ended like that," Frazier said.
Frazier, who was called to the crash scene south of Rockville, said the evidence showed the pickup truck driven by Robertson crossed the center line into the path of the SUV driven by Josie Eslinger.
"There's nothing she could have done to avoid the crash," Frazier said of the young driver.
As of Friday, no arrangements had been announced for Mike and Darla Eslinger.
At the Parke County Sheriff's Department, the flags outside the building were lowered to half-staff.
Lisa Trigg can be reached at 812-231-4254 or at lisa.trigg@tribstar.com. Follow her on Twitter at TribStarLisa.