As their friends tell it, crying around Farmersburg teens Thomas Jaroscak and Tyson Boyll would have been out of the question.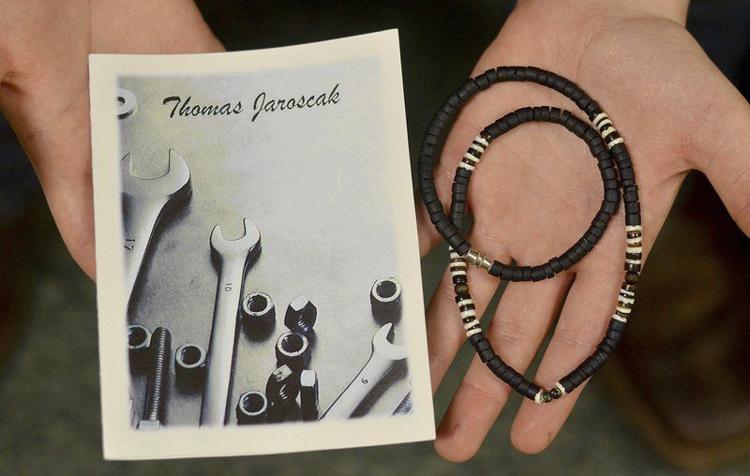 Jaroscak and Boyll were known for their quick smiles and were always trying to get others to laugh and carry on as much as they did. They would have done anything in their power to dispel the grief that has gripped their community over the past week.
But friends and fellow North Central High School students Kyle Carpenter, Alexis Fulk and Danni Troup couldn't help but cry Friday evening as they said goodbye to their friends, their classmates and their comic relief for the last time.
Jaroscak and Boyll, along with friend Kegan Ennen, were killed in a Dec. 28 car crash in rural Sullivan County.
Family, friends and classmates packed North Central High School on Friday to mourn the loss of the two young men at their joint visitation and funeral service in the school's gymnasium.
The line to visit Jaroscak, 16, and Boyll, 15, wound its way through the school's hallways and was more than 100 deep at times. The queue took visitors past TV monitors that played a slide show of the two boys and the lives they led.
From pictures of football games and band concerts past, to family get togethers and snapshots of friends hanging out, passersby were able to relive some of the families' favorite memories of their boys.
Memories, Carpenter said, are unfortunately all he'll have left of his friends. After moving to the area just before his freshman year, Carpenter said he'll never forget how Jaroscak and Boyll welcomed him into their friend group and helped him make the jarring transition to a new town and high school.
"Thomas was one of the very first people I met after moving here," Carpenter said. "And he's always been there for me when I needed him ever since."
"And Tyson, he was always making people laugh. He couldn't help it," Carpenter said. "He loved to be the center of attention, but he would always try to make people smile."
Fulk shared a similar sentiment, saying it didn't matter if you were best friends with Jaroscak, if you needed help, he was there.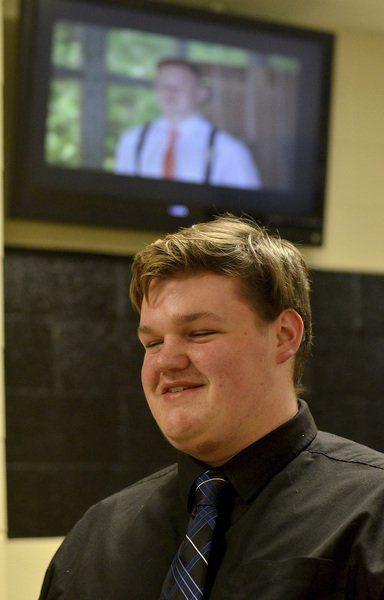 "Thomas didn't have to be your friend," Fulk said, wiping tears from her eyes. "If you needed help, he was there. Thomas was there for everybody."
And while he wasn't there in the way she wished, Jaroscak helped Troup make it through Friday's services via a gift he gave her on her 13th birthday.
"This is the last thing I have left of Thomas," Troup said, rolling a small black and white necklace through her fingers.
"He got this for my birthday. My 13th birthday. The last thing I've got," she said as her voice broke and tears took the place of her words.
Reporter Alex Modesitt can be reached at 812-231-4232 or at alex.modesitt@tribstar.com. Follow him on Twitter @TribStarAlex.