Tributes and remembrances for Holocaust survivor and forgiveness advocate Eva Mozes Kor flowed into the CANDLES Holocaust Museum and Education Center on Tuesday, where hundreds of people paid respects to the "Lady In Blue."
Kor, 85, died July 4 in Krakow, Poland. She was leading her annual summer trip to the Auschwitz-Birkenau concentration camp where she and her twin sister Miriam survived horrific medical experiments supervised by Nazi doctor Joseph Mengele.
High school French teacher Amy Berry was among visitors at the museum Tuesday.
Berry had just returned last week from the first part of Kor's summer trip.
"I am so glad I spent the past week with her," said Berry, who met Kor several years ago on a field trip with a class from Greencastle High School.
Berry said she stayed in contact with Kor through the years, and had always talked about going on the annual trip to Poland.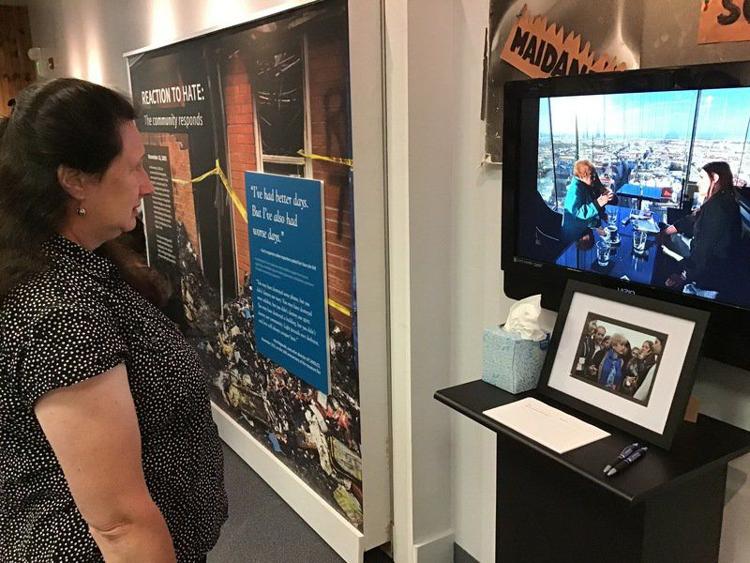 "We talked on the phone about a year and a half ago when I called to see how she was feeling because she was having health issues," Berry said, "Eva asked me then when I was going to Poland."
Berry decided it was time to make the trip, but she found out the 2018 trip was full. So, she got on the 2019 list and flew into Poland on June 23.
"The staff and Eva did such a great job," Berry said of the trip that included a candle lighting ceremony, tour of the concentration camp and other landmarks.
"Eva went to the camp with us. She was herself. That last morning as I was waiting at the hotel to go the airport, her nurse came over and asked if I would like to have breakfast with Eva," Berry said. "We sat there for two hours and reminisced. I will treasure that."
Berry said she left on June 30 to return to Indiana, and she was devastated to get a call on July 4 informing her that Eva Kor had died.
'Our duty now'
Tuesday was the first day the museum had been opened since her death.
"It's our duty now," CANDLES executive director Leah Simpson said of continuing to share Kor's legacy of forgiveness and healing for the world.
The museum will be open from 10 a.m. to 4 p.m. daily through Saturday.
A special candle lighting service is now planned for 1 p.m. Saturday in the museum. That is the time Kor usually began her regular museum lecture.
Simpson said plans are to continue the museum and its mission.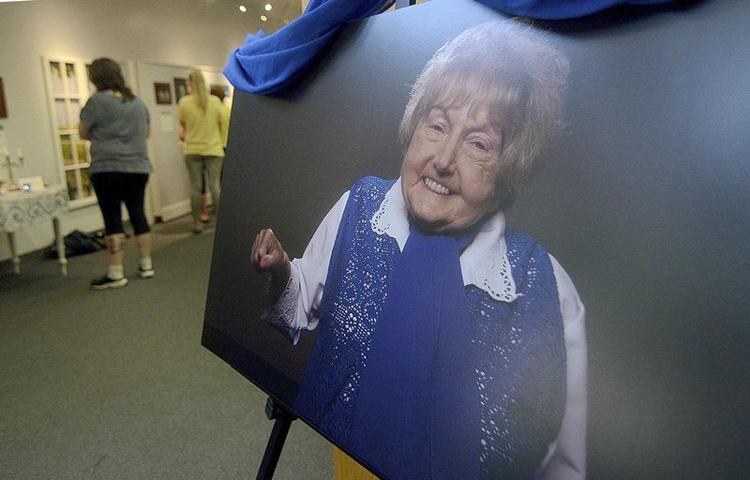 "We have to live out her legacy," Simpson said. "We have big plans over the next three to five years to have the two-site plan – having an Eva Kor center in Terre Haute and a state museum in Indianapolis. I don't think this changes anything. I think if anything it pushes us to move quicker."
Also among the museum visitors Tuesday were the Washington, Illinois, family of Rick and Darlene Gutierrez and their daughters Felicia and Alaina.
They asked questions of the "virtual Eva" hologram that talks about her life and preserves her eyewitness accounts of the Holocaust.
"I read her book in school and I wanted to meet her," Alaina said.
Darlene said her family came to Indiana to visit the Exotic Feline Rescue Center, but her daughters wanted to add CANDLES to their trip after they heard of Kor's death.
Eva founded CANDLES – Children of Auschwitz Nazi Deadly Lab Experiment Survivors – in 1995 to share the story of the children subjected to human experimentation under Mengele at the Auschwitz concentration camp during World War II. She lost both of her parents and two older sisters to the Holocaust. Only she and her twin sister Miriam survived.
A good trip
Simpson said Kor was just beginning the second of two back-to-back tours at the time of her death.
The second tour concluded Monday, with the Terre Haute members of the group returning to Indiana early Tuesday.
The second group of 50 had already spent one day with Eva, then took a bus to Auschwitz the morning Eva died.
"We just continued on with the plan. That's what Eva would have wanted," Simpson said of the decision not to share the sad news until the end of the day on the bus ride back to Krakow.
"They got to spend a really great day with her on Wednesday," Simpson said. "She got to read her letters to her mom and dad that she always does on the selection platform. She sat underneath the shade trees and just talked with the group about her story."
Kor also was serenaded by a boys choir from Los Angeles that day.
"She just had a beautiful day on Wednesday," Simpson said.
Simpson said she thinks Kor's death in Poland was, in a way, a full circle for the forgiveness advocate, who died just a few miles from the place where she lost most of her family.
"She was very comfortable in Auschwitz-Berkenau. She felt very much at peace," Simpson said of Eva's frequent returns to educate the public about the horrors of the camp.
"I think it was a wonderful end. We all want to do what we love up until the very end, and die very easily, and she got that."
In addition to her message of forgiveness as a way to overcome trauma, Kor was known for always wearing blue in public. Her life story was most recently told through the award-winning documentary "Eva: A-7063."
Services set 
The public is encouraged by her family to attend one of the two upcoming memorial services in lieu of her funeral.
A public memorial service in Terre Haute is set for 2 p.m. Sunday, Aug. 4 at Tilson Auditorium of Tirey Hall, 200 N. Seventh St., on the Indiana State University campus.
A public memorial service in Indianapolis is set for 2 p.m. Sunday, Aug. 18 at Clowes Memorial Hall, Butler University, 4602 Sunset Ave.
Funeral and visitation will be at DeBaun Funeral Home in Terre Haute on Saturday and Sunday.
Lisa Trigg can be reached at 812-231-4254 or at lisa.trigg@tribstar.com. Follow her on Twitter at TribStarLisa.