Shovels moved dirt on Tuesday for the first new industrial development on Terre Haute's north side in over a decade.
Pyrolyx USA Indiana LLC plans to start construction of a new multi-level plant in the first week of September, said Tom Redd, chief executive officer of Pyrolyx USA.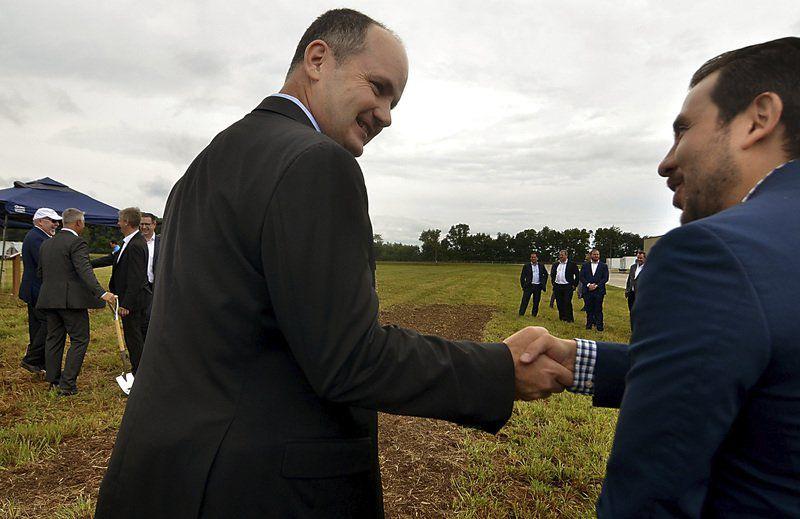 The ground footprint of the plant is 22,000 square feet, but the plant's multi-levels will contain about 60,000 square feet of space on Steelton Road in the Fort Harrison Business Park.
The new plant will extract carbon black, oil and metal from shredded tires brought to the site and will produce raw materials for the rubber and plastics industries.
"With startup costs, the hard capital is $25 million," for this project, Redd said.
The company has purchased more than 9 acres from Thompson Thrift, which will construct the plant's shell. Construction is expected to take 18 months. German-based Zeppelin Systems will then install equipment to extract black carbon, Redd said.
"We are happy that this property went to a user that will provide jobs and be a good development," said Paul Thrift, president of Thompson Thrift Development.
Redd said Pyrolyx USA anticipates "being fully up and running in March 2019. We expect to start hiring staff in May 2018."
The company plans to have 55 employees.
"The average pay-rate we are anticipating is $19 per hour," Redd said.
Steve Witt, president of the Terre Haute Economic Development Corp., said as part of an incentive, funds from the Fort Harrison Business Park Tax Increment Finance district will be used to "make improvements to the rail that serves the property and rail spurs to company. We also plan to redo the rail crossing at Steelton" Avenue, Witt said.
Terre Haute Mayor Duke Bennett it was a team effort to bring the company to the city.
"We are really excited that you want to make an investment in our community," Bennett said. "The new facility, the jobs, adding to our tax base, all those things are the things that we think about every single day and that we work really hard to do in our community. We are here to say thank you to you, glad we have been able to partner with you and wish you much success with your new business venture in Terre Haute, Indiana."
Reporter Howard Greninger can be reached 812-231-4204 or howard.greninger@tribstar.com. Follow on Twitter@TribStarHoward.