Police say they'll not pull you over just to see where you're headed, and they have no intention to make the next couple weeks any more difficult than they already are.
On the first day of Indiana's stay-home order Wednesday, local law enforcement said if motorists follow the rules as they normally would, they won't see officers any more than any other day.
After all, making more stops than necessary only increases officers' risk of possible exposure to COVID-19.
"The Indiana State Police is not going forward with a heavy-handed enforcement effort," said ISP Sgt. Matt Ames. "… We will not stop vehicles just to see where they are going or where they're coming from."
Indiana Gov. Eric Holcomb announced Monday a state-wide stay-home order that requires Hoosiers remain in their homes except when at work or for permitted activities, such as taking care of others, obtaining supplies and for health and safety.
The order ends 11:59 p.m. April 6.
Between now and then, Ames said ISP will not pull over a motorist unless they've otherwise already identified a violation.
Vigo County Sheriff John Plasse said much the same, saying unless there's a likely safety problem, the sheriff prefers to limit deputies' possible exposure.
"We can't stop people to see where they're going, and we won't for really minor things," Plasse said. "We, too, have to limit our exposure because if we get [infected] … then we can't respond when people are really counting on us to be there."
But police also can't lock themselves away, and Plasse said his deputies have each been given guidance on best practices. Still, he added, he his personnel often have little choice but to be hands-on with others.
"Our risk for exposure is surely greater because we're out dealing with a lot of different people," Plasse said. "It'll be difficult, and not normally how we operate, but it's our new normal for the time being, I guess."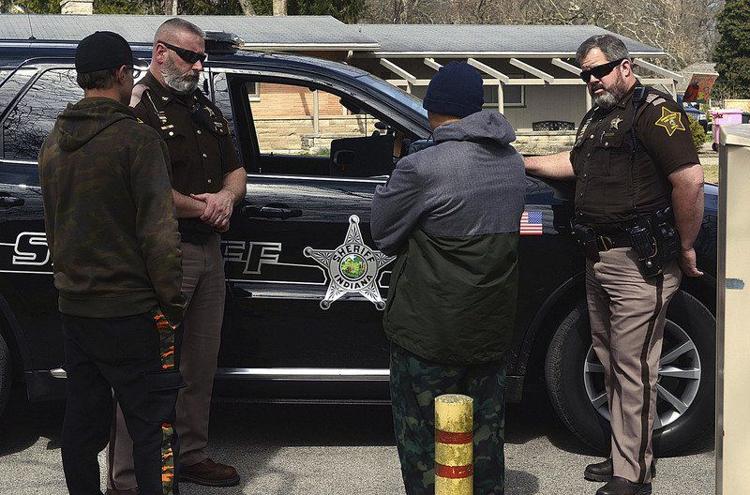 Firefighters, medics
Terre Haute Fire Department Chief Jeff Fisher said infectious disease protocols are standard practice for emergency medical personnel, and that COVID-19 isn't any unique from a personal safety perspective any more than is SARS or MERS.
"We've had protocols in place for a lot of years dealing with hazardous materials, sickness, flu, bird flu and H1N1," Fisher said. "So we've been prepared, we just changed our response to COVID-19 a little.
"We've asked dispatch to ask a lot more questions about the patients' condition so that our people are more prepared when they get on scene. And, so far as we can, we're trying for only one medic to have personal contact with a patient to limit our exposure."
Fisher said if EMS detects or is alerted to any sign a patient might have COVID-19, his medics are to don full masks and protective suits.
Trans-Care Ambulance President Russell Ferrell said via news release that his staff is prepared to handle everything from basic transports to the most serious of cases.
The statement offered nothing in the way of specific COVID-19 preparedness, but said, "medical and logistical professionals are serving our communities as they have been trained, including an emphasis on further services to help support agencies."
"Our men and women understand their role and are serving their calls today and will continue to adhere to all safety precautions, as they do day-in and day-out," Ferrell said.
With Fisher and Plasse responsible for firehouses and a jail, each said he'd changed access to the sites to mitigate possible coronavirus transmission.
Fisher said none of the city's firehouses are allowing visitors, and his staff are only leaving firehouses for emergency runs and shift changes.
"Our firefighters are in their houses until their shift leaves or unless they're called out on an emergency run," Fisher said. "That includes our firefighters not visiting other firehouses."
The visitor restrictions also apply to THFD headquarters, Fisher said. Anyone with business with the fire department is asked to call the office and arrange it over the phone.
Plasse said everyone admitted to the Vigo County Jail is screened and has his or her temperature taken, "but if they have it and don't show any symptoms, then we can't know."
The screenings, including temperature checks, also apply to jail staff, Plasse said, adding keeping COVID-19 out of the Vigo jail is his chief priority for the foreseeable future.
"We're doing everything we can based on the guidance from our medical provider the Vigo County Health Department, the CDC and state," the sheriff said. 
Reporter Alex Modesitt can be reached at 812-231-4232 or at alex.modesitt@tribstar.com. Follow him on Twitter @TribStarAlex.