Sisters Sandy Marshall and Donna Power lost their mother on Jan. 2, 1981.
And while losing a parent is always traumatic, they lost their mother, Sarah "Jeanette" Benson, in a homicide that remains unsolved.
"The fact is that never a day goes by — ever — that we don't miss her terribly, even after all these years," Marshall said in a phone interview.
Had Benson lived, she would have known the joy of seeing three grandsons grow up. One was 10 months old when she died, but two she never met.
 "She couldn't wait for grandkids," Marshall said. "She wanted to take them everywhere and see the world and just show them everything. They missed out on all of that." 
Marshall was 25 when her mother was killed. On the evening of Jan. 2, 1981, Benson returned home from shopping in Terre Haute, to be surprised by an intruder inside her Farmersburg home. Benson's husband, Emory, was at work in Terre Haute at the time, according to a news release from Clark Cottom, Sullivan County sheriff.
Investigators with the Sullivan County Sheriff's Office and Indiana State Police continue to seek answers in the case, Cottom said.
Wednesday marked the 38th anniversary of Benson's death. Anniversaries "give us a marker to revisit these cases," Cottom said. Since he's been sheriff, Benson's daughters  have reached out to him about the case.
"We are re-examining files and evidence collected and we're asking for the public's help," Cottom said. "Relationships change. Divorces happen. Deaths occur. Sometimes people's conscience gets the better of them ... maybe they are tired of living with the burden."
Another hope is that today's law enforcement investigative technology will help solve the case.
"A lot has changed since 1981," Cottom said.
Marshall, who lives in southern Vigo County, has mixed emotions about the possibility of going to trial and re-living the trauma of her mother's death. The night of the homicide, the sisters were not allowed in the house, she said. Police interviewed their dad and a neighbor. Her mom was "wheeled out in a body bag."
"I don't know about sitting through a trial and having pictures and [details of the homicide] put out there ... that would be hard," Marshall said. 
But at the same time, "I don't want to see him [perpetrator] walking around having ruined all these people's live and getting by with it. I do want justice. I want justice for mom."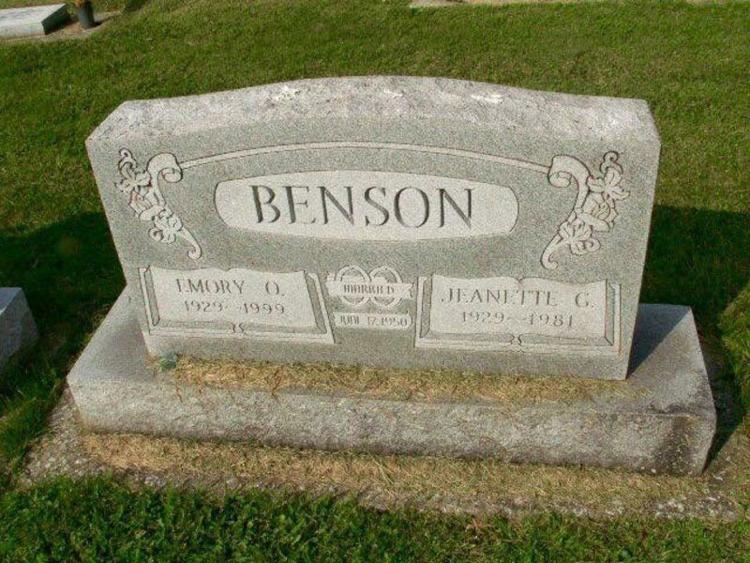 While it's been 38 years since she's seen her mom, Marshall vividly remembers her as "awesome, so smart, such a lady. ... She was elegant, always worked, was very conscientious, a super, super woman. She was very interested in the world and what was going on." 
Her mom closely followed politics and the news. "She devoured books and was very well educated. She had a good sense of humor, and she loved to play cards, go on vacation and attend ball games." 
Benson frequently attended North Central High School basketball games, and the entire high school basketball team went to her visitation, Marshall said. "They came in their green suit jackets ... she always backed them. She loved going to basketball games."
She praised Cottom for his efforts to re-visit the case.
Cottom said around the time of Benson's death neighbors described seeing a blue, four-door passenger car parked in the family's driveway, just prior to Benson returning home. One of the witnesses thought the vehicle was a Plymouth Valiant, describing it as "robin egg blue."
A second witness thought the vehicle was possibly a Chevrolet, describing it as having "shiny blue paint."
A third witness described the sedan as being "very clean."
One neighbor observed a white male near the home. The male, who was wearing a vest, was seen exiting the blue sedan, before knocking on the Bensons' front door. The male was described as tall and thin, possibly in his 20's, at the time.
Investigators believe that man was likely the intruder.
Those investigators exhausted many leads over the years, but have not been able to develop sufficient information for an arrest. Archived newspaper articles from the time made no mention of the description of the suspect or the blue sedan.
"Investigators and the Benson family remain hopeful that sharing this information may spark someone's memory," Cottom stated the news release. Police remind the public that the killer would now likely be in his 50's.
Anyone with information concerning Benson's murder should contact the Sullivan County Sheriff's Office at 812-268-4308 or the Indiana State Police at 765-653-4114.
Sue Loughlin can be reached at 812-231-4235 or at sue.loughlin@tribstar.com Follow Sue on Twitter @TribStarSue