A motorist who disregarded a school bus stop arm Friday afternoon received an expensive lesson in back-to-school safety.
The driver was westbound on the four-lane highway about 4 p.m. when she met an eastbound school bus stopping on the highway. Both eastbound lanes behind the bus stopped, but the westbound motorist sped past after the bus had extended its red stop arm.
"She said she was from California and isn't familiar with the area," said Vigo Sheriff's Detective Jim Palmer after citing the driver on U.S. 40 at East Glenn.
"I told her about the state law," Palmer said during the planned patrol of after-school bus routes. "I explained Indiana has had several deaths in the past due to people ignoring the stop arm, so we are increasing enforcement."
The motorist now faces a possible misdemeanor court cost of $185 in Terre Haute City Court and up to a $5,000 fine at the judge's discretion, according to state law.
It can be an expensive lesson for any motorist to learn, Palmer said, but police are serious about preventing necessary injury or death to children at school bus stops.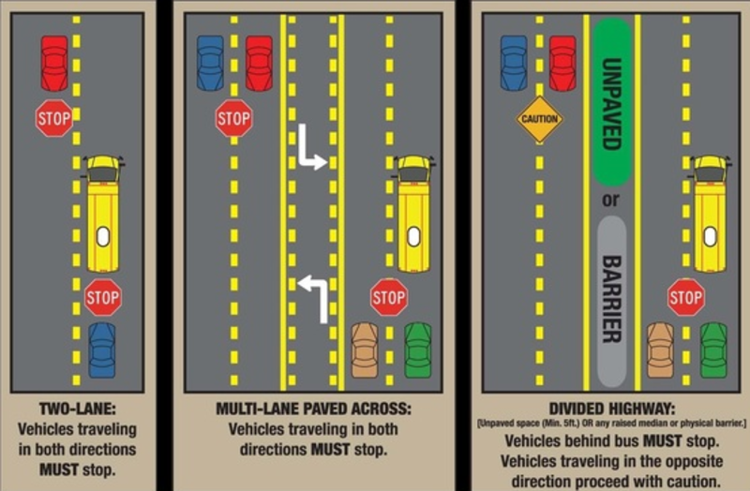 The Vigo County Criminal Activity Team, or VCCAT, has been conducting patrols this week with the start of school to watch for unsafe driving during morning and afternoon school bus routes.
Marked police vehicles were used as visible law enforcement presence during the week.
In future weeks, however, police will also use unmarked vehicles during patrols, and have ride-along officers on some school buses to alert nearby patrol units to stop arm violators.
Vigo County recently received a $9,120 grant to cover overtime costs for increased traffic enforcement.
Palmer said the VCCAT plan is to have increased enforcement through mid-September.
Some focus areas for patrols will be U.S. 40 through Seelyville and Clinton Road in northern Vigo County. Palmer said those are two problem areas reported by school bus drivers.
New stop arm cameras were recently installed on Vigo County school buses, allowing violations to be recorded.
"There's a button that the bus driver can push to mark the tape when they think they notice a violation," said Bill Riley, the school district's director of communications.
The transportation staff will review the video, then work with school safety coordinator Travis Chessir to pass the violation along to the correct law enforcement body, depending on jurisdiction.
"It's easy for our team to clip it and send it as a digital file," Riley said.
On Friday, patrols followed along with buses in traffic after they left Lost Creek Elementary, and after some left Terre Haute North Vigo High School.
Deputies noticed some parents meeting their young children at the bus stop to walk them home, but other students crossed side streets alone to walk home.
Attention to school bus stop safety was heightened in Indiana earlier this year. Three children in Rochester, Indiana, died when they were struck by a motorist who did not stop for a school bus. Another child was seriously injured in that crash.
"I can't imagine losing a child, or all of your children, in an accident like that," Palmer said.
State law requires all lanes of traffic to stop when a bus extends its stop arm. The only exception occurs on divided highways with a barrier or median separating the opposite lanes. In those cases, only traffic following the bus must stop.
Lisa Trigg can be reached at 812-231-4254 or at lisa.trigg@tribstar.com. Follow her on Twitter at TribStarLisa.