Linda S. Cooper recalls glancing out windows at the former Pillsbury on First Street, looking at the Wabash River and at Terre Haute's City Hall.
"I used to look out the lunchroom windows and say, 'Oh my gosh, I wish something could be done on the river,'" Cooper said Friday as she sat on a picnic table in the shade of tree between City Hall and the Vigo County Courthouse.
Cooper, 82, worked at Pillsbury from 1979 to 1992. She came downtown Friday to participate in Picnic at the Plaza, part of Wabash Valley Art Spaces' Turn to the River project.
Turn to the River is working with Taylor Siefker Williams Design Group to design community-driven concepts for a walking promenade, a riverside green space and overlook, public art, wayfinding, seating, trees and landscaping.
The focus area of the project includes the four square blocks that encompass Terre Haute City Hall, Vigo County Courthouse and the Vigo County Security Center and a city-owned riverside property, One Wabash.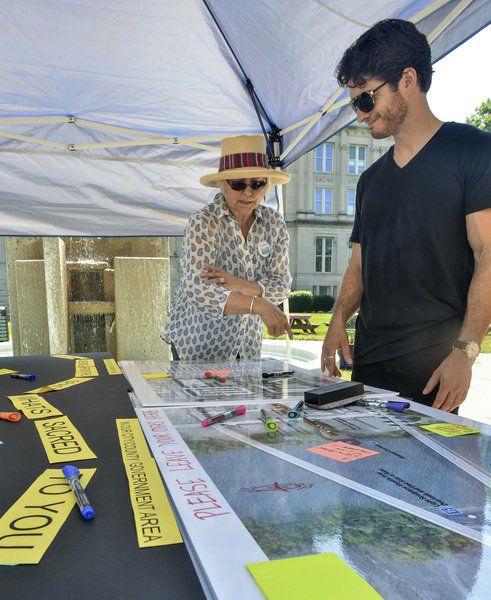 "I moved to Indianapolis and later came back. When they started all this Riverscape thing, I thought, 'Finally!," Cooper said. "I am very excited about the Art Spaces project. I like to do anything that has to do with Art Spaces and Riverscape. I am a big fan of the river."
Her former workspace has been converted into the RiverFront Lofts, a project by Core Redevelopment, which also rehabilitated The Deming building in downtown Terre Haute.
Scott and Jade Price of Terre Haute came to the event as they follow Bobby-Que's on Facebook, to learn where the food truck will be next.
"I like the idea of this being more of a plaza to the river. It would be a nice thing to bring people out together and mingle," Scott Price said.
Both Scott and Jade ate "Bobby-Que" as well as food from Twisted Fry, at the picnic.
Phil Farmer of Terre Haute came to listen to Solly Burton and Brent McPike. Farmer said McPike and Burton taught him how to play the Mandolin. "Plus my wife [Kay] is on the Turn to the River committee," Farmer said.
Lew and Kathy Hackleman eyed a menu of a food vendor to determine what they would eat for lunch.
"I think this is great," Lew Hackleman said of the idea of a walking promenade to the Wabash River.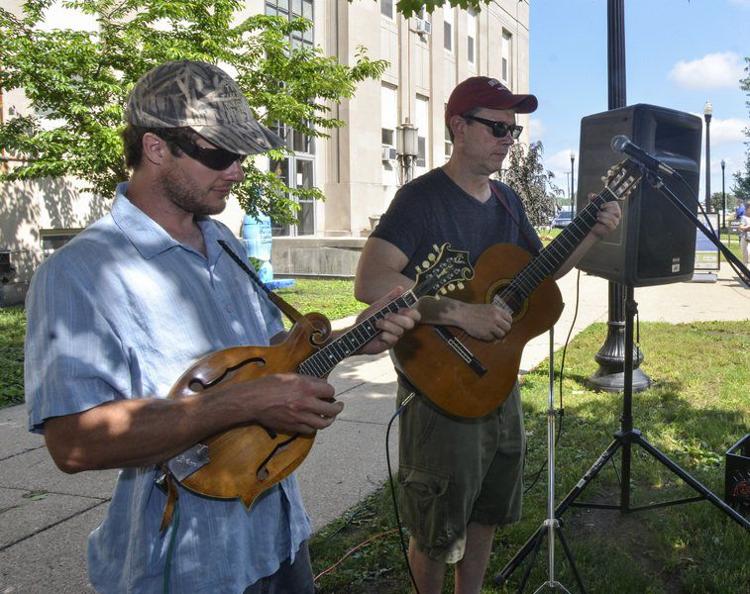 "I think we need something to make this beautiful city even better. The river is an asset that we have not tapped into," Hackleman said. "It used to be a focal point. People would get on boats and go up and down the river and have picnics. You can see that in pictures from the early 1900s. They have managed to build so as to barricade the city from the river," he said.
"They need to make it easy to get to the river and make it easy to put up businesses near the river so it draws people," Lew Hackleman said.
Kathy Hackleman said she thinks Turn to the River is something that brings cooperation and coordination between the city, citizens and Indiana State University on a concept to highlight the Wabash River.
Jim Mann, a Vigo County teacher and Vigo County councilman, brought his son, John Robert for lunch.
"I think the project is a wonderful idea. It is a win-win situation for the people who work here and would be a good destination for people to visit," Mann said.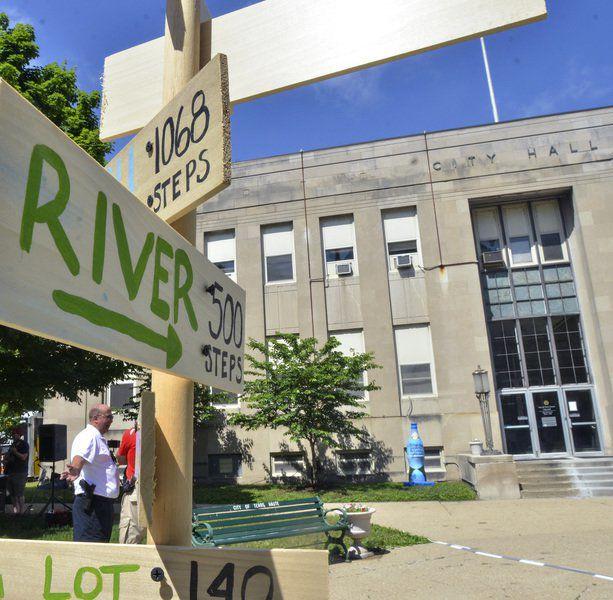 Mary Kramer, executive director of Wabash Valley Art Spaces, said the event allowed the project designer to experience what the space would look like with people and vendors.
"The detailed designs of this area will be ready by January," Kramer said. "People tend to think of this area negatively, but this [picnic] allows them to realize what a positive and exciting space it can be for the public. People tend to associate this area with going to court, or going to jail or visiting someone in jail or paying fines and it has gotten in a little disrepair over the years and needs a little facelift."
Kramer said the space will likely be used again in September as part of a bicentennial event for the county.
Reporter Howard Greninger can be reached 812-231-4204 or howard.greninger@tribstar.com. Follow on Twitter@TribStarHoward.