A field of 14 participants — one more than last year — was announced Monday for the 2019 Dancing with the Terre Haute Stars benefit for Chances and Services for Youth.
"We've got a pretty good line-up for the 13th Dancing with the Terre Haute Stars," said Brandon Halleck, the agency's chief operating officer. "I'm excited to see all the time and talent that they're going to be able to give us this year."
The field was introduced Monday at The Dance Studio, 1237 Wabash Ave., where dance professionals will teach the local celebrities.
A student will be added this year, Tucker Bruinsma from Terre Haute North Vigo High School.
"Brandon has seen me perform on stage in musicals at Terre Haute North," said Bruinsma, a senior, who plans to perform the tango.
"He's always wanted a kid, or a teenager. He thought I'd be good for it and I would love to do it. I'm very excited."
Bruinsma's mother, Peg Carney-Finzel, danced at the 2017 event.
Jessica Cox of the Terre Haute Chamber of Commerce, who will do the cha cha, said she "decided to give in" to Halleck's frequent pleas to perform. "Not only that but The Dance Studio and Chances and Services for Youth have been long time chamber members … so I thought it was a good time to give back to the community and support our members."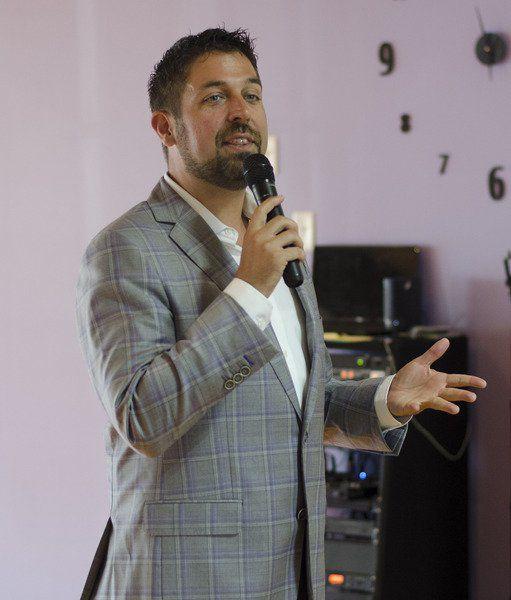 Other dancers will be Rodney Clark of Wellness for Life; Hi 99's Marty "Party Marty" Combs; Melisa Doti of Sycamore Storage; Stefanie Hellmann of Keymark Development; WTWO's Nicole Krasean; Caroline Mallory, dean of Indiana State Univeristy's College of Health and Human Services; Mike Mix of First Financial Corp., Vittoria Meyer of RJL Solutions; Christian Shuck of Rose-Hulman Institute of Technology; Teresa Stuckey, principal of Sugar Creek Elementary School; Dr. Laurie Valera of Union Hospital Family Medicine; and Spardha Verma.
This year's gala is scheduled for Oct. 11 at Rose-Hulman Institute of Technology's Sports and Recreation Center. The evening features dinner, dance competition featuring the local stars and a silent auction. The winner of the 2018 event was Jocelyn Bean.
More than 1,100 guests generally attend each year. Since the first event in 2007, the series has helped raise more than $1.6 million for Chances and Services for Youth programs.
"Without events like Dancing with the Stars we really wouldn't be able to implement all of the after school programs, our summer camps, our mentoring program with Big Brothers Big Sisters [and] some of our other programs," Halleck said.
Founded in 1971, the agency has provided resources to help the state's most vulnerable youth. Last year, it assisted more than 9,000 children and families.
Programs that benefit from Dancing with the Stars include Out of School Club, Camp RAVE, Safe Kids/Car Seats, Teen Court, Tobacco Prevention and Cessation Coalition, iLEAD and Big Brothers Big Sisters of the Wabash Valley.
Dave Taylor can be reached at 812-231-4299 or dave.taylor@tribstar.com. Follow him on Twitter @TribStarDave.