Concerns about police becoming militarized with armored vehicles and equipment are being raised for Wabash Valleyl law enforcement.
Matt Larimer, an associate minister with North Terre Haute Christian Church, said he thinks the planned acquisition of a BearCat armored vehicle for use by the city police department's strategic response team will increase public feelings of fear and anxiety.
And, Larimer said, it stokes a circle of the public obtaining more guns for personal protection, followed by police increasing their weaponry, and so on.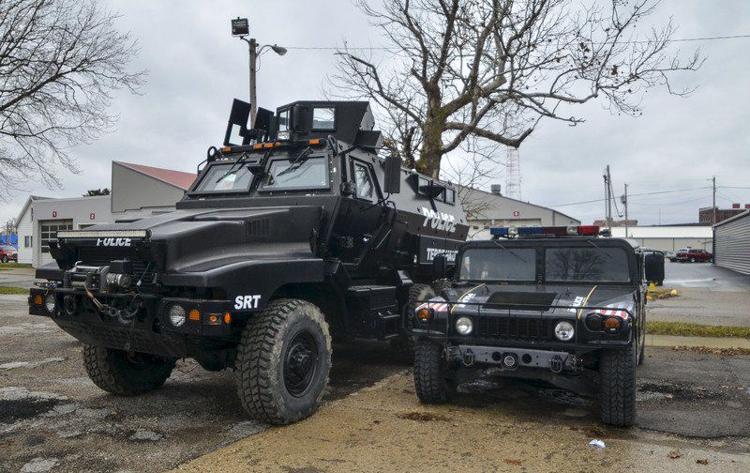 "They think this is making officers safer, but I'm more concerned with the impression it makes in the community," Larimer said Friday. "I believe it will make it more dangerous for police in the long run in that it breaks trust and creates anxiety."
Larimer said he has been speaking out since the Terre Haute Board of Public Works and Safety signed off on the purchase of a Lenco BearCat armored vehicle for THPD.
The BearCat is intended to replace a larger MRAP – Mine-Resistant Ambush Protected tactical vehicle – that THPD obtained at no cost in 2013 through the U.S. Department of Defense's Excess Property Program, better known as the 1033 program.
Both current THPD Chief Shawn Keen and Vigo County Sheriff John Plasse, formerly the city chief, say the MRAP is too large for use on city streets, and it will be retired.
The BearCat, which is used by many agencies including Indiana State Police, is more versatile and provides better maneuverability, police say.
Based on a Ford F-550 Super Duty chassis, it is considered the "standard vehicle" for police strategic weapons and tactical teams, according to the Lenco website. It can accommodate 10 to 12 people, and is generally used to transport officers to and from hostile situations and in the recovery and protection of civilians in harm's way.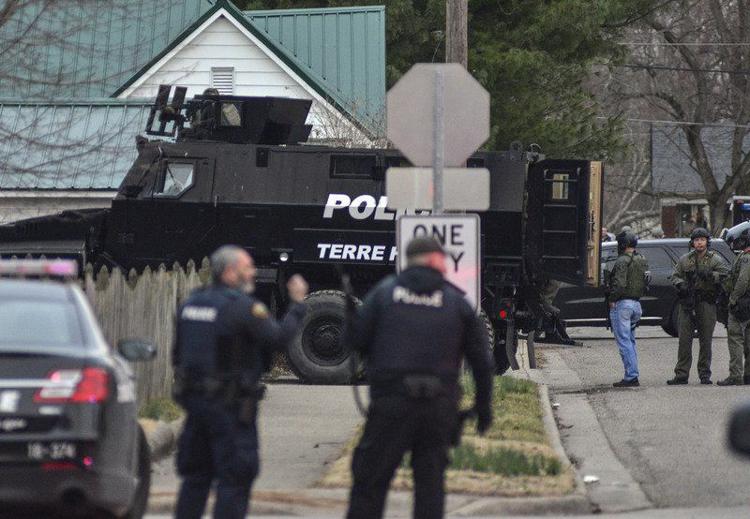 THPD has received an Indiana Department of Homeland Security grant toward the purchase of the $242,000 vehicle.
'Wish we didn't need it'
Police say they are sensitive to citizen concerns such as those expressed by Larimer.
Keen said the use of the armored vehicles are restricted by department policy for use only in training and in four types of situations – sniper, barricaded suspect, hostage and high-risk warrant service with an elevated risk of violence.
The BearCat, he said, is a civilian vehicle designed to protect people, not to attack people.
"It's practical," Keen said. "I wish we didn't need it, but we do to protect officers."
He pointed out three incidents in the past year when officers were fired upon by suspects. In one instance, a city police officer -- Rob Pitts -- was shot and killed.
Plasse, who was with the THPD for 33 years, , said neither the MRAP or the new BearCat have guns mounted on them. They are defensive weapons used to react to situations of extreme danger to officers and civilians.
Keen said the BearCat has a six- to eight-month build time, and a THPD representative must personally go to the manufacturer to review the plans and place the order for the vehicle.
"We don't want to have it because it's cool to have," Plasse said of an armored vehicle.
Plasse said he served on the THPD special repose team since its inception, and the training and mindset of that unit is to react to and contain violence or potential violence.
An armored vehicle can pull up to a scene to become a barrier that protects officers and the public from a shooter, Plasse said.
An example, he said, would be an injured person lying in the street or an open place where police could not go to help that injured person without the risk of being shot themselves. An armored vehicle can be used to take rescuers to that injured person and remove that person from danger.
Another example, he said, is in getting a hostage negotiator close to a building to make contact with an armed person.
Retiring other vehicles 
"We never, ever, ever, advocate to go out and harm people," Plasse said.
Because of the type of weapons and ammunition available and possessed by the public, Keen said, body armor is not always effective in keeping officers safe from bullets.
The purchase of the BearCat is supported by Mayor Duke Bennett, who echoes Keen and Plasse in saying the purpose of the vehicle is to protect both police officers and the public.
"This particular vehicle is the exact same equipment that is used by the Indiana State Police and most other police agencies," Bennett told the Tribune-Star. "We will be retiring several existing 'military surplus' vehicles once this new vehicle is delivered, so we are actually moving away from having a large fleet of that type of equipment."
The Terre Haute Police Department has received several hundred thousand dollars in used military gear through the 1033 program. Larimer said he looked up that information and was stunned by the surplus passed on to law enforcement at little to no cost.
In 2013, THPD took possession of the MRAP, which was valued at $412,000. The department also received four armored Humvees in 2012 at a value of $55,500 each. Other equipment received since 2009 include M16 rifles, M14 rifles and four-wheel drive trucks.
The MRAP has been used only a handful of times, Keen said, and never in the offensive. It was recently used to get negotiators closer to a suspect in a Vermillion County situation with an armed suspect.
Keen said he is aware that other Indiana communities have heard public concerns about police becoming militarized.
"I understand we don't want to see the armored vehicle in our own lives," he said, adding that as police chief, he is responsible for a safe environment for both the public and law enforcement.
"I think you'd be hard-pressed to find another city our size who doesn't have one," Keen said.
'A self-fulfilling prophecy'?
For Larimer, the assurances that police voice about the intended use of the vehicles do not lessen his concerns.
"It's like a self-fulfilling prophecy," Larimer said. "Police get these vehicles to protect themselves from an AR-15, but then people get AR-15s to protect against the police."
The more equipment law enforcement gets, he said, the more people will feel they have to defend themselves.
"From my perspective, when you have a cycle like that begin, you have to have one side stop it. And from my perspective, that should be the government stopping it," Larimer said.
"There are people in the community who, if law enforcement around the nation started to demilitarize, then I can see people being more willing to give up their guns."
Lisa Trigg can be reached at 812-231-4254 or at lisa.trigg@tribstar.com. Follow her on Twitter at TribStarLisa.