For the 2022-23 school year, Otter Creek Middle School has been transformed with a $9.5 million addition/renovation project that has included a new auxiliary gym, a new music room and renovated music wing, cafeteria improvements and more classroom space.
The project brought much needed improvements to the Vigo County School Corp.'s third largest school, enrollment wise, behind Terre Haute North and South Vigo high schools. The school has more than 800 students this year.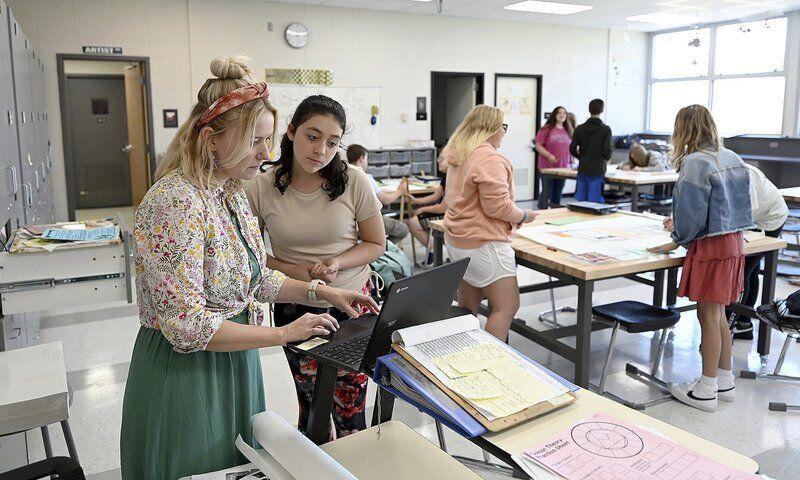 Otter Creek had been the only secondary school without a second, auxiliary gym.
"I just love how excited our students, our staff and our families are," said Sarah Gore, school principal. "That's who it's for. That's been the best part — their pride and how excited they are to use the new space."
The overall project was financed through $9.5 million in borrowing, using a building corporation and lease-rental. The cost includes Garmong's contract for construction, which was $8.72 million. Other costs include professional architecture fees, furniture and soft costs.
Eighth grader Ava Hoar described it as "awesome coming back [after summer break] and seeing all the new rooms."
According to Gore, "Where we live and work has an effect on our lives. And this is even more important to help give our children the best start in life, not just in terms of mental health, but also academic growth." Incorporating good classroom and school design will have multiple benefits for students, teachers and the community, she said.
One of the major areas of improvement involved the cafeteria area. Previously, the school had two cafeterias, one larger and one smaller. The larger space was converted into needed classrooms, office space and a conference room, while an addition to the smaller one now means one cafeteria seating about 350 students.
One of the benefits of the addition/renovation project is that "now, every teacher does have a classroom," Gore said. "For years, we had multiple teachers on carts."
The school now has a music wing, which involved renovation of existing space and the addition of a classroom, giving band, choir and orchestra their own spaces in the same area.
"For a long time the orchestra met in a former faculty lounge," Gore said. "Now, they actually have an orchestra room. Those kids deserve that."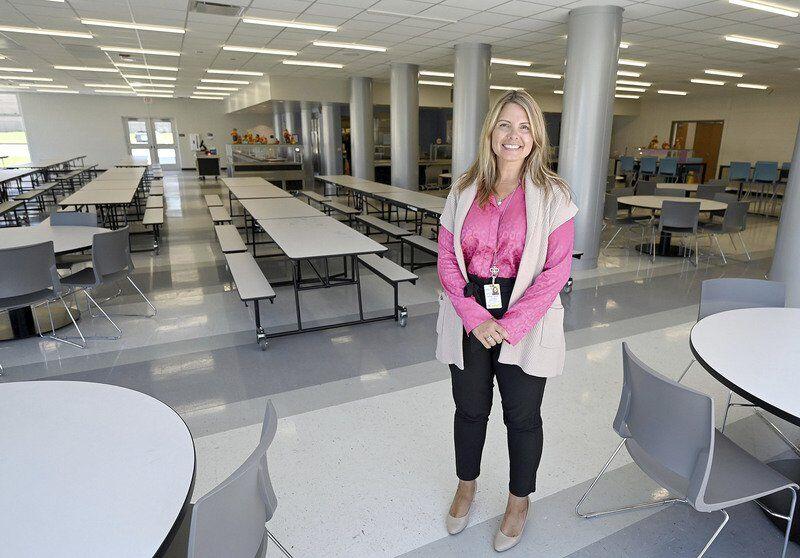 Improvements to the music area "brought us on par with our other schools," Gore said. "We didn't have enough space for all of our music classes."
The auxiliary gym will provide many benefits, not just for everyday school use, but for group gatherings, assemblies or awards programs. Those special programs can occur, and, "We still have a space available for physical education, which meets all day long," Gore said.
School ocker rooms have been updated, and two locker rooms have been added with the auxiliary gym.
Another update involves the main entry, which now has a vestibule where the school protection officer is located. It also provides adequate site lines for main office staff to monitor those entering and exiting the school.
Staff and students are ecstatic about the improvements. "It's phenomenal to see," said Jennifer Kirkham, an eighth-grade reading and literature teacher who has taught at the school about eight years.
The students are especially excited about the cafeteria improvements, she said. The changes benefiting the music programs "are just amazing."
Hoar, who participates in athletics, said the second gym will help a lot, especially with after-school volleyball practice. She's also a dancer, and at times in the past, the dance team couldn't practice because basketball was taking place in the main gym; that's changed with the new auxiliary gym.
Travis Turner, school athletic director and eighth-grade history teacher, said the second gym alleviates the scheduling conflicts that occurred with just one gym. Before, a variety show or science fair in the main gym affected athletic teams and physical education classes.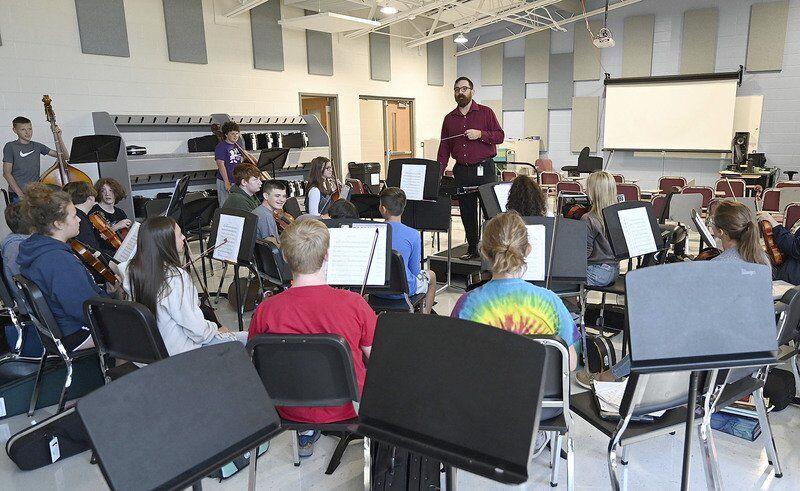 The construction project also added much-needed storage space for such things as athletic, physical education or band equipment, Turner said.
Eighth-grader Amaya Phillips is especially grateful for the improved space now used by orchestra class. Orchestra used to meet in a small former faculty lounge.
Gore says the Otter Creek school community is thankful to district leadership for "providing our school community with this beautiful space to learn and grow," she said.
She also noted the collaborative effort with the contractor, Garmong Construction, and architect, Fanning-Howey, which worked with the school if it had some special event going on that required a brief lull in construction activity.
The Otter Creek project is being financed through a building corporation and lease/rental process.
The construction project began in summer of 2021.
Sue Loughlin can be reached at 812-231-4235 or at sue.loughlin@tribstar.com Follow Sue on Twitter @TribStarSue.