Shortly after his discharge from the Army in 2005, Jeremy Deckard was in a bad way.
Missing the brotherhood he had been a part of for more than eight years and struggling to find his footing as a civilian, Deckard said he was close to packing what he could and finding a place to hide away.
"I was real close to saying the hell with everybody and basically just become homeless. I was that fed up with people. I wanted to get away," Deckard said.
But Deckard found help in a few friends who offered him a hand up and a reason to press on.
To make sure other veterans don't get to that point or to help those beyond it, Deckard stood in the freezing cold Friday afternoon collecting food, clothes and money for Operation Vanguard.
Operation Vanguard is one of Reach Veteran Service's community outreach events aimed at helping homeless veterans in Vigo County.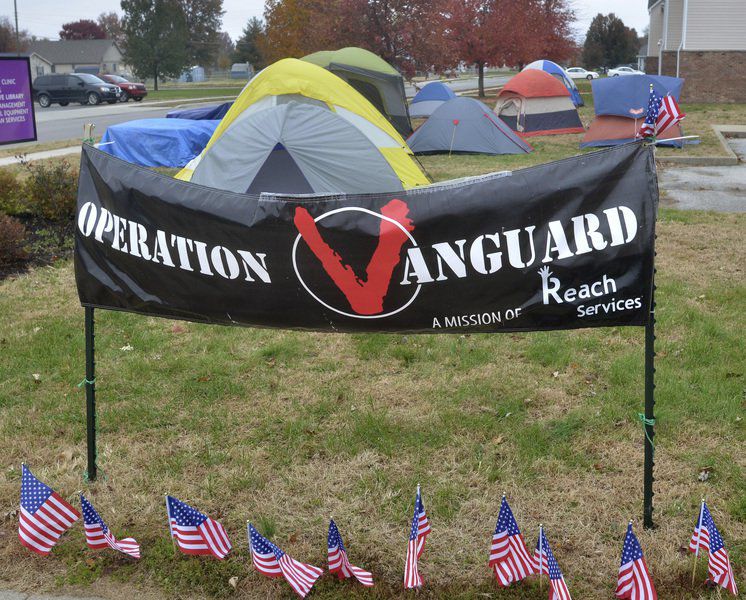 As a way to emulate the homeless experience and better understand the plight of those they help, Reach staff and volunteers spend five nights in tents and six days panhandling for donations roadside on Hulman Street just east of 14th.
Reach began collecting at this year's Operation Vanguard, its fifth annual, Thursday afternoon and will be near 14th and Hulman until Tuesday morning.
Martina Hull, a community outreach team leader with Reach Veteran Services, said Deckard's story isn't atypical of recently discharged veterans and is one of the motivations in hosting Operation Vanguard.
"The problem is bigger than probably what most people think it is," said Hull, a Marine Corps veteran. "We've assisted with housing or feeding or provided services to over 300 homeless veterans just this year."
And while Hull admits the problem may be hidden from most people's everyday lives, she said it's certainly not hard to find when you know where to look.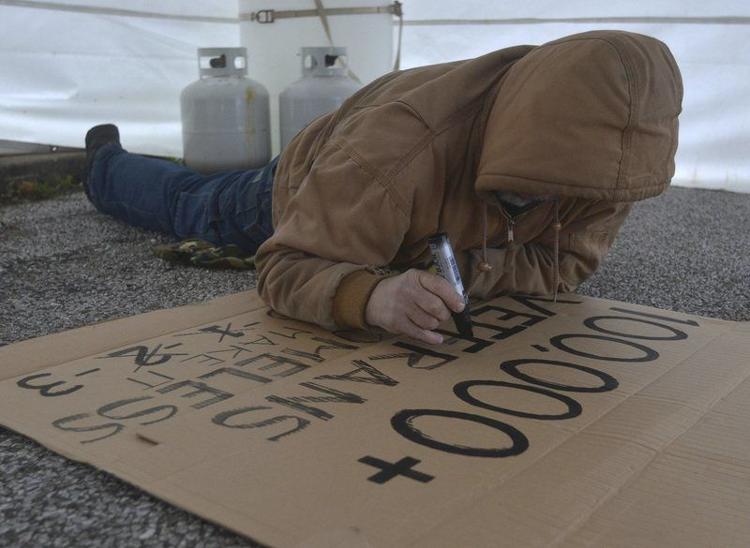 "Of course everyone sees the people who are panhandling, but you don't see the ones who are double bunked somewhere or are couch surfing," Hull said. "Just look at the people who stay at the library until it closes and then walk the streets all night.
"If you don't think we have a homeless problem, go to the McDonald's at Third and Poplar at two or three in the morning and see how many people are in there charging their phones and trying to stay warm over a cup of coffee."
Nick Silotto, a volunteer for Operation Vanguard, said he's tired of seeing the nation's fighting men and women on the street and decided to volunteer a few days of his time to making sure he did his part.
"I've seen a lot of veterans sleeping on benches with little more than a handful of newspapers or a tarp to keep warm," Silotto said as very light snow began to fall.
"And if you ask me, that's just not right."
Reporter Alex Modesitt can be reached at 812-231-4232 or at alex.modesitt@tribstar.com. Follow him on Twitter @TribStarAlex.