These days, Emily Murray and her 7-year-old daughter, Kate, sit at a table across from each other at their makeshift office — Emily using her laptop to work from home, and Kate using a family laptop to do educational or other activities set up by her mom.
"We're co-workers now," Murray laughed. She turned 35 this week.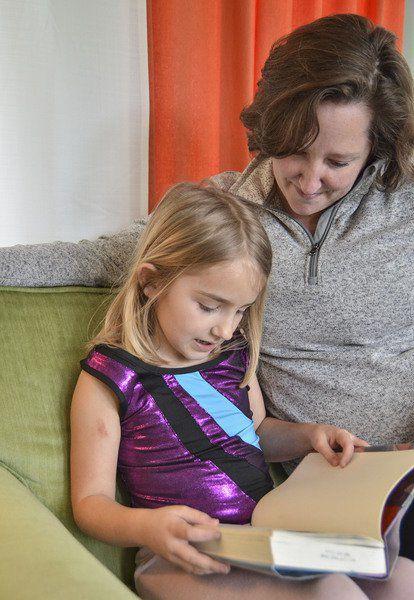 Murray is affiliate relations coordinator for the Wabash Valley Community Foundation, while Kate is a first-grader at DeVaney Elementary. The coronavirus/COVID-19 pandemic has brought them together in ways no one could have imagined a month earlier.
With school out until at least May 1, Murray not only works from home, but now, she must take care of her daughter and try to be her teacher as best she can.
When the first school cancellation was announced through April 6, Murray told her daughter, "You are not going to stare at the TV for three weeks. She got mad," Murray said. Now, three weeks of school closure has become seven weeks — and it could be longer.
Murray has found all kinds of online resources for her child, including some through Facebook. "There are all these fun learning things out there," she said.
She uses an online arts and crafts tutorial, a Scholastic learn at home website, Cincinnati Zoo Facebook Live, National Geographic resources and free resources through Khan Academy, a non-profit educational organization that has free online tools to help educate students.
Kate is staying in touch with friends through Facetime and Messenger Kids, a video chat and messaging app designed for kids to communicate with family and close friends. Parents set up and manage their child's Messenger Kids account through their own Facebook account.
People are sharing learning resources, Murray said, and she is as well.
It's working out, but it does have its challenges at times. One day, Murray was participating in a webinar, and Kate "was in the living room dinging this bell over and over and over and I thought, 'How many weeks of this?'"
The Murrays have two other "co-workers" usually asleep on the job — their two dogs. "They are probably more annoyed that we're here all day," Murray said. "We're really cramping their style."
While Murray is trying to ensure her daughter does educational activities — even though school is currently closed — "I think it is going to be so challenging for parents, especially parents like me to work from home and also be teachers. I don't know what that is going to look like," she said. "I think it will take a lot of patience and grace."
The Vigo County School Corp. plans to begin remote learning starting April 6, and school teachers will be available during specified hours on Mondays, Tuesdays and Wednesdays through May 1.
Not all parents have access to internet or digital devices. "I know they will keep that in mind," Murray said. The district has designed K-8 education packets that provide learning opportunities for those who lack internet or online capability at home.
For all parents taking care of kids at home right now, working or not, "I think it will be a huge challenge for everyone and a huge learning curve," Murray said. Parents and the school district have to keep expectations reasonable and "work together."
Kate "is taking it really well. I don't think she fully understands yet that she is not going back to school until May, if they go back at all this school year." She keeps having to remind Kate why they can't go certain places right now.
One thing they are doing is going outside, which they call "adventure hikes. We'll go to a park nearby and do a quick walkaround. We take the dogs out. We have to be outside," Murray said. "It's critical for us. ... I think it helps so much with anxiety and stress, especially for parents."
Last week, they visited Hawthorn Park and Wabashiki.
While some parents have let their kids get together with other kids, "I've been pretty strict so far. I feel I have a social responsibility to really enforce the social distancing," she said.
Sue Loughlin can be reached at 812-231-4235 or at sue.loughlin@tribstar.com Follow Sue on Twitter @TribStarSue.